You have /5 articles left.
Sign up for a free account or log in.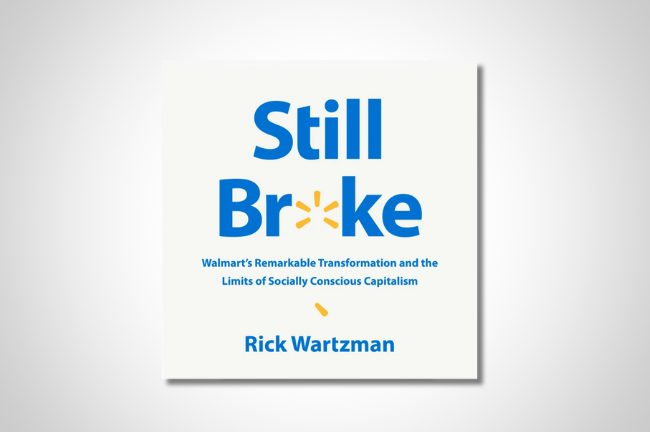 Still Broke: Walmart's Remarkable Transformation and the Limits of Socially Conscious Capitalism by Rick Wartzman
Published in November 2022
Still Broke has sparked my curiosity in Guild. Walmart has a partnership with Guild called LiveBetterU. This program covers 100 percent of the tuition and materials for degrees and certificates. LiveBetterU is available to hourly full- and part-time workers and some salaried employees who have not previously earned a bachelor's degree.
What seems cool about LiveBetterU is that it is not a tuition reimbursement program. All costs are paid up front so employees can focus on skills, not bills.
As of September 2022, over 104,000 Walmart employees have participated, and 16,000 have earned their degrees through the program, with over $333 million in tuition costs covered.
As an online learning person, I want to know more about how Guild coaches and supports students who are also workers, parents and caregivers.
LiveBetterU and this Guild partnership are not covered in Still Broke. The program, announced in July of 2021, was likely too recent to make it into Wartzman's reporting.
Would this partnership with Guild have softened some of Wartzman's criticisms about how Walmart treats its workers?
The Still Broke title can be read in two ways. One interpretation is that workers at Walmart are "still broke" in that the average hourly wage of $17.50 for front-line workers is still too little to support a family. Another way to read the book's title is that even after Walmart's attempts to raise wages, benefits and working conditions for its 1.6 million U.S. workers, the moral standing of the company remains broken.
Walmart gave Wartzman full access to its executives, employees and stores. The result is a book that is in no way Walmart bashing. Wartzman applauds Walmart for moving its employees from part-time to full-time to make more workers eligible for benefits. The book also details the efforts of Walmart to become more environmentally responsible, through programs to reduce supplier waste and efforts to increase the energy efficiency of its over 4,600 U.S. stores.
Despite all of Walmart's efforts on the employee and environmental front, Wartzman concludes that the company is still coming up significantly short. Since 2013, Walmart has spent over $75 billion in stock buybacks. Walmart made a profit of over $140 billion in 2022. Instead of returning those profits to hourly workers through higher wages, Walmart rewards its shareholders and executives.
In response to Wartzman pushing Walmart's leadership on wages, executives argue that if wages go too high, the company will choose to invest less in people and more in automation. Wartzman is skeptical of this response, and much of the book is taken up with Walmart's (so far successful) campaigns to fight off unionization efforts to its employees.
How do the folks at Guild square their partnership with Walmart with Walmart's antiunion stance?
What culpability do educational partners, including partner universities participating in LiveBetterU, have in enabling Walmart's efforts to stop their employees from unionizing?
After reading Still Broke—a book I highly recommend—I would like to learn more about where Walmart and higher education intersect.
What are you reading?