You have /5 articles left.
Sign up for a free account or log in.
You may remember a conversation I had with my friend and former Dartmouth colleague Kaitlin Dumont last year when she was early in her experience as an adult learner in the Questrom School of Business's new fully online M.B.A. program at Boston University. Low-cost, high-quality online degree programs are a personal passion of mine and something I've written about as the future of higher education.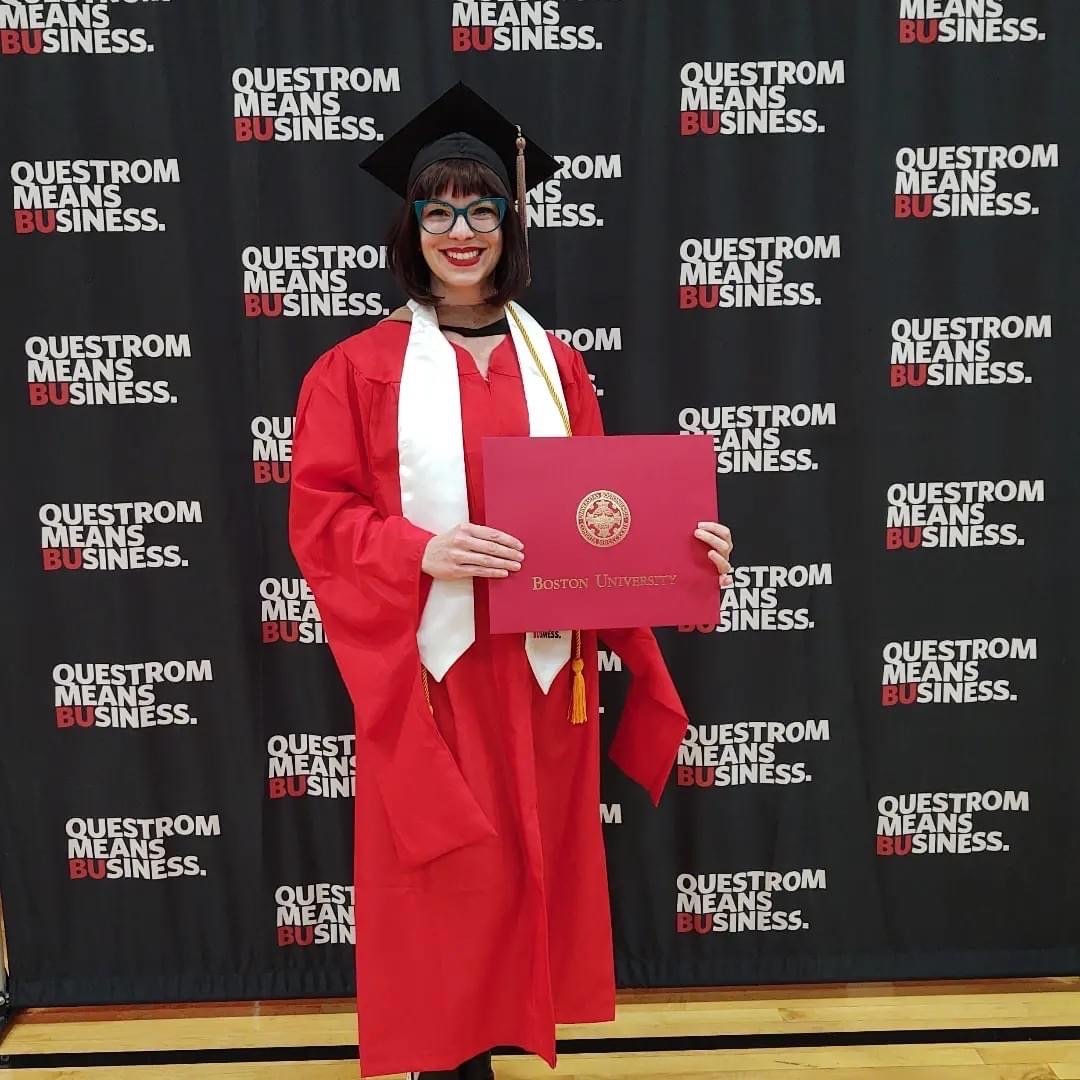 Well, Kaitlin graduated last month and is officially now an alumna. I wanted to see how her perspective on the program has changed now that she's finished with the degree, and (as always) she generously agreed to answer my questions.
Q: Now that you're done, what are you going to do with your newfound free time? (Just kidding!) I'm actually curious to hear your thoughts reflecting back two years ago on why you enrolled in the program in the first place, and if the program delivered upon that goal?
A: Free time … right. As you know, being a working parent of two young children (2 and 4!) there is no such thing as free time, but part of my decision for selecting this BU online M.B.A. program was the ability to fully experience what it's like to be a working parent attending an online program—to "sip my own tea," so to speak, as an industry insider. It has allowed me to truly empathize with the adult learners we serve at Kaplan in a way I could never have imagined from market research alone, so that was reason enough to select the program.
However, being a liberal arts major in undergrad who somehow found her way into leading executive education programs for two of the world's most elite business schools, while I was comfortable with the higher-order concepts such as leading a culture of continuous innovation or strategic crisis communication, I always felt as if I had a knowledge gap when it came to the formal academic study of more foundational concepts such as financial statement analysis or classic strategy frameworks (think Porter's five forces). While I had picked up much of this experientially in my career, my first goal for selecting the BU online M.B.A. program was the academic rigor to fill this foundational layer of my business knowledge pyramid.
Second, but equally as important, was the application-based nature of the program. While academic rigor is important, it is nothing without relevance and the ability to apply it. The BU program is structured a bit differently from traditional M.B.A. programs. Rather than selecting courses each semester in marketing or finance, the program is comprised of six integrated thematic modules—each concluding with a team-based capstone project. For example, module five on Leveraging Global Opportunities began with marketing strategy (e.g., segmentation, targeting and positioning)—essentially, how do you increase customer willingness to pay, then moved into operations strategy (e.g., strategic sourcing and value chain design), how do you decrease cost through operational efficiency, and finally industry and firm strategy tying together marketing and operations strategy by making decisions influenced by both external market inputs and internal capability analysis—all of which was then applied and pressure tested in a multiweek team-based simulation taking a series of new products to market in a new geographic region.
And I got to do all this without going into debt or quitting my day job!
Q: I'm sure you've heard this question before, but what surprised you the most? Is there anything you wish you knew at the start of this experience?
A: When most people think of a fully online program, they envision the MOOC model where learners are essentially alone, consuming content online and taking assessments to attest that they've gained the required knowledge to confer a degree. I too had this bias when I started the program, and it couldn't be further from the truth. The sense of community both surprised and delighted me—whether this was the weekly live online sessions with some extremely seasoned and tenured faculty who through the power of digital technology made it feel as if I were sitting in the classroom with them in person, or the strong emphasis on teaming, where I made friends who I would consider just as close as the friends I lived with in the dorms in undergrad at Tufts. Maybe that's why in its short existence so far, the BU online M.B.A. program has incredibly high completion rates compared to other online programs—when you have that community to cheer you on or ask for help, it's easier to stay motivated in the journey.
Case in point—I attended graduation weekend this past May, as did many of my peers in my cohort, and when we all finally met each other in person, it was like we had known each other forever! The hugs, the smiles, the excitement—you can't fabricate that, and that sense of community was created in a fully online setting.
Q: Zooming out for a minute, I asked last year what the rest of higher education has to learn from programs like the online M.B.A. at BU—what's the headline here? Is this a leading indicator that the rest of us should be taking note of? Or an exemplary program, but still an outlier in the ecosystem?
A: During graduation weekend, there was a brunch for graduates of the online M.B.A., and in his remarks, Paul Carlile, the senior associate dean for innovation at Questrom and the architect of the program, said something that struck me—the program was created in response to what he called "artificial scarcity." There is no reason low-cost, high-quality online degree programs cannot be done by the world's most elite schools at scale. The reason these types of programs aren't more ubiquitous is due to fear—fear of brand dilution, fear of enrollment cannibalization or just higher ed's recalcitrance to innovate and change—and in response I ask this: Who are we hurting most by this artificial scarcity? The working mom who cannot take two years out of the workforce to go back to school? The international student who for personal matters cannot relocate to the U.S.? The first-generation student who doesn't want to take out more loans for graduate school? I'm done with the brand and enrollment conversation; this is a matter of access and equity—especially in business education where the goal is to expand the minds of the next generation of business leaders.
So to answer your question, Josh, this is not an outlier—this is the start of a revolution in higher education, and it's only the beginning!