You have /5 articles left.
Sign up for a free account or log in.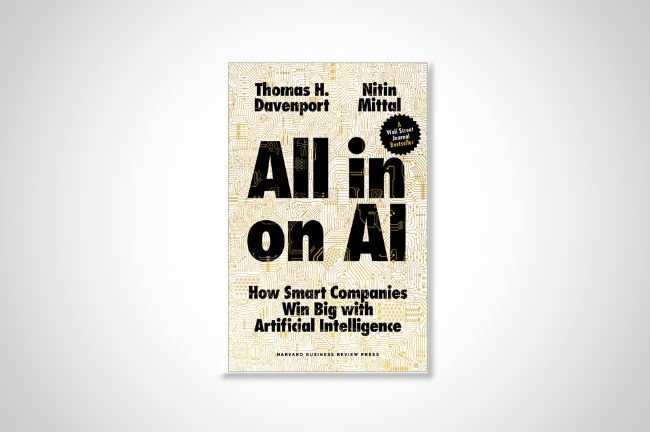 Harvard Business Publishing
All in on AI: How Smart Companies Win Big With Artificial Intelligence by Tom Davenport and Nitin Mittal
Published in January 2023
A friend recommended that I read All in on AI, and I'm glad he did.
I've been perhaps overdetermined not to join the hype (or the worry) around generative AI. In choosing to listen more than write about that specific subset of AI (generative), I've not had to think deeply about AI and higher ed in general. (As I only think when I write.)
Higher education gets only a passing mention in All in on AI. The authors see AI as perhaps useful as a proactive support tool for online learners.
While the postsecondary industry is largely ignored in All in on AI, the book is an excellent place to start for anyone pondering the role of AI in higher education.
Looking beyond the impact of generative AI on teaching and learning, what might a university that is all in on AI look like?
How might AI change how universities are run, and what investments in AI might give universities a competitive edge?
A central insight from reading All in on AI is that if a university ever wants to make it into the top tier by embracing artificial intelligence as a differentiating strategy, that work starts with getting a handle on the data.
An "all in on AI" university would understand that every interaction with a potential learner—for degree and nondegree programs—is data that can be used to train AI.
The book profiles a handful of banking, insurance, grocery, energy and transportation companies that decided to put AI at the center of their strategies. These efforts invariably start with data.
Companies like Anthem, Kroger and Capital One have an advantage when it comes to data compared to universities. CEOs can mandate how their organizations run, where the power of university leaders is more constrained, and our organizations are (by design) more distributed.
The first step for any university determined to go all in on AI will be to put data governance and management at the core of the organizational leadership structure. The person in charge of institutional data, which will be used to train the models to enable AI-driven decision-making, should occupy a prominent role in the university leadership hierarchy.
Few universities I know about have the role of a chief data officer, much less one that reports directly to the president. Nor has the broader university conversation moved to linking data to AI, with few schools engaging in long-range discussions about what will be required to put artificial intelligence at the core of the institution's business strategy.
In online programs (the area I know best), decisions about where to invest in marketing our degree and nondegree programs are made through data-informed decision-making, experience and guesswork. An AI trained on a large enough data set of potential and existing online learners could be a tool to aid in future marketing investments.
As AI-based technologies develop, it will become possible to create predictive models to inform program pricing and marketing strategies.
One area where discussions about AI and the university may be especially relevant is online program management and other online learning school-company partnerships. As All in on AI suggests, some of the most valuable assets universities will hold in the future will be data about learners at every stage in the funnel. This means data on matriculated students and any potential student or learner interacting at any stage with a university degree or certificate program.
Universities compete fiercely for learners. The supply of higher education is larger than the demand. This supply-demand mismatch in higher education is found everywhere and drives much of the tuition discounting and high learner acquisition costs we see throughout the industry.
As All in on AI clarifies, a handful of companies are centering their long-term strategies on leveraging AI tools and platforms. It is not that much of a stretch to imagine a university president who determined to have her school go All in on AI, looks to solve local supply/demand mismatches through an effort to infuse AI across a range of institutional decisions, investments and processes.
What are you reading?