You have /5 articles left.
Sign up for a free account or log in.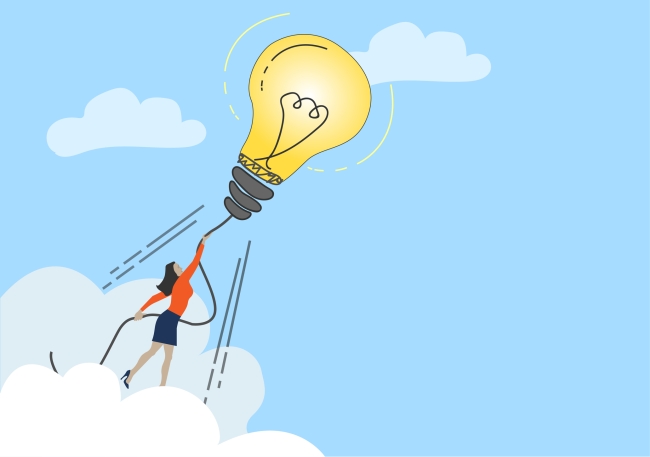 Maria Stavreva/DigitalVision Vectors/Getty Images
In a lot of ways, the story of Heidi Rennert is similar to that of many late-stage Ph.D. candidates in the humanities. She came to the University of British Columbia's Department of English Language and Literatures with a solid track record of academic achievements. "I'm really good at reading syllabi and understanding what's expected of me," she told me. "I'm really good at following rules."
Yet Heidi is breaking the implicit rules of her slice of academe in her plans for life after grad school: entrepreneurship. Humanities grad students are rightly skeptical of the increasing corporatization of academe and don't tend to engage in entrepreneurship in high numbers. And university-based entrepreneurship offices don't usually do much to attract them. Most university-housed incubators and accelerators focus on fostering new ventures in fields like software-as-a-service, new materials and health tech—not the traditional domains of humanities scholars. And those entrepreneurship offices that do support so-called social impact enterprises still struggle to attract humanities students, who resist instrumentalizing their knowledge by putting it to utilitarian use. In short: humanities doctoral students have few established pathways to entrepreneurship.
In Canada, the lack of routes into entrepreneurship—and the distrust of such career paths in the culture of humanities departments—is apparent in the underrepresentation of entrepreneurs among people with Ph.D.s. According to "Degrees of Success," a 2021 Council of Canadian Academies report on Ph.D. graduates' labor market transitions, only 6 percent of people with doctorates are self-employed, compared to 15 percent of the broader Canadian population.
A 2016 UBC survey found that alumni with an arts Ph.D. had a self-employment rate in line with the national average—but that that 69 percent of UBC alumni with Ph.D.s in the social sciences and humanities work in higher education. In other words, for every one entrepreneur with a UBC arts Ph.D. background, there are 12 adjuncts, visiting assistant professors, postdocs and tenure-track faculty members.
Yet entrepreneurship is both a good fit for people with Ph.D.s in the humanities—creative, analytical, hardworking folks—as well as a mechanism through which we can work to bring into being the kind of world in which we'd like to live. "Small businesses are a net good for communities," says Andrea Lloyd of entrepreneurship@UBC, who supported Heidi as she learned about starting up her business. "Working with humanities graduate students to help them develop consultancies provides them with options and resilience in the changing landscape of work. These are good things, even though these businesses aren't framed as 'public good' ventures."
For Heidi, whose grant-writing and public engagement consulting agency is called Lines Composed, pitting entrepreneurship against neoliberalism means refusing to hold economic prosperity and growth as the sole metrics of success, and means as well emphasizing collaboration and cooperation rather than competition. "Coming from the small university where I did my undergrad, I entered grad school hoping to continue cultivating my thinking and writing within a supportive community," she says. "But instead I found isolation, competition, insecurity—that defensiveness that comes from steeling yourself in readiness for Reviewer 2. I don't like the fear of criticism and the valuing of the Romantic model of the solitary genius that seem to persist in academe, despite the scholarly critiques of this model," Heidi adds. "I get that, for a disenchanted Ph.D. and reluctant capitalist, entrepreneurship seems like an unlikely option. But I approached it with curiosity."
Framing entrepreneurship as merely a method, rather than an ideology, has enabled Heidi to set up a consultancy that operates within late capitalism while refusing to adopt its ethos. After all, she says, "the university has never existed as a separate entity from 'outside' economic systems, and has never been a detached or neutral space." Within the neoliberal university, academic capital is measured in productivity, publications, h-index and journal impact factor—imperfect proxies of quality and influence that have been shown to mirror societal gender biases. If people with Ph.D.s in the humanities want to reject systems that are complicit in capitalism and inequity, why do we pursue careers in universities at 12 times the rate at which we carve out our own career pathways?
In UBC's Arts Amplifier, which I started up in 2020, career development staff with humanities Ph.D.s help social science and humanities graduate students experiment with paid work experiences—including paid entrepreneurship opportunities—that align with their existing strengths and knowledge. Rather than providing workshops that target perceived weaknesses among grad students, like time management or resume writing, the Arts Amplifier puts grad students to work in part-time, short-term roles that build on their strengths and enable them to experiment with work experiences beyond the higher ed sector. The first two years of the Arts Amplifier were funded by the Co-op and Work-Integrated Learning Initiative (CEWIL) of the British Columbia Ministry of Advanced Education and Skills Training; the amplifier is now applying for federal funding to expand this model to four additional Canadian universities.
Each year, Arts Amplifier staff collaborate with UBC's entrepreneurship office to offer an entrepreneurial work experience, Amplify Your Product or Service. Tailored to the needs of social science and humanities graduate students, Amplify was funded in part by the government of Canada's Innovative Work-Integrated Learning program and CEWIL Canada's iHub. Heidi participated in this program in spring 2022.
Through Lines Composed, Heidi and her business partner, Sydney Lines, seek to support projects that serve the public good, building bridges between campus and community while supporting the bidirectional flow of knowledge. When developing Lines Composed, their entrepreneurship training guided Heidi and Sydney to consult with external groups and articulate impact, value and significance in ways that aren't represented either in the dissertation or in conventional academic measures of success. Finally, Heidi reports, her intellectual work feels collaborative, even if it isn't conventionally considered "scholarly."
This semester, Heidi is focusing on her research, rather than on Lines Composed. She has two consulting projects lined up for the summer and is working to complete her second dissertation chapter before her business begins to overwhelm her schedule. Yet knowing that the consulting work lies ahead of her—and with it the creativity and pleasure that comes from collaborating on meaningful work—fuels her drive to write. She's pushing for a spring 2025 defense, to be followed by full-time self-employment.
Entrepreneurship is not inimical to humanities scholarship, as Heidi's experience shows. Ph.D.s who wish to pursue entrepreneurship should advocate for their institutions to offer paid entrepreneurial experiences that can help them to start up a consulting service. Investments in Ph.D. students' consultancies and start-ups—venture capital writ small—provide graduate students with the funding they need to register a domain name, incorporate, provide honoraria to stakeholder consultants and even pay their rent before their business begins generating an income. By supporting graduate students with paid, entrepreneurial, work-integrated learning experiences, we can begin to grow the numbers of people with Ph.D.s pursuing this career option, bringing humanities knowledge and skills to disrupt and advance the sectors these alumni enter as well as diversifying the career paths available to people with humanities Ph.D.s.