You have /5 articles left.
Sign up for a free account or log in.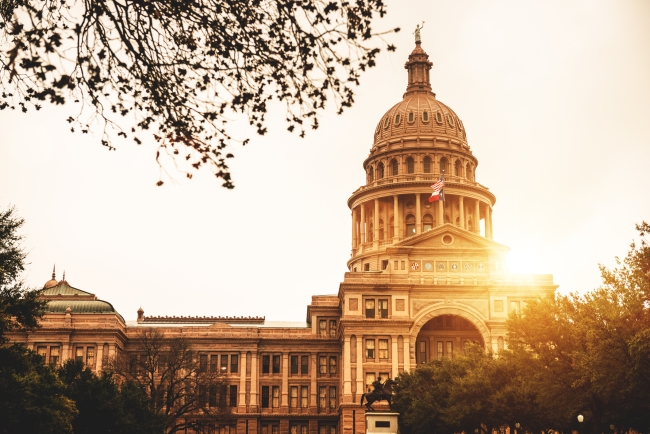 franckreporter/iStock/Getty Images Plus
The motto at my institution, the University of Texas at Austin, is "What Starts Here Changes the World." We are proud of the many incredible accomplishments of our undergraduate and graduate students and of our faculty.  In the last two years, two of my colleagues, history professor Monica Muñoz Martinez and astrophysicist Moriba Jah, were named MacArthur Fellows, to cite just two examples of the nationally recognized excellence of our faculty.
Each year, faculty win federal grants and research fellowships. They are inducted into a wide range of national and international organizations in recognition of their academic achievements. UT Austin is regularly ranked among the top 10 public institutions in the country, recognized for the quality of our teaching and research, the research opportunities we offer to students, and our affordable tuition. We take seriously our charge to provide an education of the first class to our students, and about 90 percent of undergraduates are from the state of Texas. It is with all of this in mind that I express my deep concern for the future of the university I have been proud to be a part of for the past two decades.
Texas Senate Bill 18—which would ban the award of tenure to any future faculty after Sept. 1—was passed earlier this month by both the Texas Senate Subcommittee on Higher Education and the Senate Committee on Education. These votes were just the first of many that will be required for this bill to be signed into law, but this outcome is looking considerably more likely.
The chair of the Senate Higher Education subcommittee, Senator Brandon Creighton, describes tenure as "the practice of guaranteed lifetime employment" and has justified the need to eliminate it with the argument that, "We've seen the brand and the reputation of several of our colleges and universities, including our flagships, that certainly have been damaged because of the actions of a few vocal and fringe tenure faculty." Sadly, the very fact that our state legislators are seriously considering the removal of tenure from all public higher education institutions in the state of Texas is already causing substantial harm to the reputations of Texas public institutions as we attempt to recruit the best and brightest professors to join the faculty this fall. Should SB 18 become law, it would undermine the significant investments Texas lawmakers have made to build up the research capacities of campuses across the state.
An award of tenure is not "a position," as a recent article in The Texan described it. As well, it cannot be reduced to "guaranteed lifetime employment," as my colleague Andrea Gore has explained. It is critical to the production of high-quality, innovative research in all fields of study. It is a bad bet for Texas to take this step of eliminating a practice that has existed since 1915, and that will continue to exist at every other Research-1 university.
Far from being a gift bestowed on a faculty member after a certain number of years of employment, tenure is awarded in recognition of outstanding work in the areas of research, teaching and service. At present, a tenure case at UT Austin requires the candidate to submit an enormous dossier including documentation of their five most significant publications; student course evaluations, plus multiple peer teaching evaluations; letters from their colleagues about their service and supervisory activities; a minimum of six letters from faculty at other "peer institutions"; and candidate statements about their teaching and research. Their case is reviewed at the level of the department, the college and the provost and president. The process of assembling all the documentation and then having it reviewed takes at least one year.
In addition, all tenured faculty working at public institutions in Texas undergo an annual review of their work. All tenure-track assistant professors undergo a comprehensive third-year review to assess their progress and provide feedback. Every six years, all tenured faculty undergo a very thorough Comprehensive Periodic Review. The notion that Texas's public universities are full of "deadwood" tenured faculty who do nothing but collect a paycheck is a convenient myth for opponents of tenure. In truth, we are evaluated far more intensively than employees in other employment sectors.
Tenure is both a recognition of an outstanding record of teaching, research and service and an investment in the future of the individual faculty member's career. It is also what undergirds the university's ability to continue to offer our students, both undergraduate and graduate, the consistent, world-class education that they deserve. It is what attracts applications from top graduate students. Every Texas student has the opportunity to be taught by faculty who have been deemed experts in their area of research.
At UT Austin, undergraduate students regularly work with faculty on their current research, whether in one of the many professor-run labs on campus, on archaeological excavations in Sicily, or studying archives at our very own Harry Ransom Center. Each year, tenured and tenure-track faculty use our professional networks to secure prestigious internships as well as admission to top graduate programs and professional schools for our students. Likewise, we help graduate students secure postgraduate employment, whether in industry or academia.
Adam Kissel, a senior fellow at the Cardinal Institute for West Virginia Policy, visiting fellow on higher education reform at the Heritage Foundation and, since October 2020, a visiting scholar at the Texas Public Policy Foundation, was invited to testify to the Senate Higher Education subcommittee regarding SB 18. He suggested that "Without tenure, institutions will find new ways to attract, retain and promote top talent. That's because tenure is not the only thing that professors value. They are willing to exchange tenure for other things. It could be higher salary. It could be the university promises to attract the top graduate students in the world to work with you. There's a lot of ways to do this."
With all due respect to Kissel, he is wrong. If there were "a lot of ways to do this," they would have been done long ago by other institutions. Faculty members put an extraordinary value on tenure. If professors wanted to maximize their income, they would not have decided to work in academia. Many of us have chosen to remain at a Texas public university when offered more remunerative positions by other universities. We are passionate about teaching the young adults of Texas to master skills, including critical thinking and communication. We are passionate about the research work we do. We work nights, weekends, holidays, all summer long because we are intrinsically motivated. We are not driven by financial incentives but by a desire to make a difference in the lives of our students and to advance the research in our chosen fields of expertise.
A law that removes the possibility of earning tenure or being hired as a senior research professor with tenure would not change the world. It would change Texas and the landscape of public higher education in Texas. Texas has a long and storied history of dedication to accessible public education. SB 18 would swiftly undo the decades of work that went into creating the high-quality public universities in the state. The consequences of passing SB 18 will not be felt all at once; academia moves slowly, after all. But they will be felt as current assistant professors leave, and as esteemed full professors leave. Some will take other academic jobs; others will opt for industry jobs. While "cleaning house" might seem like a good idea to our state Legislature, the stark reality is that there is no secret pool of conservative professors who have been denied access to tenure-track positions because they hold and teach conservative viewpoints.
Within five years and certainly within a decade, Texas public universities will no longer be able to offer the world-class education, the plethora of opportunities that Texas students deserve. Companies move to Texas not just for the tax breaks and lifestyle but because our public universities provide a highly educated workforce. Should this bill become Texas law, it will irreparably harm the reputation of the state's many public universities, including its flagship, UT Austin. It will seriously diminish our ability to hire or retain assistant professors. Tenure protects professors of all political orientations and is valued as much by conservatives as by liberal faculty members. Farmers do not eat their seed corn. Texas is poised to do just that by banning the award of tenure after Sept. 1.