You have /5 articles left.
Sign up for a free account or log in.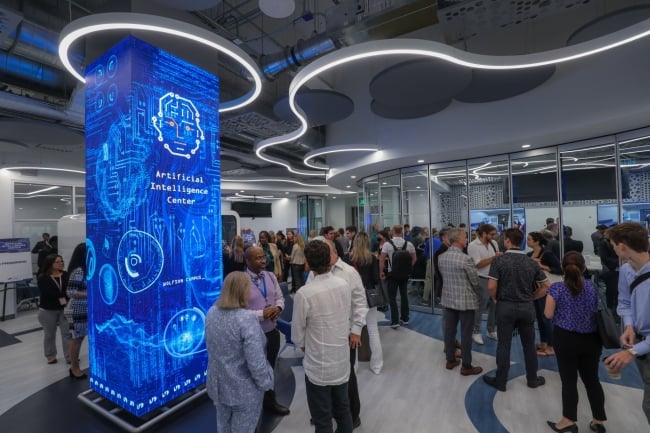 During a recent discussion with a group of students, they asked me if Miami Dade College would ban the use of ChatGPT and other such artificial intelligence tools. My response was that AI-powered tools like ChatGPT are simply the latest iteration of resources that we have been using to access information and knowledge for generations, from encyclopedias to search engines like Google. As educators, it's our responsibility to equip students with every available resource, including AI, while also teaching them how to use these resources with integrity and ethics.
Here at MDC, we have implemented several initiatives to ensure that our students are prepared to succeed in a world—and a workforce—that is rapidly evolving with the integration of AI. My hope is that the actions we've taken, leveraging state and federal funding and industry partnerships, will be helpful to other institutions as they consider how best to respond to the need for an AI-trained workforce.
The steps we've taken include:
Building an advisory committee. The first step MDC took was to develop an artificial intelligence Business Industry Leadership Team (BILT) that assisted in the development of an innovative undergraduate degree in applied AI. The committee, composed of national AI experts from a variety of large and small companies, provided valuable insights into the knowledge and abilities students will need to land a job and sustain a trajectory of growth in the AI field. The committee advised that, above all else, keeping the curriculum current with the demands of the business world is the best way to ensure students will be employable.
Members of the AI advisory team have dedicated countless hours to serving as mentors for students and faculty who were eager to learn about this emerging field. For faculty, building relationships with local business leaders ensures their classroom content is current and relevant, creates opportunities for student internships, provides an avenue for guest speakers and, most importantly, develops pathways to employment for students.
Creating stackable credential pathways. After close collaboration with our AI BILT, we found that the key to fueling the workforce is to build stackable credential pathways so that students can go on to land jobs as fast as possible. The vast majority of people studying AI graduate with a Ph.D., but given the many years it takes to receive this degree, we must find a faster, more efficient way to get students in the field to meet the demands at the moment. The program we have engineered is formulated to accelerate the talent pipeline for the specialized workforce in applied AI from a certificate to an associate degree to a baccalaureate degree. We are on track to offer the stackable AI degree pathway beginning this fall.
Investing in our faculty's professional development. As we invest in our faculty's professional development to bring AI into education, it's essential to shift the culture to one that encourages everyone to be creators, rather than resistors, of new technology. To inspire our faculty to fully understand and create with AI, we've launched the President's Innovation Fund, which invests in faculty who are applying AI or AI tools in teaching and learning. This year we invested $100,000 in 10 faculty projects that will embed AI across multiple disciplines in the college.
Through the project Artificial Intelligence for All, funded by a grant from the National Science Foundation, the School of Engineering and Technology is also working on providing industry-based professional development for MDC faculty to develop and pilot AI courses and integrate AI into existing courses. More than 500 faculty members have attended workshops surrounding AI, and more than 30 have attended advanced training in applied AI. Our plan is to expand the workshops and training to faculty during the 2023–24 academic year, opening up more opportunities for more faculty members to be exposed to AI.
Incorporating AI across all disciplines. Our goal is to provide all MDC students with AI exposure by the time they graduate by creating an AI curriculum that is incorporated across every discipline. To make this a reality, MDC faculty are developing applied AI courses in different fields or embedding AI applications into existing courses. These courses can be taken individually or as part of a new certificate in AI awareness that will be available at MDC starting this fall. Some examples of new courses developed by MDC and approved by the Florida Department of Education include AI Thinking, Applied AI in Business and AI Ethics. Thanks to our government partners at the city of Miami and Miami-Dade County, all AI courses will be free to all local members of the community.
Opening state-of-the-art AI facilities. Reflecting the depth of MDC's commitment to preparing students for the future of an AI-driven workforce, MDC inaugurated two new state-of-the-art Artificial Intelligence Center facilities at two of our campuses during the 2022–23 academic year. The innovative spaces serve as the epicenter for all activities, engagement, curriculum, interaction and collaborations to support MDC's growth as a leader in applied AI. Their conception and vision are the product of a strategic partnership with industry giants like Microsoft, Intel, Dell, AWS and IBM, and of investments from Knight Foundation and the Miami Downtown Development Authority.
Upon entering the AI Center at the North Campus, visitors are greeted by Skye, a holographic concierge powered by IBM's Watson software. The center boasts dedicated classrooms, quantum computing labs, multiuse spaces, design-thinking rooms, a robotics lab and a fully equipped makers' lab, providing students with everything they need to take an AI project from concept to prototype.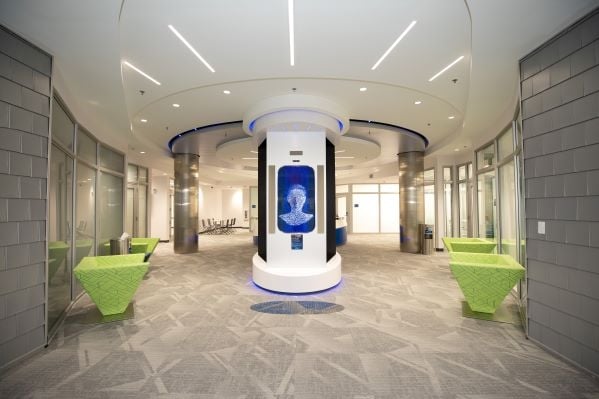 We opened a second AI center at our Wolfson Campus, in downtown Miami, in conjunction with the launch of a new Metaversity campus, "a digital twin of MDC's physical grounds and buildings," with an aim to interconnect all eight campuses and provide students, faculty and staff with opportunities to collaborate and immerse themselves in a digital environment, enhancing teaching and learning outcomes.
Strengthening collaboration with industry partners. To prepare students for the ever-changing job market, it's essential to strengthen our partnerships with industry leaders. These collaborations and work-based learning opportunities provide MDC students with both the technological skills and the soft skills—skills like communication and problem-solving—necessary to thrive in their chosen fields. One of our most significant partnerships is with Intel, whom we have worked with to implement the Intel® AI for Workforce Program.
Educating our community. While many have heard about the growing use of AI, few people understand the specific ways this technology will affect their industry. To address this knowledge gap, we've launched a speaker series on AI and its evolving influence on society. The monthly speaker series provides students, professionals and community members with firsthand knowledge of the latest AI trends and practices by inviting renowned AI professionals to share their experiences and discuss AI's impact on different fields. Topics have included the history of AI, responsible AI and the ethics of its data and algorithms, opportunities for local businesses as well as small and medium businesses, and emerging concepts and innovative technologies accelerating AI.
While we have made significant progress, this is just the beginning. MDC remains committed to realizing the potential of AI and its impact on our world. With the opening of our new AI centers, we are excited to invite our community to join us in exploring the endless possibilities of this cutting-edge technology. Our curriculum is continuously evolving, reflecting our passion for AI and our dedication to staying at the forefront of innovation.