You have /5 articles left.
Sign up for a free account or log in.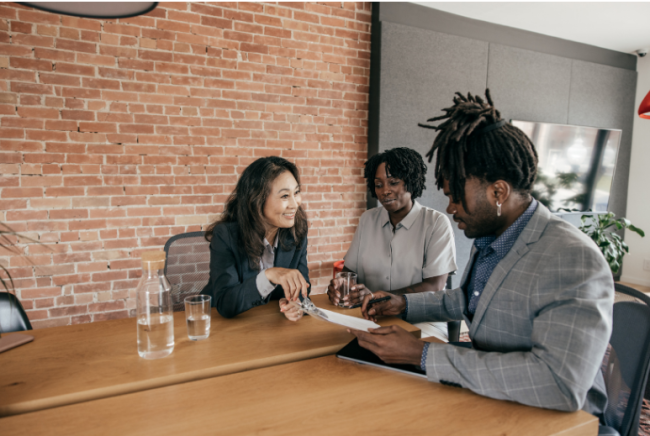 kate_sept2004/Getty Images Signature
Community colleges partnering with employers across the United States have made great strides in upskilling workers, developing pipelines of new talent and removing tough barriers for workers of color. But now that essential work is in jeopardy.
Recent state government actions attacking diversity efforts and the U.S. Supreme Court's affirmative action ruling are hindering these partnerships and their mission to create more racially equitable opportunities and outcomes for learners and workers of color.
Here's one example. Corporation for a Skilled Workforce, in partnership with Lumina Foundation, last year launched the ACE-UP project to work with community colleges and their business partners to deepen their commitment to equitable education and work results. The 17 partnerships included colleges and their business partners across the United States, all dedicated to reducing inequities on campus and in the workplace. The partnerships are working to design and uplift strategies colleges can use to help increase enrollment and success for diverse learner populations, while also helping employers improve their bottom line through improved hiring and retention for workers of color.
But when more than a dozen states started introducing or passing bills that severely limit diversity, equity and inclusion efforts at public colleges, that made it difficult to work on issues of race. The Supreme Court added further confusion this summer when it banned consideration of race in college admissions, a decision that some state attorneys general saw as license to attack race-conscious policies in the corporate world. As a result of these ill-considered actions, a couple of colleges in the initial ACE-UP group decided they can no longer participate in the project, even with the support of their employer partners.
Harmful Decisions
You can't fault these colleges for complying with new legal realities. These realities put ACE-UP partners and many others in a very tough position. Imposing barriers that prevent people of color from advancing hurts generations of workers and their families. It hurts our nation's ability to nurture talent needed for global competitiveness and economic prosperity. It threatens access to publicly funded, high-quality education and training. And it damages businesses trying to grow in a world where the workforce is rapidly diversifying. Clearly, there are costs to us all—the growing wealth gap between white and Black Americans is projected to cost up to $1.5 trillion in lost consumption and investments between 2019 and 2028.
Numbers Are Real
Beyond moral imperatives, the rapidly increasing numbers of diverse workplaces are real. The share of U.S. workers who are nonwhite, Latino or both more than doubled to about 40 percent in 2019 from roughly 17 percent in 1979. Our future workforce will be even more racially and ethnically diverse: according to U.S. Census data, more than half the nation's population under age 18 identified as a racial or ethnic minority in 2020 (53 percent), up from 47 percent in 2010. These new workers will not accept anything less than true equity in education and employment.
What We Need to Do
We need to collaborate to ensure that the important work of achieving racial equity and opportunity is not derailed by government officials unready or unwilling to wrestle with past and current inequities. And we need to move beyond a zero-sum mind-set, thinking that progress for some comes at the expense of others.
For colleges, this means rethinking strategies to ensure progress toward racial equity—and fighting back against the anti-DEI climate and its chilling effects on freedom of speech.
For employers, this means making clear that the bottom line depends on getting the best—and therefore most diverse—talent available and standing up for college partners as they do the work of preparing a diverse workforce.
For policy makers, this means protecting hard-fought equality gains and preserving our shared values of fairness, justice and opportunity. Some are even finding ways to double down on closing equity gaps.
We must move forward and build on the gains we've made in our college-business partnerships. Many colleges, for instance, have worked hard to ensure that students of color are not tracked into programs with low pay. And many businesses have worked hard to create safe, inclusive workplaces. This is complex and necessary work —work that builds strong families and a prosperous nation—and we can't stop now.