You have /5 articles left.
Sign up for a free account or log in.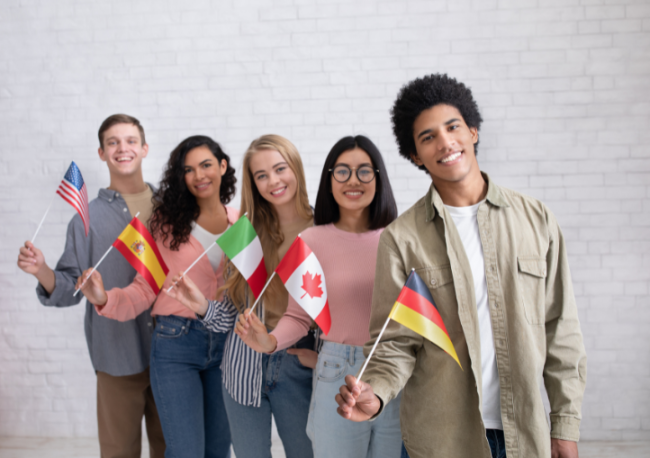 U.S. News & World Report has been under intensifying scrutiny from the higher education sector in recent years. In response, the ranker drastically changed its methodology for the 2024 rankings (released in September) to include more indicators they claim better reflect student outcomes.
An unfortunate consequence of these changes, however, is that the data erases the hundreds of thousands of international students studying at colleges and universities in the United States. The new U.S. News methodology changes lean in favor of domestic-centric, U.S. governmental policy initiatives that do not account for international education.
One of the most hyped new measures in the rankings comes from the comparison in earnings between college and high school graduates. U.S. News sources these data from the federal government's College Scorecard, which only includes earnings information for domestic graduates.
Similarly, U.S. News has started to account for the success of first-generation students. However, the data, also sourced from the College Scorecard, only include federal loan recipients, excluding international students, who are ineligible for this aid.
These same issues were present in previous versions of the ranking but have been exacerbated in the newest edition, which also places increased weight on outcomes for federal Pell Grant recipients—again, excluding international students, who do not qualify for Pell Grants.
The higher education sector has put greater emphasis on the success of first-generation and low-income students in recent years. So it makes sense for U.S. News to consider these important groups after years of neglect. Still, it should not come at the expense of international students.
Two metrics dropped from this year's ranking criteria were class size and alumni giving. While both measures were not perfect, they at least could include the entire student population.
Taken together, metrics that preclude international students now account for more than 20 percent of both the national university and other college rankings, up from 10 percent the year before. This domestic-centric movement is exactly the wrong direction for our ever-globalizing sector.
Metrics That Exclude International Students
| | | |
| --- | --- | --- |
| Metric | Weight in National Universities Ranking | Weight in Other Universities Ranking |
| Pell graduation rates | 3% | 5.5% |
| Pell graduation performance | 3% | 5.5% |
| First-generation graduation rates | 2.5% | - |
| First-generation graduation rates performance | 2.5% | - |
| Borrower debt | 5% | 5% |
| College grads earning more than a high school grad | 5% | 5% |
| Total | 21% | 21% |
International Students Erased
According to Organisation for Economic Cooperation and Development data, international students comprise roughly 5 percent of the higher education student population in the United States. While this might seem like a small percentage, there are still almost a million international students in classrooms around the country, according to the Institute of International Education's Open Doors.
The percentage of international students certainly varies from institution to institution. In a large state university, international students may make up only a fraction of the student body, while at small liberal arts colleges like Soka University of America, every other student might be from another country. The diversity of institution types is a reflection of our system's strength.
State universities may have specific mandates to educate local students over those from abroad, which was the case when the University of California system capped out-of-state enrollments in 2017. But even large state systems like the University of Wisconsin take in significant numbers of international students. Why should the more than 3,000 international undergraduates in Madison be tossed out?
Private universities, on the other hand, do not have these same state mandates and offer crucial pathways for international students to come to the U.S. without using any public resources.
No matter the size of the population, these students are still an important part of campus communities. There has been a common stereotype that international students are merely cash cows for universities that charge them full tuition. Excluding these students from a large portion of the metrics plays into this hurtful stereotype, sending the message that they do not matter.
A Pattern of Trouble With Internationalization
In general, U.S. News has struggled to grapple with aspects of internationalization.
U.S. News was the first ranker to gain prominence in the 1980s with a domestic ranking, but the organization did not produce a globally focused ranking for more than 30 years until it launched its Best Global Universities ranking in 2014. It was decades late to the global ranking game that has been dominated by peers abroad, such as QS and Times Higher Education in the United Kingdom or the Shanghai Ranking Consultancy in China. (Inside Higher Ed is owned by Times Higher Education.)
Furthermore, we previously critiqued U.S. News for haphazardly ranking study abroad programs based solely on a single indicator on a broader opinion survey of university leaders. The ranker does not attempt to capture better data that could be useful to students in making study abroad decisions.
Even its traditional rankings miscount domestic students when international education is introduced. For instance, students studying abroad are nowhere near campus, yet they get counted in student-faculty ratios. Conversely, instructors from our partner institutions in other countries who teach students studying abroad—a typical arrangement in international exchanges—do not get included in the calculation.
What might seem like minor points can add up in the case of smaller colleges like our own that require study abroad. At Soka, all third-year students leave campus for semester-long study abroad each year, yet they are still counted in our student-faculty ratio. In contrast, our international students on campus are excluded from many essential indicators by the ranker.
U.S. News has dismissed international students, but ironically, these are the very students who most rely on rankings in college-choice decisions—much more than U.S. students.
U.S. institutions are becoming increasingly global. We often use phrases like "world-class," "internationalization" and "global citizenship" when describing our various efforts. However, U.S. News struggles with these aspects of international education. It is a parochial ranking in a globalized sector.