You have /5 articles left.
Sign up for a free account or log in.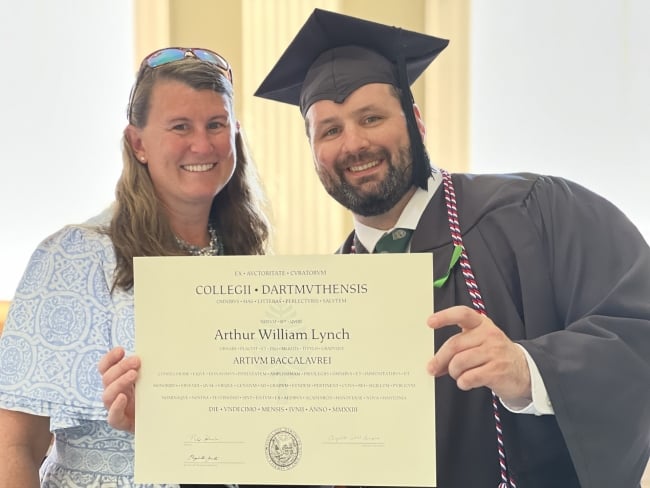 Arthur Lynch and Anne Hudak
My column yesterday was the sledgehammer. Today, some heartening news.
Within the numbers of my small sample each year, good news and progress emerge. The big picture may be discouraging still. That said, individuals at many of the colleges are working hard recruiting and supporting veterans, and the successes are well worth reporting.
Syracuse, 169 undergraduate veterans, and Columbia, 277, were in the lead before I was born. Both remain in the lead. Skip the column and read of the many years of success at Columbia. Cornell declared a goal of 100 undergraduate veterans, and, with 72, progress continues.
The University of Chicago with 86 and Harvard at 71 have leaped ahead from zero and near zero a few years ago. Brown has advanced each year to 51.
This year reports of individual veteran successes are easier to find. These prove wrong the selective colleges' fears, without hard data, that veterans could not succeed.
Arthur Lynch, Air Force, Dartmouth, biology major and Learning Fellow, Latin. Evaluating Ph.D. programs in evolutionary biology. I will digress with the student I know best.
Arthur showed up in my windowless office at Bunker Hill Community College one May afternoon, grumbling that he could not find an internship in evolutionary biology. Not a routine question. It was late to apply. Would he settle for a paid internship in bioengineering at the Harvard School of Engineering and Applied Sciences? Check out evolutionary biology another year?
Grumble. OK. Arthur soon transferred to Dartmouth and found Harvard evolutionary biology internships for the next three summers until his 2023 graduation.
Dartmouth veterans often make videos about how they ended up at Dartmouth. Arthur's referred to me as "some old guy in an office somewhere." Two more veterans from Dartmouth discuss the college.
Three successes via Service to School (S2S). S2S links veterans who want to go to college with veterans in college and guides the veterans through the still-perilous selective college application process. S2S has expanded to assist veterans applying to law and business school.
The Warrior-Scholar Project shows hundreds of veterans each year that they can succeed in college. Read and watch the alumni stories from the Warrior-Scholar Project. Listen to these Service to School podcasts. Some WSP podcast titles:
"From Foster Care to UChicago Marshall Scholar (Oxford) with Ricky Holder"
"Academic Prep with Warrior-Scholar Project"
"Tackling the Rigors of MIT with Subin Kim"
"Open Curriculum with Amherst College and Vassar College"
"Dedicated to Service: From Naval Fire Controlman to Harvard and Americorps with Alex Walsh"
This year has brought more news, beyond one obscure columnist, of veterans' issues into the visible-light spectrum, at last. Best of all, a first in the heart and soul of the higher education establishment, for the Association of Governing Boards of Universities and Colleges magazine Trusteeship, my friend Lesley McBain wrote an excellent, balanced article of advice for colleges to consider enrolling veterans.
My columns consider selective private colleges. (As much as I can research and write.) My Inside Higher Ed colleague Jessica Blake just published the best national review of veterans and college I have read: "Veterans 'Check the Boxes' Colleges Now Seek."
The Syracuse Institute for Military Veterans and Military Families published a thorough evaluation of the Warrior-Scholar Project. In summer 2023, 270 students, veterans and active duty, went through the full 10-day WSP program, said Ryan Pavel, its chief executive officer. All 40 seats for the December program are full, he said.
I visited the programs at Williams and MIT last summer. Students read de Tocqueville and Thucydides and do math with more Greek letters than I understand. Stories by WSP alumni have brushed aside selective colleges' initial worries, without data, that veterans would not succeed. WSP and Service to School are free to veterans and enlisted men and women.
Catharine Hill, longtime veteran advocate, president emerita of Vassar, a friend and now head of Ithaka S-R, a research group and consulting firm for higher education, and Ithaka published "Improving Opportunities for Veterans." Again, a welcome leap into the visible-light spectrum for veteran issues. Skip this column and read the Ithaka reports.
Selective colleges, at last, are boasting about veterans. The University of Pennsylvania, which gave me a hard time for many years, put veterans in its own spotlight, "Serving Service Members." Yale put on its homepage a podcast of President Peter Salovey talking with a veteran, "Veterans Day: Becoming a leader in the military and at Yale." Before Veterans Day Yale ran "'A Day for Us'; Reflections from Yale's Military Community." In October, Brown announced that it would double the enrollment of undergraduate military veterans, "permanently funding full scholarships."
The Georgetown Military and Veterans' Resource Center includes a rigorous evaluation of Georgetown's work with military-connected students, not only veterans. (Due to staff changes, Georgetown was unable to provide a number for the survey this year.)
Georgetown reports:
A 110 percent increase in military-connected student enrollment between 2013 and 2021.
One percent of Georgetown undergraduates are military connected.
Nationally, roughly 6 percent of all undergraduate college students are military connected.
Williams let loose a blizzard of social media praise for and thanks to veterans. I discovered a secret—well, private—Listserv connecting Williams alumni who are veterans. I wish I could share those stories. I urge Williams, with permission, to share these stories with everyone.
Click on the excellent Consequence Forum site, "addressing the human consequences and realities of war and geopolitical violence through literature, art, and community events."
Boston University School of Public Health has had several powerful online forums on veterans' health and veterans in society. One of the most recent is here.
My annual rankings do not, still, make front pages anywhere. This is progress. Remember that Bunker Hill Community College this fall has 246 undergraduate veterans. This blowtorch, I mean sledgehammer, on selective colleges will continue.