You have /5 articles left.
Sign up for a free account or log in.
Update: This article has been revised to include more details about the report.
Slightly more than half of military veterans who used Montgomery and Post 9/11 G.I. Bill benefits have completed the academic or training program they pursued, according to new data released today.
The study, released today by Student Veterans of America (SVA) in conjunction with the U.S. Department of Veterans Affairs and the National Student Clearinghouse, showed that 51.7 percent of a sample of 788,915 former military service members who pursued some kind of postsecondary credential earned one within a 10-year time frame. That completion rate only slightly lags that of the general student population. Veterans also take longer to earn their credentials, but that may be due in part to their often lengthy military deployments.
"The majority of student veterans accessing their G.I. Bill benefits are completing degrees and showing unparalleled determination to do so, despite many unique barriers," said Wayne Robinson, SVA's president and CEO, in a written statement. "A single deployment can interrupt a student veteran's education for at least 9 to 13 months, but they're returning to the classroom and completing."
The sample reflects about 22 percent of the student veterans who received G.I. Bill benefits between 2002 and 2010. While the Veterans Affairs Department in recent years has processed more than four million education claims at a cost of more than $30 billion, there has been no way to track completion rates for those students. The SVA aims to change that with this ongoing research effort, which the group dubbed the Million Records Project.
The report found that 80 percent of students in the sample enrolled in public institutions, while the rest were split fairly evenly between private nonprofit institutions (10.7 percent) and for-profits (10.1 percent). The role of for-profits in serving student veterans has been controversial at times, sparking recent scrutiny from several Democrats in the U.S. Congress. However, the report notes that the for-profit sector's coverage rate in the data sets was less complete than for other types of institutions.
Student veteran completion rates were higher at public and private nonprofit institutions than at for-profits (see graphic).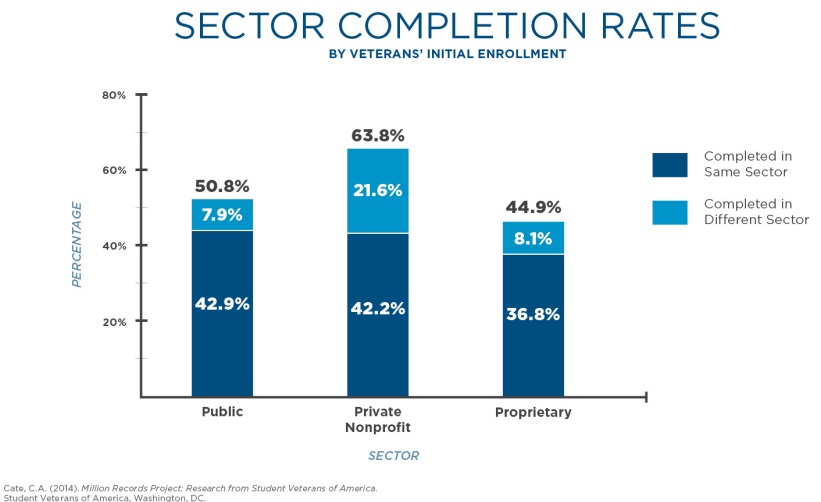 "The results, while not definitive due to the varying coverage rates previously discussed in this report, show that private nonprofit institutions, public schools and proprietary schools can all improve their postsecondary completion rates. However, some sectors may need to improve more than others," the report said. "If student veterans initially enroll at a public or private nonprofit institution of higher learning, they are more than likely to earn a degree over the course of their lifetime from any school. The converse is potentially true for those first enrolling in a proprietary school; they may be less likely to complete a degree in their lifetime from any school."
More than one third of student veterans earned a degree or certificate prior to tapping their G.I. Bill benefits, according to the report. And nearly half of that group went on to earn another degree. 
Several fields of study were particularly popular among veterans. At the associate-degree level, the most common were in liberal arts and sciences, business, homeland security, law enforcement and health professions, according to the report. The top five bachelor's degree programs were business, social sciences, homeland security, law enforcement and computer and information sciences.