Title
4 Students Start Hunger Strike at Tufts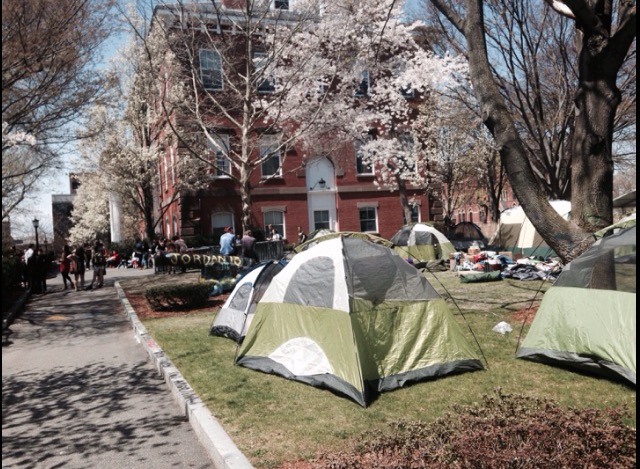 Four students at Tufts University announced Sunday that they have started a hunger strike, and will camp indefinitely with supporters outside on the campus (see photograph) without eating unless the university abandons what the students say is a plan to cut the jobs of 17 percent of the janitorial workforce. Students are camping outside the main administration building.
A statement from Adelaida Colon, a custodial worker, said: "The cuts will affect many workers, both part time and full time. Many people will be affected, many will lose their work and many of us will receive a heavy load of work. Right now, we are giving the university good service and we have been giving it for 18 years, but if they do the cuts it will be an absolutely different job. The students won't feel the same, it won't be a complete service to the university."
Via email, a Tufts spokesperson said Sunday evening that the university respects the right of students to protest "as long as they do not interfere with university operations or activities." The statement said that the university hoped those on a hunger strike "will be mindful of their health and safety."
As to the issues being raised by the protest, the spokesperson said that the university is working to control costs so that it can minimize tuition, and that looking for efficiencies led Tufts to work with an outside company to manage custodial work. DTZ, that company, "has committed to doing everything possible to find other jobs within the company for the affected custodians, including implementing a hiring freeze to facilitate the transfer of affected workers to new locations." The spokesperson also pointed to a recent essay in The Tufts Daily in which university administrators explained why the university was changing the way it provides custodial services.
Opinions on Inside Higher Ed
Inside Higher Ed's Blog U
Topics
What Others Are Reading
Past:
Day
Week
Month
Year