Title
Counterprotest Larger Than Fake Mass Shooting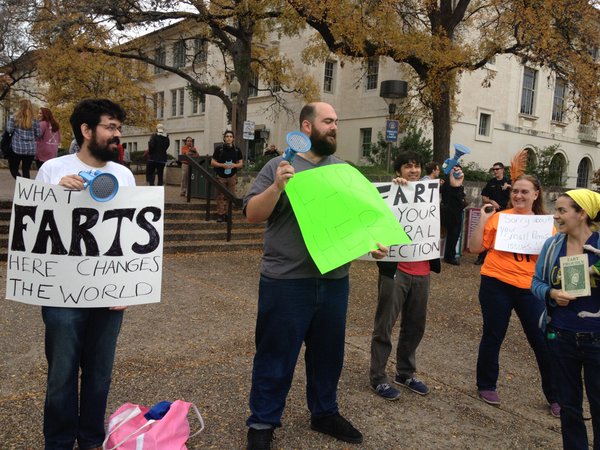 Only a few rifle-toting people showed up Saturday for what was billed to be a fake mass shooting near the University of Texas at Austin. The controversial event was designed to illustrate what organizers consider the dangers of gun-free zones. The event was originally planned to take place on the campus, but was moved when UT officials said outside groups didn't have the right to use the campus for such events. The fake shooting was then moved again Saturday, from right next to campus to a few blocks away, when the pro-gun protest organizers said that they weren't being heard amid a larger counterprotest by people who oppose guns on campus. Multiple press accounts indicate that few people saw the fake mass shooting, although many saw a few people marching, legally, with rifles. Many at the university were upset by the planned event, viewing it as insulting to victims of mass shootings, including one that took place at UT Austin.
A larger counterprotest, organized by a group called Mass Farting: Say No to Gun Violence at UT, attracted a larger crowd. Attendees used "fart blaster" toys to make flatulence sounds, indicating their disgust with the movement to bring guns onto campus. (Quite aside from the fake shooting, Texas lawmakers have passed a law that will let carrying guns be legal in many spaces in public higher education in the state.)
While the law stands, the Mass Farting group posted on its Facebook page that it believed its larger numbers carried the day Saturday. "What a tremendous success! We stood up to the bullies and in the end they looked even dumber than I was expecting -- they screwed up their press coverage entirely, and we were the story. Humor won over fear today, and that doesn't happen often. Relish the victory, folks," said the statement.
Opinions on Inside Higher Ed
Inside Higher Ed's Blog U
Topics
What Others Are Reading
Past:
Day
Week
Month
Year