SEO Headline (Max 60 characters)
Professor Answers Wheaton's Charges Against Her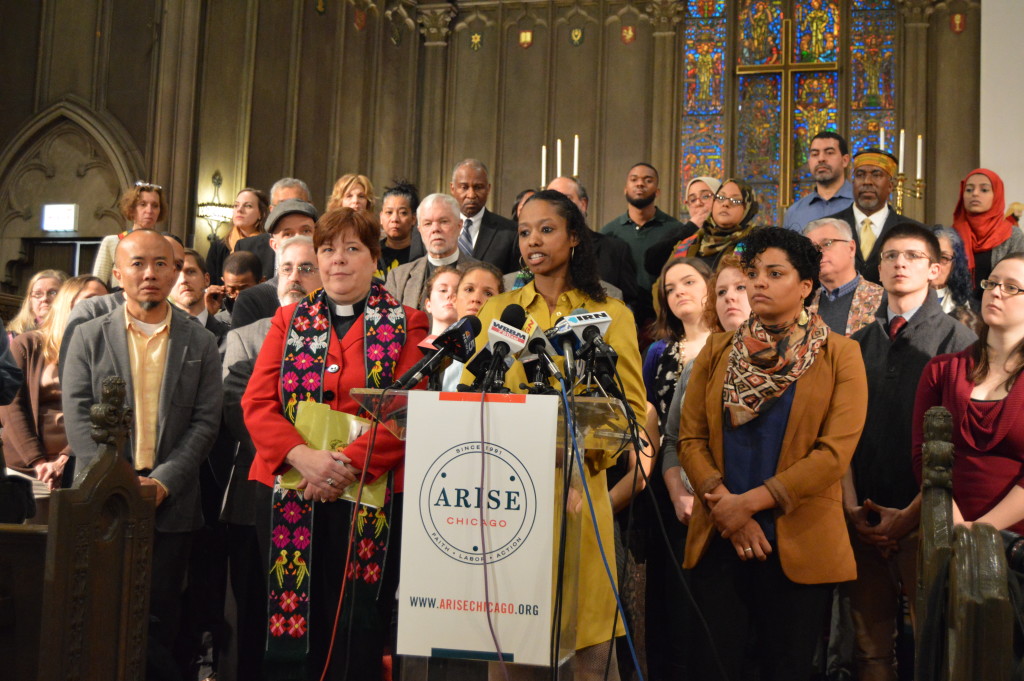 Larycia Hawkins, whom Wheaton College in Illinois is trying to fire from its political science faculty, on Wednesday held a press conference to criticize the college. Hawkins attracted attention in December by saying she would wear a hijab during Advent to express solidarity with Muslims in a time of considerable anti-Muslim political rhetoric in the United States. The college, a Christian institution, said Hawkins disqualified herself to teach there by stating that Muslims and Christians worship the same God.
At her press conference, surrounded by some of her students and by religious leaders, Hawkins said Wheaton treated her unfairly. "Wheaton College does liberal arts well. Yet, I am left to ponder, how well does Wheaton College treat its employees who dare to challenge students and peers to stand with, not merely for, people outside the Christian fold?" Hawkins said. "How well does Wheaton College care for its neighbor in Syria, in the south side of Chicago and in Soweto? And what if the neighbor on the south side happens to be Muslim? Will we fail to engage her because she is veiled? Will we shun the divine in her because she denies the deity of the one we call son of God and son of man?" Her full statement is here.
The American Political Science Association on Wednesday released a letter to Wheaton officials urging that Hawkins keep her job. "Her suspension appears to be connected to public statements about the status of religion in public life -- statements that cannot be separated from her scholarly focus on religion and politics," the letter says. "While we cannot presume to know all the facts of her contractual relations with Wheaton College, we find the overlap between her scholarly focus, her public statements and Wheaton's resulting action particularly troubling. We urge you to continue working to resolve the situation so as to leave no doubt as to the college's commitment to academic freedom, to freedom of expression and to its stated support for 'a robust exchange of ideas among faculty and students on the critical issues of the day.'"
You may also be interested in...
Today's News from Inside Higher Ed
Inside Higher Ed's Quick Takes