SEO Headline (Max 60 characters)
Tracking States on Transfer
Nationwide, just 14 percent of students who first enroll at a community college transfer and eventually earn a four-year degree within a six-year period, according to a new report from the Community College Research Center at Columbia University's Teachers College, the Aspen Institute College Excellence Fund and the National Student Clearinghouse Research Center.
The three groups recently announced a partnership to push for smoother transfer pathways. They used data from the clearinghouse to break down transfer and graduation numbers in more detail than had previously been available. The groups found that even states with the best record on transfer see one in five community college students earning a four-year degree within six years. States at the back of the pack have transfer and graduation rates that are in the single digits.
"This report enables us, for the first time, to see in which states colleges are supporting students in this journey so we can figure out what works and enable students everywhere to be successful," Davis Jenkins, a senior research associate at CCRC and co-author of the report, said in a written statement. "Greater success for more students will cut down on the waste in taxpayer money when students drop out or lose credits as they transfer."
The transfer and graduation data show that lower-income students tend to fare worse than their wealthier peers. The gap is particularly wide in California, Illinois, Maryland, New Jersey, Pennsylvania and Texas, among others, the report found.
The researchers also found a wide range of rates among colleges with similar characteristics and that enroll similar student populations.
"Importantly, this implies that how institutions serve transfer students matters: institutional practices that serve transfer students well can lead to better-than-expected outcomes for institutions with relatively few resources or more educationally disadvantaged students," the report said. "It also indicates that institutions could improve their transfer performance if they changed the way they serve transfer students and worked more closely with their transfer partners."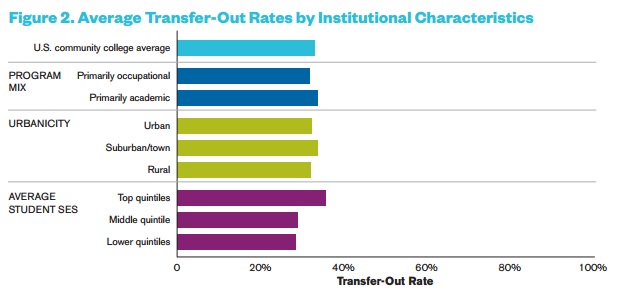 You may also be interested in...
Today's News from Inside Higher Ed
Inside Higher Ed's Quick Takes