Title
Tulane Debates Hoda Kotb as Commencement Speaker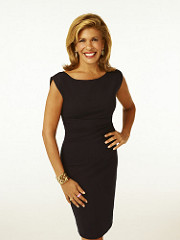 Students at Tulane University are debating the selection of Hoda Kotb (right) as commencement speaker. Kotb, a co-host on the Today show, has ties to New Orleans, where she was an anchor for a local television station. While Kotb has covered a range of issues in her career, her Today show work is part of the show's lighter side of the news -- and has been spoofed by Saturday Night Live. A petition started against the selection.
Press accounts say the petition said: "Given the amount of money, work, and passion we have poured into our educational careers at Tulane, we think we deserve better than this. Hoda Kotb is hardly an inspirational figure, and despite the fact that she has had a successful career in journalism, we feel that we deserve a more recognizable and more prominent figure than her. Commencement speeches are supposed to inspire students before they are thrown into the real world. Hoda Kotb spends her time sipping wine on talk shows, and discussing which dog breed is trendiest in 2016. There's hardly anything inspirational about that. This is an embarassment [sic] not only to the entire class of 2016, but also to the school as a whole."
A few days after the petition was up, it disappeared. Another petition has appeared defending Kotb's selection. It says in part: "A few days ago President [Michael] Fitts invited Hoda Kotb to give the commencement speech at Tulane for the class of 2016. Shortly after, a petition was made claiming that students 'deserved better.' These students do not represent the majority, and should not represent Tulane. Support for Hoda from the rest of the student body has gone unnoticed in the shadow cast by negativity; let's show them and Hoda how happy and lucky we are to welcome her to Tulane! Please sign to support the selection of Hoda Kotb as our commencement speaker!" The petition added, "We would love to see her up on that podium, glass of wine in hand, sending us off on our journeys in life. Let's show Hoda some love!"
Opinions on Inside Higher Ed
Inside Higher Ed's Blog U
Topics
What Others Are Reading
Past:
Day
Week
Month
Year