You have /5 articles left.
Sign up for a free account or log in.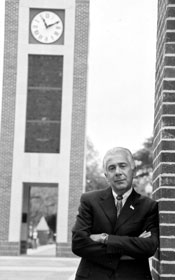 A rift opened last week between the University of the Incarnate Word and its leader of 30 years after the Roman Catholic university in San Antonio placed President Louis Agnese Jr. (at right) on 90-day medical leave, citing uncharacteristic behavior.
Agnese, 65, was placed on leave just before the start of fall classes this week due to "sporadic uncharacteristic behavior and comments," a statement emailed Thursday from the board chairman, Charles Lutz, said. The statement also said that Agnese's interactions with some students, faculty and staff in the last two weeks had caused "considerable concern for his well-being," and it went on to apologize to "persons who may have been or were offended." An unnamed university official told the San Antonio Express-News that Agnese could have a serious medical condition altering his behavior.
But Agnese denied acting inappropriately or having any condition, telling the Express-News he was upset and that the board was "messing with the wrong man."
"I will have the board send out a retraction to that [expletive] they sent out today," Agnese said, according to the newspaper. "They ruined my reputation of 31 years. They will send out a retraction by Monday or I will sue the chair of the board. You can put that in the paper in quotes."
Incarnate Word said Agnese requested the medical leave. The Express-News interviewed him as he planned to board a plane for Hawaii.
The president was inaugurated at the University of the Incarnate Word in 1986. It had 1,300 students at the start of his tenure and has since grown to almost 11,000 students with multiple sites in San Antonio and internationally.