Title
Regent Criticized by Some Alumni Over Trump Rally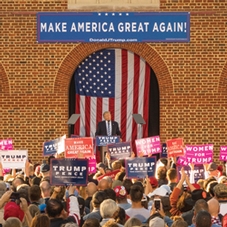 Fourteen alumni of Regent University's law school have issued a letter to Pat Robertson, the evangelical leader who is the founder of Regent, expressing concern about the university's association with Donald Trump. The Republican candidate held a campaign rally at Regent Saturday at which Robertson welcomed him warmly and predicted he would be elected president.
The alumni letter said that there was nothing wrong with Regent providing a space for candidates to speak, but said that the alumni worried that Regent appeared too close to Trump, and that Trump's values were wrong for the university. "Mr. Trump is antithetical to this mission. He brags about sexual exploits and assault, degrades women habitually, proposes that all Muslims be excluded from entry into the U.S., encourages violence by his supporters, and promotes killing terrorists' innocent families," the letter says. "His arrogant, hypersensitive temperament is unbecoming a serious candidate for the president of the United States and contradicts the biblical teachings of humble, servant leadership. In short, many of Mr. Trump's attributes, activities and positions do not align with the Christian principles taught at Regent University, and we reject them. We urge the administration, faculty and students at Regent to do likewise."
Regent released a statement to WTKR News that said in part, "All presidential candidates registered in Virginia were invited to hold events at Regent. Mr. Trump accepted the invitation. We encourage feedback from our students and alumni and acknowledge their perspectives. We do not endorse or oppose any political candidates, but do encourage our community to participate in the political process."
Opinions on Inside Higher Ed
Inside Higher Ed's Blog U
Topics
What Others Are Reading
Past:
Day
Week
Month
Year