Title
And the Winner of #IHEreaderschoice for 2016 Is ...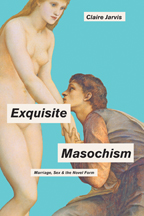 This is the second year of the #IHEreaderschoice award for the best book published by a scholarly publisher that would make a great holiday gift for an academic. More entries this year than last year were books about higher education, and some on social media suggested that such a book should win. Our voters pushed three books about higher education into the final five, but the winner was not among them.
The winner is Exquisite Masochism: Marriage, Sex and the Novel Form, by Claire Jarvis, an assistant professor of English at Stanford University, and published by Johns Hopkins University Press. The book is about how realist novelists in the 19th and early 20th centuries would "hint at sex while maintaining a safe distance from pornography."
This is the second year in a row that a Hopkins book won the prize. Last year's winner was The Poems of T. S. Eliot, edited by Christopher Ricks and Jim McCue.
Five of those who voted for Exquisite Masochism will receive a free copy of the book, courtesy of Inside Higher Ed.
The runners-up, in order of votes received, are:
Inside Higher Ed congratulates all the authors and publishers and all the books nominated. We encourage you to use the #IHEreaderschoice hashtag to find great gift ideas for all the academics on your gift list.
Opinions on Inside Higher Ed
Inside Higher Ed's Blog U