Title
Global Look at Religion, Education and Gender
In a worldwide comparison of years of education, by religion, Jews emerged as the most educated group by far, in new research from the Pew Research Center. Jews have 13.4 years of formal schooling, on average, followed by Christians, at 9.3 years.
Another notable finding was that the most highly educated religious groups have the smallest gap (or, in the case of Jews, no gap) between the average years of formal schooling of men and women.
Details of the study may be found here.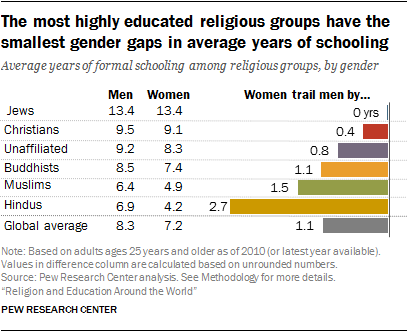 Opinions on Inside Higher Ed
Inside Higher Ed's Blog U
Topics
What Others Are Reading
Past:
Day
Week
Month
Year