You have /5 articles left.
Sign up for a free account or log in.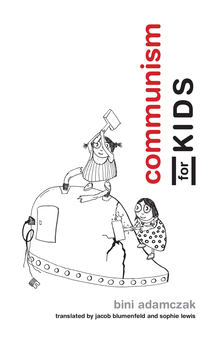 Word spread last week that MIT Press has published a book called Communism for Kids, by Bini Adamczak, a Berlin-based social theorist and artist. The press describes the book, in part, this way: "It all unfolds like a story, with jealous princesses, fancy swords, displaced peasants, mean bosses and tired workers -- not to mention a Ouija board, a talking chair and a big pot called 'the state.' Before they know it, readers are learning about the economic history of feudalism, class struggles in capitalism, different ideas of communism and more. Finally, competition between two factories leads to a crisis that the workers attempt to solve in six different ways (most of them borrowed from historic models of communist or socialist change). Each attempt fails, since true communism is not so easy after all. But it's also not that hard. At last, the people take everything into their own hands and decide for themselves how to continue. Happy ending? Only the future will tell."
While there have been no reports of school districts assigning the book, conservative bloggers have sounded an alarm. And to the alarm of some in academic publishing, some on social media have called for the book to be burned. One much forwarded (and liked) tweet says, "Academia Out of Control: MIT Press Publishes 'Communism for Kids' Book Should Be Burned & Banned."
MIT Press issued this statement from its director, Amy Brand: "The MIT Press gives its editors and authors the freedom to publish peer-reviewed works that inspire conversations and provoke thought. Recently we have heard objections from media outlets and individuals who find this book offensive. We respect that criticism and of course expect to receive it in the case of any book that makes a controversial case. We do not endorse any philosophy other than freedom of expression -- for our authors, our readers and, in times like this, our critics. All of us benefit from the full and free exchange of ideas that matter."