You have /5 articles left.
Sign up for a free account or log in.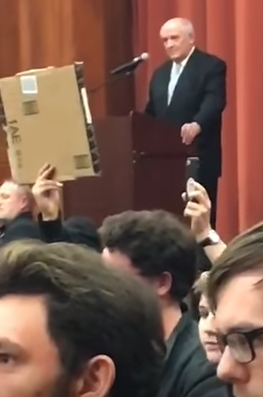 Prior to the visit of Charles Murray to Middlebury -- where he was shouted down by students -- the political science department at the college was criticized by Murray critics on campus for agreeing to co-sponsor the talk. At the time, the department said that it simply agreed to co-sponsor events that related to political science, and that doing so was not an endorsement of Murray.
Now the chair of political science is apologizing for agreeing without wide consultation to co-sponsor the event.
"Last week, I apologized to my departmental colleagues for this closed decision-making process, and I apologize now to the broader Middlebury community," said a letter from the chair, Bertram Johnson, published in the student newspaper, The Middlebury Campus. "The short amount of time between when the event became public and when it occurred gave all of us scant opportunity to listen to and understand alternative points of view. Most importantly, and to my deep regret, it contributed to a feeling of voicelessness that many already experience on this campus, and it contributed to the very real pain that many people -- particularly people of color -- have felt as a result of this event."