SEO Headline (Max 60 characters)
New Data on Course Loads and Persistence
By
Small increases in course loads can increase the odds that students will stick with college and eventually graduate, particularly part-time students. That's the central finding of a new report from Civitas Learning, a student success company with a focus on predictive analytics.
The company analyzed data from roughly 1.4 million students who were attending 60 institutions, with an even split between community colleges and four-year institutions. Not surprisingly, full-time students were more likely than their part-time peers to persist in college, the report found, with an average gap of 12 percentage points between the two groups.
However, part-time students who take even one more course per term also are more likely to persist. Civitas found, for example, that community college students who took two courses per term had a median persistence rate that was roughly 15 percentage points higher than their peers who took one course. Likewise, across all institutions, the report found that students who took three courses were six percentage points more likely to persist than students who took two.
"At community colleges, an estimated 62 percent of students are pursuing their studies on a part-time basis, for financial or personal reasons," Karen Stout, president of Achieving the Dream, said in a foreword to the report. "For those 6.5 million students, too many of whom never graduate, colleges must be prepared to have more expansive and nuanced conversations about completion. If our collective goal is to improve outcomes across higher education, we cannot and must not take our attention away from those students."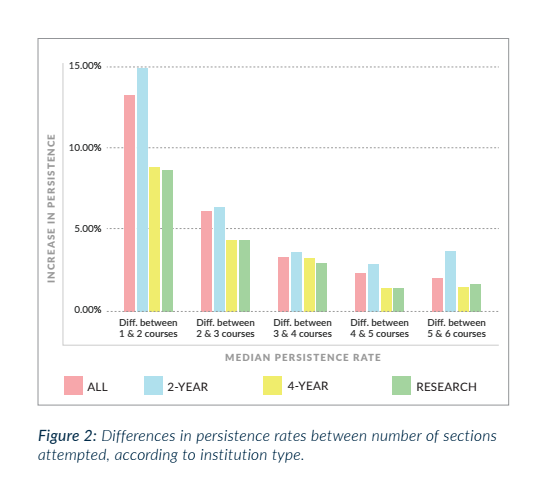 Opinions on Inside Higher Ed
Inside Higher Ed's Blog U