SEO Headline (Max 60 characters)
Higher Ed Inflation Hits Highest Level Since 2008
An important marker of the rate of inflation in the costs colleges and universities pay increased more quickly in 2017 than it had in nearly a decade.
The Higher Education Price Index inflation rate was 3.7 percent in 2017, according to the Commonfund Institute, which calculates the index annually. That's the highest level since a 5 percent rate in 2008.
Seven of the index's eight components increased. Notably, the cost of fringe benefits rose by 5.9 percent, the largest increase since the financial crisis. Commonfund attributed the jump to an aging work force using more medical care and driving up prices.
Utilities also increased sharply, but they tend to be volatile and are lightly weighted in the price index. Benefit costs make up about 13 percent of the index, and salary costs represent 70 percent.
Salary costs came in somewhat above the rate of consumer inflation. Faculty salary increases seem to be stable at about 2.5 percent annually. Administrative and clerical salaries are rising more quickly, at 3 percent.
Supplies and materials were the only component of the index to decline. The component decreased by half a percentage point from 2016.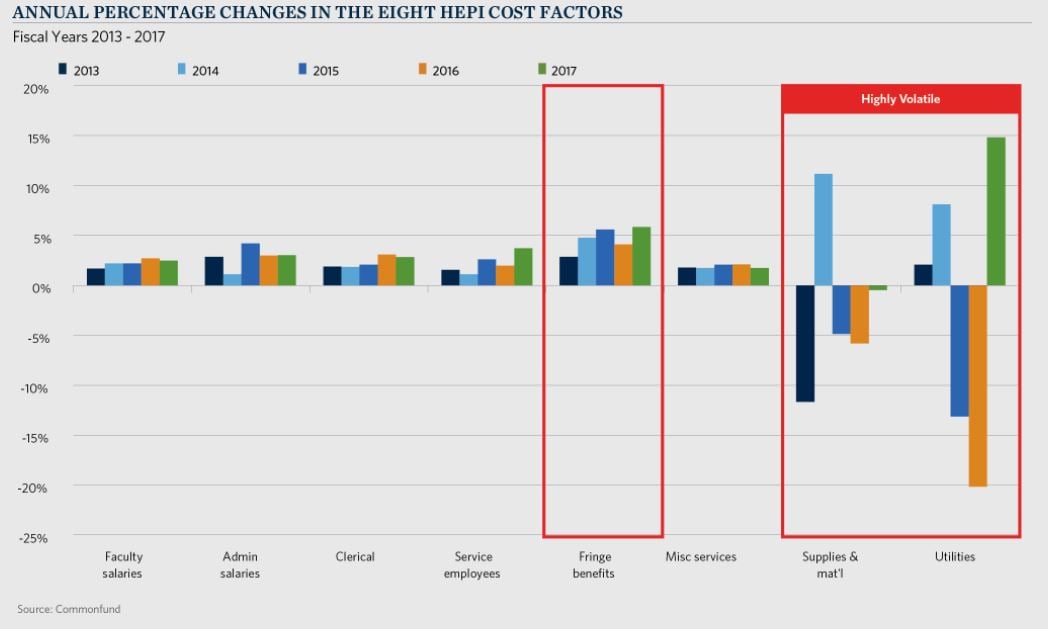 The Higher Education Price Index is intended to show the changes in costs that colleges and universities face. Its goal is different from the better-known Consumer Price Index, which tracks changes in prices consumers pay. Changes in the higher education index have significant ramifications for college and university budgets.
You may also be interested in...
Today's News from Inside Higher Ed
Inside Higher Ed's Quick Takes