SEO Headline (Max 60 characters)
Trump Picks Jon Parrish Peede to Lead NEH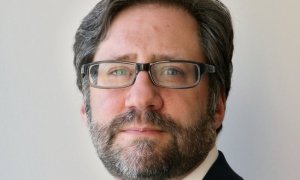 President Trump on Friday nominated Jon Parrish Peede (right) to become chair of the National Endowment for the Humanities. Peede has worked at the NEH since April 2017, serving as senior deputy chairman. Since William D. Adams, an appointee of President Obama, stepped down as chairman in May, Peede has effectively been the senior person at the NEH.
In his first two budget proposals, Trump proposed eliminating the NEH, but Congress has rebuffed him.
Peede has experience in the humanities publishing world. He has served as publisher of Virginia Quarterly Review, at the University of Virginia; literature grants director at the National Endowment for the Arts; director of communications at Millsaps College; and an editor at Mercer University Press.
The National Humanities Alliance published an interview with Peede in October. In that interview, Peede said that he viewed the NEH as "a catalytic funder" that can encourage "institutional buy-in" and help start "new areas of the humanities."
Opinions on Inside Higher Ed
Inside Higher Ed's Blog U