Title
Economist to Lead Harvard School of Education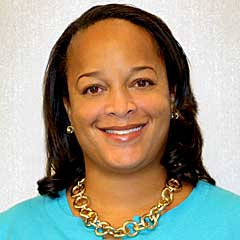 Bridget Terry Long, a scholar who studies the economics of higher education, will become the next dean of Harvard's Graduate School of Education, succeeding James E. Ryan, who is stepping down to become president of the University of Virginia.
Long was HGSE's academic dean from 2013 to 2017 and the faculty director of the research doctoral program from 2010 to 2013.
She specializes in research related to college access and affordability, studying the role of financial aid, the effects of postsecondary remediation and the impact of institutional initiatives aimed at reducing inequality in outcomes.
Long's research has on occasion departed from conventional wisdom, as with a 2010 paper she co-authored that found that using adjunct professors to teach classes can have a positive effect on enrollment patterns, especially in fields related to particular occupations.
The paper, published in The Review of Economics and Statistics, found that taking a class from an adjunct often increases the number of subsequent courses that a student takes in that subject and may also increase the likelihood that the student majors in the subject.
Long and co-author Eric P. Bettinger found that adjunct instructors may also be especially effective in fields that are more directly tied to professions, such as education and engineering. They found that adjuncts had relatively positive effects in the sciences as well.
The researchers noted that many adjuncts have professional experience "and may have significant prior to concurrent industry experience."
Another study she co-authored, published in 2012 in The Quarterly Journal of Economics, found that low-income high school seniors whose parents got help filling out the Free Application for Federal Student Aid were more likely to complete two years of college.
In a statement, Harvard said Long is currently studying the influence of information on college preparation and enrollment activities.
A native of Baltimore, she earned master's and doctoral degrees in economics from Harvard and a bachelor's degree from Princeton University. Long joined the Harvard faculty as an assistant professor in 2000.
A research associate of the National Bureau of Economic Research, she is also a member and former chair of the U.S. Department of Education's National Board for Education Sciences. President Barack Obama appointed Long to the board in 2010, and she chaired it from 2011 to 2013.
Long is a board director for MDRC, the nonprofit policy research group created in 1974 by the Ford Foundation. She is also a member of the Massachusetts Public Education Nominating Council.
Long will become dean in July, when Ryan steps down.
Opinions on Inside Higher Ed
Inside Higher Ed's Blog U