Title
Questions Raised on SUNY Official's Claims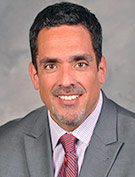 Sergio A. Garcia (right) is senior vice president of operations and chief of staff of the Upstate Medical University of the State University of New York. An article Sunday in The Times Union found that he has made questionable claims in speeches and in his biography. The article details "astonishing" and apparently false claims he had made:
That he was present at a car bombing in Afghanistan when federal officials say he wasn't there.
That he was working in the White House on 9/11 when officials said he didn't start working for the federal government until several years later.
That he was chief of staff to Secretary of State Condoleezza Rice, but State Department officials said that he never worked directly for her.
That he has a law degree from a university in Oklahoma, a degree of which the newspaper could find no evidence.
Garcia's salary is $340,000.
Both Garcia and the university declined to comment in advance of the story.
Late Sunday, Upstate announced that Garcia had been placed on leave. A statement said: "We are aware of the disturbing and troubling allegations made against Upstate Medical University's chief of staff and are reviewing this matter. The allegations are contradictory to Upstate's shared values of being open and honest. While this matter is under review, Sergio Garcia has been placed on leave. Upstate will conduct its review in a timely and decisive manner."
The SUNY system issued this statement: "The leaders among our academic community are entrusted with managing the futures of our students and the best interests of our faculties and staffs. If the allegations against Sergio Garcia are true, it is a betrayal of trust and integrity, and demonstrates behavior that is unacceptable for any SUNY employee let alone one serving in a leadership role. We are monitoring this matter closely, and if the allegations are proven to be true we expect disciplinary action to be taken expeditiously."
Opinions on Inside Higher Ed
Inside Higher Ed's Blog U