SEO Headline (Max 60 characters)
Chapel Hill Chancellor to Step Down After Moving Pieces From Confederate Monument Site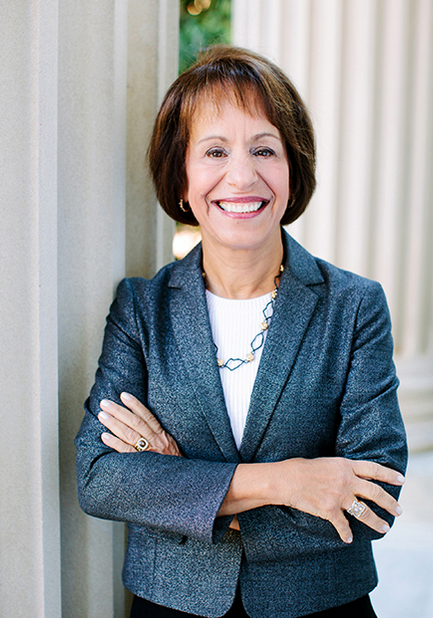 The chancellor of the University of North Carolina at Chapel Hill will leave her position at the end of the academic year, she said Monday in a letter in which she also announced that she has authorized the removal of the base and commemorative plaques from the site of the felled Silent Sam Confederate monument that has roiled the campus and the UNC system.
Carol L. Folt (at right) emphasized safety in her decision to remove the base and plaques from the site of the statue, which protestors tore down in August. Keeping the remaining parts of the monument on campus created a continuing threat to personal safety, community well-being and the university's ability to provide a stable educational environment, she wrote in a letter posted to the university's news site.
"While I recognize that some may not agree with my decision to remove the base and tablets now, I am confident this is the right one for our community -- one that will promote public safety, enable us to begin the healing process and renew our focus on our great mission," Folt wrote.
Folt and Chapel Hill's campus board had backed a plan to build a history center to house the monument and detail the history of race at the university. But the UNC Board of Governors rejected that plan in December.
The debate over the statue's future was not resolved when it was knocked down by protesters. Some called for the statue to be restored to its site. The state's Republican former governor, Pat McCrory, had signed a law to prevent relocating or removing monuments on public property without permission from a state historical commission.
In her letter, Folt did not draw an explicit connection between her decision to remove the monument base and plaques and her decision to step down from the chancellorship. But the system Board of Governors went into emergency closed session shortly before her announcement.
Folt wrote that she has always been driven by the "new and the next." As she reflected on accomplishments at Chapel Hill, she decided it was time to transfer leadership to a new chancellor and look toward her own future, she wrote.
"Most importantly, we must always do what we can to make sure our faculty, students and staff have a creative, innovative work and living environment, one that is inclusive, forward-looking and safe," Folt wrote. "This year for example, we reached our highest level of research funding ever (5th in the nation in federal funds), continued to see historic increases in first-year applications and levels of philanthropy, and pushed ahead as a national leader in affordability, access and student graduation rates. These accomplishments show how talented and dedicated our community is and what can be achieved even in the face of disruption. Just imagine what is possible if we can put our full attention to the potentials and needs of the future."
A full article on this news will be published tomorrow.
You may also be interested in...
Today's News from Inside Higher Ed
Inside Higher Ed's Quick Takes