In this FREE special report, we aim to identify policy barriers hindering adult learners and suggest ways for policymakers to create accessible, affordable pathways in postsecondary education.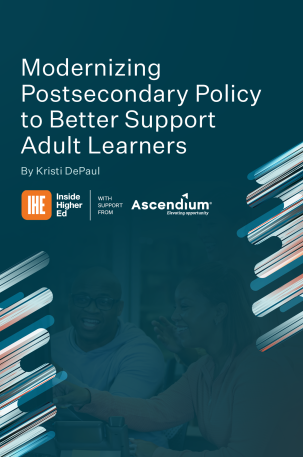 For decades, the U.S. has witnessed a steady, pronounced shift in the profile of the typical college student. The typical student today is much more likely to have a job, support dependents of their own, be over the age of 25 and opt not to live in on-campus residences.
Because these students' lives are likely more complex than the 18-to-22-year-old set, their academic paths are often marked by starts, stops, transfers and varied institutions. 
As often occurs, policy developments have lagged behind demographic and societal changes, and discrepancies abound. The Higher Education Act, the primary federal law governing financial aid and other college programs, hasn't been renewed in 15 years. Its focus on residential, dependent students essentially overlooks the needs of adult learners.
This special report, "Modernizing Postsecondary Policy to Better Support Adult Learners," aims to identify some of the federal and state-level policies that impede adult learners. In it, we will offer perspectives on how policy makers could create more accessible, affordable and successful paths into and through postsecondary education for these learners.
Topics Include:
Policy shifts that would better support successful credit transfer pathways
New approaches to Credit for Prior Learning (CPL) to attract and retain more adult college students
Strategies to broaden financial assistance for non-traditional students
Federal or state policy initiatives that cover household challenges that prevent would-be learners from persisting

Number of Pages: 28 (3.4 MB PDF)
Date Released: Sep. 29, 2023
About the Author: Kristi DePaul is an entrepreneur whose work has centered on enabling others' economic and social mobility. She is a regular contributor to Harvard Business Review, and her writing has appeared in the Horizon Report and research reports sponsored by the Barbara Bush Foundation, the Bill and Melinda Gates Foundation, Digital Promise, and Microsoft for Education, among others. DePaul leads Founders, a remote content agency that serves K-20 education, training and professional development organizations. She previously oversaw the teaching and learning column for EDUCAUSE Review. Earlier in her career, DePaul led marketing communications efforts for global edtech firms, educational consulting startups, and for schools within both public and private higher ed institutions. She is a graduate of Penn State University's Bellisario College of Communications and the H. John Heinz III College of Public Policy and Management at Carnegie Mellon University. A native of Pittsburgh, Pennsylvania, Kristi lives with her family in Tel Aviv, Israel.
This report was made possible in part by the financial support of Ascendium Education Group.   



Support: Please email store@insidehighered.com with questions regarding the report or your download.