You have /5 articles left.
Sign up for a free account or log in.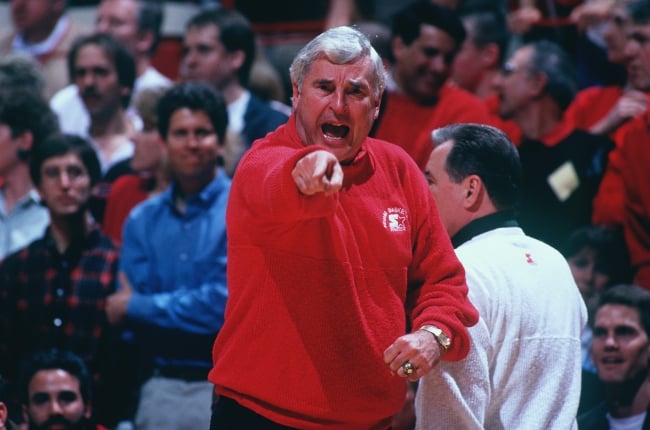 Seeing the videotape of the former Rutgers University men's basketball coach Mike Rice abusing his players reminded me of the footage of Indiana University's famous basketball coach, Bob Knight, choking one of his players, Neil Reed. Not only reminded me, but brought back unpleasant memories of the incident and the subsequent end of Knight's career at the university where I taught for many years.
I played a minor role in that drama -- for a long time I was the only faculty member to call for Knight's firing and I received much public and private abuse for speaking out.  Thus, I was pleased to note that soon after the airing of the tape of Rice's abusive conduct, more than 50 Rutgers faculty members signed a petition endorsing his firing as well as the dismissal of his boss, the athletics director Tom Pernetti, and some called for the resignation of President Robert Barchi (the former is now gone, along with the university's lead lawyer, but the president remains, at least for now).
In fact, I see the Mike Rice incident, 13 years after the Bob Knight affair, in historical, rather than personal, terms. The situation reveals a great deal about American sports and social history.   
Before Knight, there was his idol, Woody Hayes, the successful Ohio State football coach -- famous in public for his pounding offensive ground game and, in private, well-known to journalists and many other people for his highly abusive conduct to his players. But no journalist wrote about it and players either accepted it or quietly left the Ohio State team.
Only when Hayes punched an opposing team's player during the nationally televised 1978 Gator Bowl did the whole world learn of his frequent out-of-control actions toward athletes.   
Ohio State reluctantly fired him. However, many commentators, as well as ordinary Americans, supported him and his treatment of players. They approved of Hayes's traditional "kick ass" coaching style and its corollary -- parents physically punishing their children.
Knight inherited all of this (he knew and greatly admired Hayes, having played basketball at Ohio State when Hayes was the football coach) and he acted out his own version of harsh physical and mental treatment of his players. Of course, both men imitated military techniques, and not by accident loved military history.  Again, journalists and many people in Indiana knew about Knight's abusive ways -- and frequently told stories in private about it -- but only when CNN did an investigative report on it in the spring of 2000 did it become public knowledge. Then the videotape clip of Knight choking a player emerged, and the media featured the story.  
But like Hayes, Knight had many defenders, not only Indiana University basketball fans but many national commentators. The latter often held Knight up as a representative of traditional coaching and parenting methods, and quoted such cliches as: "Spare the rod and spoil the child."
Fast-forward to 2013. This spring, the men's basketball coach at the University of California at Berkeley, Mike Montgomery, shoved his star player, Allen Crabbe, during a timeout in a game.  The coach pushed him so hard that Crabbe became visibly upset and teammates had to calm him down. The incident was out of character for Montgomery -- he is a very smooth, usually calm coach who worked many years at Stanford and is now at Berkeley -- and he immediately apologized, frequently and profusely. His shove also elicited zero support from the local and national media, nor from any fans.
All this brings us to Rice and the highlight reel of him abusing his players over a number of years. The only support for it that I have seen was in a Jon Stewart compilation clip this month of various Fox News commentators endorsing kick-ass coaching and parenting.
Rice's conduct crossed all current lines of coaching behavior and eventually got him fired. Montgomery saved his job because his conduct was out of character and he apologized quickly and constantly.  Moreover, in an Internet age, it is doubtful that many coaches will use abusive techniques even if they want to. They know that cell phones have cameras and a clip of them abusing a player can go viral before they exit the gym.
Ironically, the media and the public seem ahead of university administrators on this question. As The New York Times reported on Sunday, Rutgers officials knew about Rice's abusive conduct last fall, and many there saw the full videotape of it. Yet, putting their worries about the legalities of the situation and the image of the university ahead of their concern for the welfare of the athletes, they did not fire the coach until the tape emerged last week.
But the fact remains that for an increasing segment of the media and public, abusive coaching conduct is no longer acceptable. In addition, many studies show that "kick-ass" coaching is mainly ineffective and often counterproductive. A group of social science researchers in New Zealand have worked out an opposite set of coaching techniques -- call them "counter kick-ass" -- and have persuaded the New Zealand national rugby team (the world champion All-Blacks) to use them.  

Finally and most importantly, the decline of Coach Kick-Ass is important for parents and children. Too often in the past, sometimes in the present, parents have justified physical and mental abuse of children by invoking sports coaches. If the Mike Rice tape can convince one parent not to hit one child, then it had a salutary effect.