You have /5 articles left.
Sign up for a free account or log in.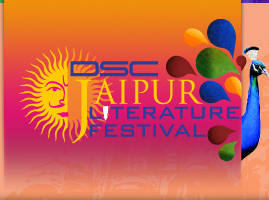 Are you frightened by shrinking enrollments in literature courses? Does the crisis in the humanities induce heart palpitations? Do you experience nausea when reading about the decline of reading? To anyone suffering from these symptoms, I recommend a rejuvenating travel to the East: attend the Jaipur Literary Festival.
The festival begun less than 10 years ago as part of a heritage festival in this medium-sized town in Rajasthan, about 170 miles from Delhi. The brainchild of William Darlrymple, a British writer on India, and Namita Gokhale, an Indian writer and publisher, it has become one of the places where one can watch world literature happen.
The road to Jaipur is a nightmare. Cars come at you the wrong way, flashing their lights; trucks decorated with beads and murals demand that you honk at them ("Horn Please!"), as if drivers here need that encouragement. Seemingly unperturbed by the cacophony are the animals wandering blithely across the road: cows, camels, goats, donkeys, elephants, sheep, hogs, and dogs. Literature? Here?
As it happens, only humans attend the festival, loads of them: 1 lakh, as one organizer boasts, using the convenient word for 100,000 that has become part of South Asian English. Jaipur in January has become the favorite watering hole for publishers, agents, and authors. Tourists following the endorsement of their Lonely Planet guides join in. But above all, the festival is for a species that might as well be called The People. I talked to a car mechanic who has used a neighbor's motorcycle to drive in from the countryside; an engineering student who has taken a day off from work; and a rickshaw driver who combines business and pleasure. "Obama — very good; Bush — very bad; is a monkey face," he screams as he honks his way through the crowds.
Some of the people are attracted by celebrity. Last year, Oprah Winfrey came, causing a spike in attendance ("Oprah very nice lady — dark skin like me" the rickshaw driver says). Others seek out Bollywood stars and talk show hosts. The inside crowd is scavenging for invitations to after-parties and private dinners at luxurious retreats in the countryside with an intensity that I have seen trumped only by Cannes. But amidst all the jostling, literature holds its place, and most people have made the journey to be in its elusive presence.
Not all the buzz has been positive. Two years ago the festival went through its most severe crisis when Muslim groups protested the planned attendance of Salman Rushdie, whose novel Satanic Verses is still banned in India. When Rushdie decided instead to Skype-in his talk, a dangerous-looking crowd gathered outside the festival, and there were rumors of planned violence. The organizers decided to pull the plug, but a few speakers recited from the novel anyway, an illegal act that ultimately forced them to flee the country.
Few people mention that crisis this year, although it is not forgotten; here and there one hears thinly veiled concerns about freedom of speech in India ("You mean Rushdie" one speaker says; "I am not afraid to say his name"). But the prevailing atmosphere is one of celebration. People eat from stands offering delicious street food and drink spiced Masala chai served in traditional clay cups. They chat and watch and mill about. At night, the festival turns into a huge music stage, with bands from India to Morocco enlivening the night.
And of course there are the talks, readings, and discussions, which take place in large tents. It's not always easy to hear and see; there are just too many people. But it doesn't matter. The official program feels almost like an afterthought or rather like the occasion that allows the festival to happen. What matters is being here, being part of the celebration of literature. It's a true festival.
Some of the discussions up on stage are predictable anyway. There is the well-meaning hand wringing (in English), about the dominance of global English and complaints (by Americans) about the dominance of American fiction. In the good old theory days, we used to call this "performative contradiction"; now the technical term my students use is "ironic." But in any case, the festival itself tells a different story. There are relatively few Americans and instead plenty of Brits and N.R.I.s, non-resident Indians, in addition to South Asian writers.
What does world literature looks like, Jaipur-style? What hits you first is the exciting richness of India's diverse language traditions from Tamil in the South to Himalayan languages in the north, cutting across religious affiliations. Salma, who writes under that name about growing up in a Muslim community in a small South Indian village and who has become a strong voice in Tamil poetry, is something of a poster child for this form of diversity at the festival.
Another theme that emerges is travel writing, especially the strong British tradition, which is relatively unknown in the U.S. The biographers of Bruce Chatwin and Patrick Leigh Fermor, the two paradigmatic 20th-century travel writers, are in attendance, as well as Geoff Dyer, a genius at the deadpan takedown (when a panelist "admits" that he would stop writing if offered a large sum, Dyer starts bargaining him down and offers to take up a collection). In response to the travel theme, William Sutcliffe, a British novelist, makes a strong case for the travel novel as the master genre of world literature today.
What is most striking, perhaps, is the absence of writers from China, India's Asian rival. Many here see America's exclusive focus on China as too one-sided. "It would make much more sense for the world's oldest democracy to forge closer connections to India," Maya Jasanoff, a historian, observes. The festival is a reminder just how much India and the U.S. share. They are the two largest democracies and pride themselves on their diversity; and they both came into being through hard-won independence movements from the British Empire, to whose vestiges they remain tied, above all through language.
India's ubiquitous call centers are only one part of this story; the other, is literature. It is difficult to imagine something like the Jaipur Literary Festival in China, and not just because of state censorship there. Jaipur is made possible by the democratic diversity of India (despite its limits, as the Rushdie case shows), but also by the deep roots that tie India to the Anglophone world.
The animals and the gridlock on the road make one worry about the limits of India's economic development, but the festival is a reminder of its cultural power.