You have /5 articles left.
Sign up for a free account or log in.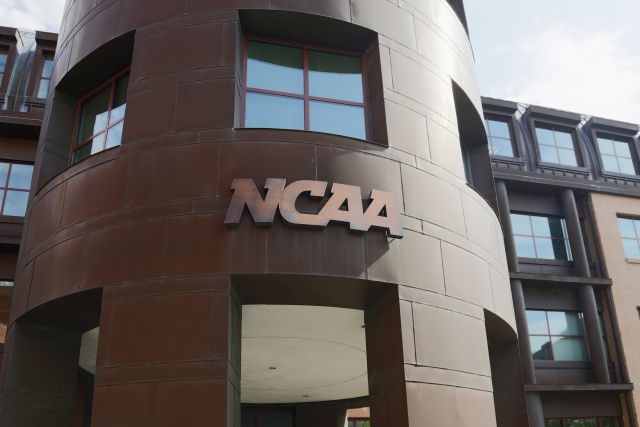 Three weeks after a trial over the NCAA's use of college athletes' likenesses ended this summer, U.S. Senator Jay Rockefeller's Commerce Committee began hearings on the welfare of athletes and included testimony from NCAA President Mark Emmert.  Amid the senators' skepticism and the professed need for congressional oversight, Emmert once again promised more change to come and referred to the hearings as a "useful cattle prod." 
The expressions of frustration, resignation and cynicism became so evident that one senator referred to Emmert as a mere minion for college presidents.  It is clear that the NCAA is experiencing an era of discontent and public distrust. Emmert's promise of corrective change amounted to no more than a power grab by the so-called Big 5 conferences, giving increased autonomy to the wealthiest schools to further maximize revenue.  
The NCAA has once again demonstrated that it is incapable of self-reformation and in need of a complete overhaul from Congress.  It is time to repeat history.  
From 1888 to 1978, the Amateur Athletic Union (AAU) controlled open amateur sport in the United States.  It represented the United States in international sports governing bodies and selected U.S. teams for world championships and the Olympic Games.  The AAU created eligibility rules and defined "amateurism," strictly controlling what athletes could receive in prize money, sponsorship or other forms of support.  Athletes possessed little or no power to question AAU rules or sanctions levied against them for violating such rules.  Athletes rebelled in opposition to antiquated rules of amateurism. Sound familiar?
In his book, The End of Amateurism in American Track and Field, Joseph Turrini provides the following description of the state of affairs in open amateur sport and the dissatisfaction with AAU governance in the mid-1970s, prior to the United States Congress's intervention. It could very well be used to describe the current state of affairs between athletes and increasingly wealthy NCAA football bowl subdivision institutions.
            When the 1970's crested, athlete opposition emerged as a much more potent force as the athletes took advantage of new resources in their efforts to force their agenda…..
            The poor treatment of the athletes by the governing bodies and the unresolved institutions conflict between the AAU and the NCAA pushed a reluctant federal government to abandon its support of unilateral and independent AAU  control.  In the 1970s the federal government shifted from cooperative mediation to legislation and legally mandated institutional changes to address the conflicts in track and field and to protect athletes.
In 1975, the President's Commission on Olympic Sports was formed, and this effort resulted in the 1978 Ted Stevens Olympic and Amateur Sports Act that established a federally chartered nonprofit organization, the United States Olympic Committee, to replace the AAU. 
The NCAA membership has established a plutocracy in which a minority of the wealthiest institutions controls a constant escalation of wasteful spending and extravagance.  In 1997, the membership ceded control of the NCAA to the Football Bowl Subdivision (FBS), a 121-member subset of a 1,061-active-member association, caving in to the threat that FBS institutions might leave. This strategy was repeated in 2014, by the 65 most wealthy institutions known as the Big 5 Conferences (Atlantic Coast Conference, the Southeastern Conference , the Big 12 Conference, the Big 10 Conference and Pac-12 Conference), who so far have been successful in demanding more  autonomy and control. 
The 121 bowl subdivision institutions have used their power to block the NCAA from establishing a national football championship at their level, and instead, have established the College Football Playoff that is wholly owned by the FBS conferences. 
Unlike the NCAA Final Four basketball championship, which provides funds to benefit all NCAA athletes, the highest level championship in football and its $440 million four-team national championship playoff media revenues are not owned by the NCAA, and its proceeds are lining the pockets of conference commissioners, athletics directors and celebrity coaches instead of benefiting all NCAA athletes.
More disconcerting is the abject failure of the NCAA to retain a nexus with the educational missions of these Division I programs and a clear line of demarcation between collegiate sports and professional employment, as demonstrated in the federal court's ruling in the lawsuit mentioned above.
Specifically, university presidents at our country's most prestigious academic institutions deliberately waive admissions requirements for elite but often woefully academically deficient athletes and clear them for participation without insisting that they first achieve minimal reading and writing skills necessary for academic success. 
NCAA President Emmert's often-touted promise of a world-class education as payment for their services morphs into an educational travesty. Presidents' lockstep support of the fortunes of football and men's basketball is self-serving and counterintuitive in relation to their institutions' best interest and educational mission. 
Football and basketball programs are routinely requiring 40 to 50 hours of sport-related activity during the regular season, making it almost impossible for serious academic achievement and curricular exploration.  Athletic departments are running opaque academic support programs in which staff have direct conflicts of interest from managing athletes' eligibility by seeking easy classes and friendly professors to ensure their continued participation on the field or court to control of legions of tutors who bring into question the authorship of athletes' classwork.   
Even our finest public and private institutions, like the Universities of North Carolina and Notre Dame, have been rocked by academic fraud scandals and flagrant institutional mismanagement of academic oversight.  First-year competition of admitted athletes should be tied to those whose academic profiles are within one standard average of the student body of the institution rather the woefully inadequate current NCAA qualification standards.
Practice should also be limited to no more than 10 hours per week for those students needing remediation.  A standard for participation measured against the student body of the institution sets academic primacy over athletics and affords the opportunity for remediation of college readiness before imposing competition on the athlete.  Recruiting highly marginal athletes would become a lower priority for coaches if the elite athlete would be restricted from competition and limited from practice.
Athlete health protection should be a critical focus and it isn't.  With concussion-related lawsuits growing, Congress is beginning to realize the NCAA has lost its way and our children are being placed at continued risk of mistreatment. The NFL limits contact practices in football to twice per week while no similar restrictions exist for college sport. College football players at all division levels are at similar risk of brain injury. 
Even the USOC has a code of conduct governing the behavior of coaches, while NCAA coaches are offered no such guidance with regard to prohibiting the physical, verbal and mental abuse of athletes.  How long will Congress wait for more young people to be harmed?
Given the current state of NCAA and institutional mismanagement of highly competitive football and basketball programs, the U.S. Congress should immediately act to establish a federally chartered organization to replace a dysfunctional NCAA to protect college athletes in the same way that it did to protect open amateur sports athletes in 1978.  
Failure to become a member of the new organization could render the institution ineligible to receive federal funds under the Higher Education Act of 1965.  Congress should mandate that the new organization have the exclusive right to establish national championships for its members in all sports, including FBS football, and to use these proceeds to advance the health, welfare and academic success of college athletes rather than provide multimillion-dollar salaries to coaches or fuel the arms race of lavish exclusive and unnecessary athletics facilities. 
Specific mandates could address athlete health and medical protection and tenured faculty oversight to prevent academic exploitation.  By strictly limiting practice and playing season participation, athletes could return to being students rather than putting in 50-hour weeks as employees. 
Further, Congress should exempt this new organization from the antitrust laws so rules capping sport operating expenses, limiting expenditures on coaches' salaries and wages, prohibiting building athlete-only facilities and other rules that combat commercial excesses in college sports do not result in lawsuits requiring millions of dollars in legal fees or judgments.   
Such an antitrust exemption needs to be strictly limited and conditioned on athlete protection and reform requirements including improved due process processes for athletes and coaches accused of violating athletic association rules,  whistle-blower protection for faculty, students, and others too afraid to report rules violations, and national championship revenues  earmarked to provide increased scholarship benefits and athletic injury insurance for all college athletes.    
Just as the Congress replaced a dysfunctional AAU in 1978, it should act now to repair a failed college sports model whose leadership has repeatedly demonstrated incapacity to secure educational primacy or welfare for the athletes it serves.  Rather than using a cattle prod to stir NCAA reform, perhaps Congress should put them out of their misery and start afresh.