You have /5 articles left.
Sign up for a free account or log in.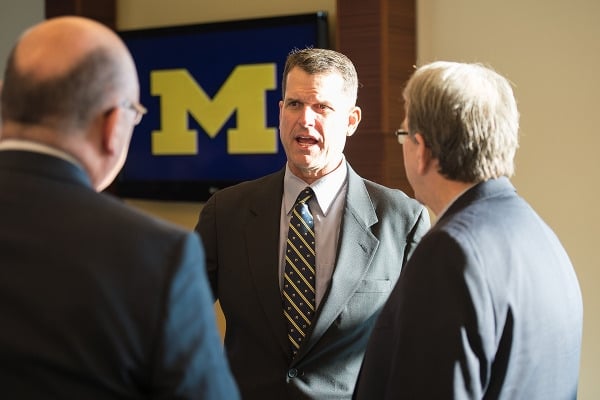 Yesterday my daughter – a graduate student in social work at the University of Michigan, with enough student loans for a down payment on a modest Ann Arbor house – asked me what I thought about the university's $35 million (not counting various add-ons) contract agreement with its new football coach, Jim Harbaugh. Having closely followed the continuing dramatic rise in college football and basketball coach compensation levels, I wasn't particularly surprised.
Some observers would argue that Harbaugh -- after wildly successful head coaching stints at Stanford and with the National Football League's San Francisco 49ers -- was not merely a candidate for the job, but the only candidate. A three-year starter at quarterback and Heisman Trophy finalist for the Wolverines, he was known for a fiery demeanor and competitive streak that matched his coach, the legendary Bo Schembechler.
When asked about Michigan's chances against Ohio State in a 1986 game that would decide the Big Ten champion and Rose Bowl representative, Harbaugh guaranteed victory, defiantly declaring, "It's a great feeling to beat Ohio State and we're going to have that feeling Saturday. I don't care where we play the game. I hate to say it, but we could play it in the parking lot. We could play the game at 12 noon or midnight." (Michigan went on to win the game.)
The label "favorite son" might be an understatement in how the Michigan faithful view Harbaugh. Given the hard times that have befallen the university's storied football program, some prefer "savior."
Enter the newly inaugurated Michigan president Mark Schlissel, who may believe that since assuming his present position, he has arrived in some sort of alternate universe. Schlissel, a physician by training, came to Ann Arbor after a stint as the provost at (in terms of athletics, the  comparatively pristine) Brown University, where a typical home football game attracts around 4,000 spectators. As Michigan fans would see it, that's a decent tailgate turnout.
Schlissel had barely gotten comfortable in his new office chair before realizing that his first challenge wasn't raising money for one of Michigan's nationally renowned academic programs or providing leadership to attract world class faculty, but rather dealing with – gasp – a now competitively mediocre football program.
Early in his tenure, Schlissel – perhaps thinking he was still in Providence, not Ann Arbor – addressed the university's Senate Advisory Committee on University Affairs. He raised concerns about various academic issues relating to athletics, including graduation rates of football players and lowered admission standards for athletes – issues that should be on the mind of any president whose school sponsors Division I football and basketball.
But faster than you could say "Go Blue," Schlissel – under pressure from various constituencies – reversed field, apologizing to then-head football coach Brady Hoke and to Michigan coaches and athletes en masse, while offering a "clarification" of his previous remarks. Weeks later, answering a question on the search for a new Michigan athletics director, a somewhat shell-shocked Schlissel remarked, "I've really learned that this whole athletic sphere and the usual way you approach things just doesn't work."
What Schlissel really learned is what we have known for some time. One reason college athletic reform has never taken hold is because the very people responsible for making sure academics and research are the university's highest priorities simply aren't in charge.
One wonders how hard Schissel had to swallow before agreeing to pay Harbaugh an annual salary of $5 million – roughly seven times what Schissel is paid to lead the entire university. And does anyone really believe that Harbaugh – as competitive/Type A as they come among his coaching peers – agreed to come to Michigan without some assurances from the university regarding "flexibility" in admissions standards for football players?
In 2004, the esteemed Yale scholar Richard Brodhead assumed the presidency of Duke University. On one of his first days in office, Brodhead was advised that Duke's legendary basketball coach Mike Krzyzewski was being wooed by the National Basketball Association's Los Angeles Lakers.
Brodhead was advised that he had to do everything in his power to convince Krzyzewski to stay in Durham – that Coach K's departure would do irreparable damage to the university and surely doom his presidency. Brodhead complied, going as far as to join students in "Coach K, please stay" chants and to help fill a human chain forming the letter "K" outside the building that housed Krzyzewski's office.
Krzyzewski chose to stay, but not before putting Brodhead through what one Duke professor termed "ritual humiliation." Some believed it was the coach's way of showing the new boss who was really in charge.
Ten years later, Schissel finds himself in a similar position. When it comes to athletics, very few new university leaders have any idea of what they are getting into. Athletic departments are so financially leveraged that presidents often feel obligated to grant the wishes of fan bases and powerful donors, some of them trustees with far more interest in attracting top coaches than renowned teachers and researchers.
And if history is any indicator in the spend all you make world of college sports, an infusion of cash from the $7.3 billion ESPN college football playoff television contract will not likely lessen this dependency.
Make no mistake about it, if Jim Harbaugh returns Michigan to gridiron glory he -- like Krzyzewski at Duke -- will report to no one at the University of Michigan except himself.