You have /5 articles left.
Sign up for a free account or log in.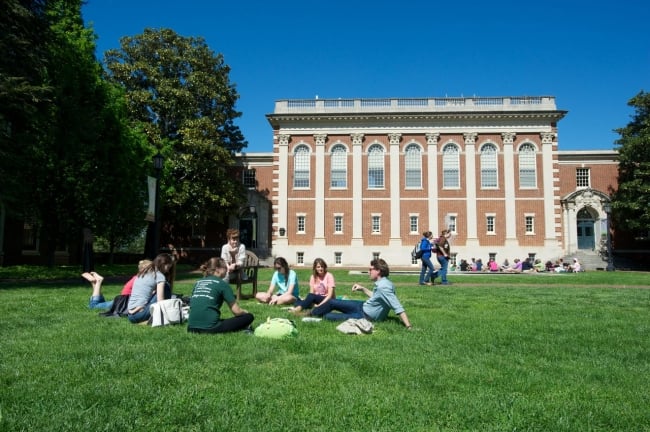 At the Education Writers Association's conference in Nashville last year, higher education writers crowded into Scott Jaschik's session, "Top 10 Higher Education Stories You Should Be Covering This Year."
It's always a highlight. Jaschik, editor of Inside Higher Ed, does a quick rundown of emerging trends in higher education. Many of the year's selections were already in play, like campus sexual assault and the possibility of unionization of college athletes.
One seemed foreboding: Private colleges on the brink. Jaschik advised us to look for some small colleges to shut their doors.
I filed it away, thinking I might take a closer look at some of North Carolina's colleges.
I didn't dream he'd be talking about mine.
Sweet Briar College, a women's liberal arts college in central Virginia, announced Tuesday that it would close in August. Current students will have to transfer, and the board leaders will have to figure out what to do with 3,250 bucolic, rolling acres, including a gigantic indoor riding ring for Sweet Briar's nationally acclaimed equestrian program.
I attended Sweet Briar from 1981 to 1983 before transferring to my ultimate alma mater, the University of Virginia, from which I graduated in 1985.
At SBC, I made lifelong friends and received a rigorous education in an atmosphere of small classes where you couldn't hide. You were expected to do the work, speak out in class, think on your feet. Participate in the arts. Dive into science. Write. Analyze. Think.
The very idea that Sweet Briar could go under is simply stunning to me -- and to hundreds of angry alumnae storming Facebook right now. Yes, all women's colleges have challenges these days, and I knew that a few years back Sweet Briar considered going coed and decided against it.
But shutting down? This is a college with an $85 million endowment and a well-to-do alumnae base. This is a college where you met the daughters of Texas oil tycoons, and your dorm had a grand piano in the formal parlor. This is a college where some students brought their horses along, boarded them and wore jodhpurs to class. I am not kidding.
It was also a place that seemed to be in a bit of a time warp. Founded in 1901, Sweet Briar was, in a sense, a classic finishing school that had adapted to modern times. But even in the 1980s there were traditions that seemed quaint, odd or, frankly, rooted in a sexist society.
School colors were pink and green. The sports teams were called the Vixens (with a cute fox mascot). Seniors, and only seniors, wore black graduation robes on a daily basis as they strode to class. The robes were handed down, and it wasn't unusual to have four or five names sewn inside. Of course, the robes were often festooned with obnoxious buttons and stickers, but it gave the place an air of Oxford or Cambridge to see all those academic garments about.
Sometimes, signs would appear in the dining hall announcing a "ring game" on the quad after lunch. Seniors would form a circle holding a ribbon from which dangled a diamond ring. The women would push the ring to the next student as it went by in a fast, hot-potato game. After the third go-round, one woman would pull out a pair of scissors, cut the ribbon and put the ring on her finger, to squeals of delight. This was how engagements were announced.
Fresh yogurt from the campus dairy farm was served daily. The Lester Lanin Orchestra played at formals, where the booze flowed among the tuxedo- and taffeta-clad guests. And groups from the surrounding men's colleges -- Washington and Lee, Hampden Sydney, Virginia Military Institute (only one of which, Hampden Sydney, is all male today) -- were only too happy to make the road trip to SBC to host parties at the rustic boathouse on the lake.
Besides the inevitable, sometimes silly, traditions that you get at a single-sex college, Sweet Briar was ahead of its time in academics. It was only the second women's college to offer engineering, and its study abroad program in France is one of the nation's oldest and most respected.
The college regularly brought impressive women to campus for speeches and mentoring opportunities. I remember seeing Jane Goodall there, and an alumna who was a top executive at the American Stock Exchange. They were women who made history and had messages for us.
Despite all of this, I felt I needed more than Sweet Briar could give. I had come from a small town and a high school class of just 61 students. I wanted the big university experience. U.Va., about an hour away, beckoned. I left Sweet Briar and didn't look back, except for attending the graduation of my friends.
Over the years, I guess, more and more students had similar feelings.
Sweet Briar was beautiful, yes, but its rural setting wasn't for everyone. The president made the point Tuesday: "We are 30 minutes from a Starbucks." And there's no denying that fewer women are choosing to attend a single-sex institution today. It was an uphill battle to increase applications, but Sweet Briar managed to do it during the past few years. However, fewer admitted students chose to enroll, and it took greater tuition discounts to lure them. Ultimately, a losing proposition, leaders said.
Still, the decision to close seems hasty -- four months ago, the college dedicated a renovated and expanded library. It was hiring staff up until three weeks ago, according to its Twitter feed. What's up with that?
Alumnae are begging to do something to save the college -- a valiant offer, but probably too late.
This scenario is likely to play out across the land, as some small liberal arts colleges collide with the reality of unsustainable tuition policies, lagging enrollment and weak endowments. More students want education in urban areas, where they are likely to find job opportunities and a hip social life. There are more students over 25 who want online options and flexibility. And liberal arts is taking a back seat to business and health care majors.
That's the way of the world.
Today, though, I'm sad.
This summer, I will attend my 30th reunion at U.Va. My Sweet Briar friends will attend theirs, too. But this will likely be their last.
Rosam quae meruit ferat -- she who has earned the rose may bear it. (Sweet Briar's motto.)