You have /5 articles left.
Sign up for a free account or log in.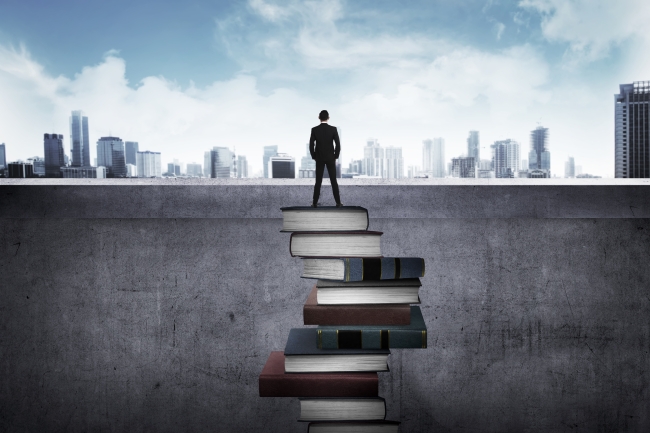 When I started my dissertation in the late 1990s, I knew I wanted to speak to a broader public, but I didn't know how to do it. People around me thought I was nuts. Fast-forward to 2016, and academics are increasingly moving more readily between scholarly circles and public ones. Public intellectuals like Neil deGrasse Tyson, Noam Chomsky, Susan Sontag, bell hooks and Parker J. Palmer have written for multiple audiences and made an impact.
Such crossover scholarship moves outside academic publishing and scholarly communities to speak to a mass audience. It can be a book; an op-ed article; TV, film and radio appearances; a blog post or other kind of public writing or performance. Inside Higher Ed columnist Scott McLemee says that crossover books are defined by academic presses as "the titles they hope will appeal to a wider audience than the niche that exists for most monographs."
Yet many people in higher education are still skeptical of the value of crossover scholarship. So how do we talk about it in academic circles to give it the legitimacy it deserves?
I want to argue for a new term: crossover ecology. That's because we need to stop conceiving of crossover scholarship in a one-way direction: us to them. This paradigm solidifies the false divide between academe and the public, and everyone loses. When we recently hosted the wonderful national OpEd Project, I heard through the grapevine that a colleague said to an untenured faculty member at my institution, "Op-eds won't get you tenure." While that is technically true, it misconceives crossover scholarship as uni-directional rather than multidirectional. The latter produces interesting scholarship, and the former is bad career advice.
What Crossover Ecology Gives You
When I was in graduate school, it was clear that most people couldn't write anything that might appeal beyond the ivory tower until at least their second book. The reading public "out there" seemed to be fluffy, a compromise, and other than making more than a few dollars on book royalties, it was hard to see any benefits. But today we are in a different historical and technological moment that has not only meant a democratization of public voices and news due to technological access but also that the public can have a different impact on academic scholarship.
I argue that crossover ecology -- where public and academic work build on one another in a cycle -- produces better work for all communities. In particular, crossover ecology affects four things:
Voice. It forces scholars to write with verve, clarity and purpose to communicate broadly.
Impact. It can build a large audience that ultimately translates to cultural influence.
Agency. It shortens the time from thought to publication; ideas don't languish.
Quality. It fosters collaborative and communal thinking not in isolation and feeds scholarship rather than detracts from it.
Crossover Ecology at Work
My colleague Ryan Martin is associate professor and chair of the department of psychology at the University of Wisconsin at Green Bay. An anger researcher, he started a blog called "All the Rage: Commentary and Resources on the Science of Anger and Violence." Collecting all things related to anger, he reviews anger research and writes book reviews and updates on student research. As he said to me, "I wanted the blog to be easy-to-read research on anger and violence from someone who knows what they're talking about."
Several years ago, Martin published an academic article, "Anger on the Internet: The Perceived Value of Rant-Sites" in Cyberpsychology, Behavior, and Social Networking. In July 2014, The New York Times picked up the article, cited him and wrote, "Clicking Their Way to Outrage: On Social Media, Some Are Susceptible to Internet Outrage." At which point, Martin's work went viral.
What happened next to Martin? News media outlets came to him. He was invited to submit book chapters for academic collections. Psychology Today asked him to be a blogger, and he now writes short pieces like "5 Ways to Deal With Angry People." Martin has kept sending people to his blog, which in turn has led to more requests. He currently does roughly one media interview a week. Note that his research is not suddenly watered down. Rather, both academic and popular outlets continue to seek him out.
Then there is my colleague Heidi R. Lewis, an assistant professor of feminist and gender studies at Colorado College. She says that her dissertation dabbled in popular culture but mostly focused on literature because "I was still under the impression that I had to appendage myself and my work to 'legible' disciplines like English." She landed a job in women's studies that, as an interdisciplinary field, allowed her to be more expansive in her writing.
What happened next is that Lewis entered a blog contest through the online publication Feministing. She submitted a piece on hip-hop artist Lil Wayne. She also shared that piece with Mark Anthony Neal, professor of black popular culture at Duke University, who was "so excited about it that he asked if he could publish it on his website," NewBlackMan (in Exile). Lewis said yes and "the rest is history."
As she describes it: "He wrote to me six hours after the piece was published to let me know that it'd already gotten 1,300 hits. A week later, it'd gotten over 4,000 hits. Around December, it'd gotten over 6,600. My professional life literally changed. People that I admire were sharing the piece like crazy over social media -- it had gone viral. I knew then that I had a knack for writing for the folks and wanted to make it my business to keep doing that as much as possible."
Soon after, Lewis became a member of the editorial collective The Feminist Wire, a prominent feminist blog, where she had further outlets for crossover work. Though she had heard that her piece on Lil Wayne was being assigned in classes, she wanted to circulate a more in-depth version, so she submitted it to The Journal of Popular Culture, where it is forthcoming.
Lewis notes that the president of her institution congratulated her publicly on her crossover scholarship. She says, "I think it's important that academia recognize all of our intellectual work -- not just the work with which some of those in administration are most familiar. All of my traditional scholarly work examines popular culture. All of my public work does, too." Lewis is now expanding a short piece on Rihanna's "Pour It Up" that first came out in The Feminist Wire. Why? Because an academic journal is hungry for it.
These are just a few examples of the benefits of crossover scholarship. The moment that academics stop imagining crossover scholarship as a one-way street to pabulum and start seeing it as ecology that inspires voice, generates impact, propels agency and infuses quality, a much-needed paradigm shift in public scholarship will occur.