You have /5 articles left.
Sign up for a free account or log in.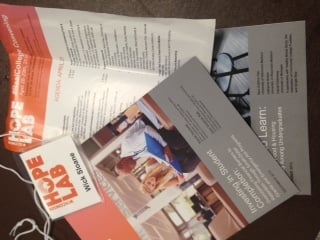 MILWAUKEE -- I don't have a clever lead paragraph for an essay about an oversubscribed conference on college-student hunger and homelessness in 2016 in the wealthiest nation on earth.
At last count, 130 people from California, Massachusetts, Texas, Washington and Wisconsin, among other places, had arrived here in cold, rainy Milwaukee for #RealCollege. An idea just two months ago at the Wisconsin Hope Lab, #RealCollege opened this morning at 7:45 a.m. Our plan yesterday and today is to decide what to do about hunger and homelessness in what educational leaders never hesitate to call the finest higher educational system in the world.
As I write, I don't know where I am going to sleep tonight. The reservation I know I made wasn't waiting at the hip Aloft Hotel last night. In the rain, I scrambled to the downtown Hilton. With a mega volleyball tournament in town, Aloft and the Hilton and Milwaukee are full tonight. How much of the conference will I miss looking for somewhere to sleep tonight? A conference on homelessness on a cold, rainy day, and I don't have anywhere to sleep tonight? Yes, Lord. Message received.
Gathered here in a warm, dry auditorium at Milwaukee Area Technical College are the Great Lakes Education Guaranty Corporation; Century College Resource and Support Center; Single Stop, Delgado Community College; Single Stop, Bunker Hill Community College; the Association of Community College Trustees; the University of California Food Access & Security Committee; the California State University Chancellor's Study on Servicing the Needs of Displaced and Food Insecure Students; the Center for American Progress; and Anabel's Grocery, an organization providing "structural and short-term solutions to food insecurity at Cornell."
The federal departments of education, agriculture and housing and urban development are here, too. Twenty-four pages for the complete list of those attending.
From Cyekeia Lee of the National Association for Education of Homeless Youth I learned a new category of homeless: "Living in a public or private place not designed for humans to live." I learned that 1.3 million public school students are homeless. Click here and download the association's "College Access and Success for Students Experiencing Homelessness: A Toolkit for Educations and Service Providers."
On my smartphone, I confirm time, date and my location. Yes, the United States of America in 2016. A downloadable tool kit for college homelessness? Can this really be true? I know the answer: yes.
Should I be screaming? None of us are. Would anyone hear if we did?
This alarming information flashes by in what anthropologists one day might study as the Conference Ritual. We don't react to PowerPoint slides telling us that "Hungry to Learn," a December 2015 Hope Lab study of 4,000 students at 10 community colleges, found that 20 percent were food insecure, 13 percent were homeless and 39 percent worried about becoming homeless. I don't scream, I guess, because we already know this.
Not just me wondering -- If I can sit listening to this without screaming, am I part of the problem? We'll see. Sara Goldrick-Rab, founder of the HOPE Lab, began the day with a slide asking, "So what are we going to do?" (Disclosure: Sara is a friend. I am here on vacation days as an expenses-paid panelist.) As a call to action, the HOPE Lab this week published "Expanding the National School Lunch Program to Higher Education."
Fine by me. Since coming to Bunker Hill Community College 10 years ago, I've spent more time on hunger and food stamps than teaching College Writing I, my original plan.
College student hunger has become one of my regular topics. My first column on hunger proposed using federal work study funds to pay students to study. In the trade-offs between earning money for rent and doing homework, homework never wins. The students, I wrote, needed the money for food. WBUR's "Here & Now" invited me for an interview.
Robin Young, the host, admitted that she hadn't believed college students were that poor and hungry. She called around, she said, and discovered my stories were accurate, and I went on the show. The Greater Boston Food Bank was listening, and monthly deliveries of 5,000 pounds of groceries began a few weeks after the show aired. The deliveries are the third week of the month -- that's when students' food stamps run out.
Hunger at college. After a winter without leaving my 617 area code and my windowless basement office at Bunker Hill, with Monday to Friday bread deliveries for hungry students, this is my third trip for hunger in as many weeks.
In Washington one Friday, a day off to visit our daughter, I met with the American Council on Education and took a draft of a letter requesting a Government Accountability Office study on poverty-driven hunger for college students to U.S. Senator Elizabeth Warren's office in Hart Office Building.
A week later, I was back in Washington to be on the panel "Poverty Goes to College," the last possible meeting slot in a deserted Walter Washington Convention Center on the last day of the American Educational Research Association annual meeting. Still, as the final event, at least I knew the 15 people in the audience were not waiting for the next panel. Plus the seven of us on the panel, this was the most people in one room I'd ever been with to discuss hunger.
Now, 130 people in Milwaukee. I guess progress on a disaster is still progress.
I wish I knew, truly, why we are here at all. I see and keep repeating the simple -- to me -- logic chain. Society -- we, the people -- accept that nutrition is essential for infants, for pre-K, for elementary, middle and high school. We encourage students to earn a postsecondary credential. No one can produce evidence that low-income high school students have more income on entering college.
We, the people, stop providing lunch. (And often bus passes, too). And higher ed leaders and policy makers and wonks keep going to meetings -- Conference Rituals, (often with free lunch) about "the completion agenda" without putting hunger on the agenda. Does it take an English major to wonder?
Still raining and cold. Tonight? An email from Hotels.com just in, confirming a room a Hyatt 13 miles out of town. I'll take it.
Tomorrow, I'm on the concluding panel to identify next steps. I've sat with homeless students calling full shelter after full shelter. I could pitch Shelter.org to the foundations that are here -- Gates, Kresge, William T. Grant.
"Wouldn't work. It would just show that the shelters are always full," said a friend who has more experience than I do.
So what are we going to do?