You have /5 articles left.
Sign up for a free account or log in.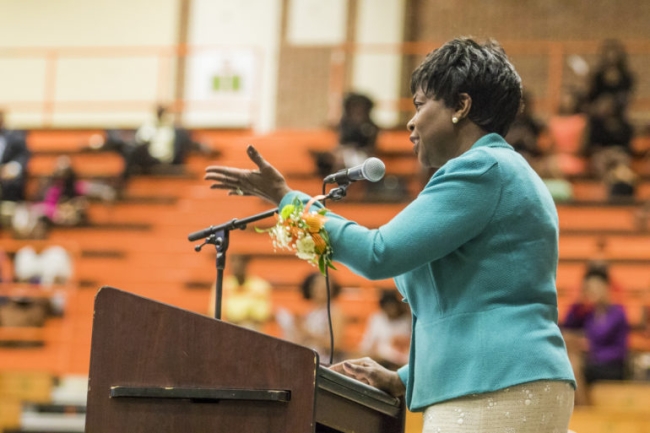 I have been researching and writing about both the history and current trends of historically black colleges and universities since 1994. When I first started, very few black women were leading these important institutions. Now, in 2016, roughly 30 percent of HBCU presidents are black women.
At the end of August, the board of trustees of Florida A&M University told one of those women -- Elmira Mangum -- that her contract would not be renewed. Mangum came to the university after a distinguished career at several majority-white institutions. She had served as vice president for planning and budgeting at Cornell University as well as in leadership positions at the University of North Carolina at Chapel Hill and the University of Buffalo. By all accounts, Mangum had a very successful and uneventful career in higher education until becoming president of FAMU.
I have been watching the controversies surrounding Mangum's presidency since she was hired and have noticed two things: sexism and board interference.
First, let's deal with the sexism. Mangum is a strong and talented black woman and that fact seems to be threatening to many members of her board, some former leaders of the institution and some alumni. She has faced scrutiny and micromanagement by her board that most presidents would never have to endure. For example, her day-to-day actions are micromanaged. Research on women and leadership demonstrates that women leaders are much more likely to be micromanaged by their boards and supervisors.
When I have brought this sexism to the surface over the past year, I am often greeted with, "There can't be sexism; FAMU hired a woman." Wrong. In fact, more sexism is likely to surface because she is a woman. If you don't believe me, think about the election of President Obama. One could say, "There can't be racism because we elected a black president." Wrong again. We know that racism has increased in the public eye as a result of people being angry because we elected a black president -- twice.
Second, from the beginning of Mangum's tenure, the FAMU board has been interfering with her leadership and drumming up anything and everything to discredit her. In reality, she has had many successes as president. She has garnered much respect and attention for the institution, been masterful at fund-raising, inspired campus spirit among students and young alumni, and worked to give FAMU more of a global presence. Unfortunately, those efforts and nearly anything she has done have been criticized by the board, former leaders and a subset of alumni.
Most recently, she was critiqued by the board and local media for spending too much money on travel. Anyone who knows anything about higher education is aware that a university president has to travel in order to raise money and visibility for the college or university. Presidents in the 21st century often spend the majority of their time talking to people outside their institution, while provosts are more focused on the day-to-day academics of the campus. If an institution's president isn't traveling, it's a problem. Moreover, compared to most presidents, Mangum's travel expenses have been relatively low.
I am deeply concerned about the treatment of Mangum. However, I am even more worried about the sexism felt by black women in the role of the presidency at HBCUs (and elsewhere) and the meddling of board members in the day-to-day activities of the institutions. Having served on many boards of trustees, including two HBCU boards, I know that my role is to examine big-picture policy, to raise money, to support the president (regardless of gender) and hold that person accountable for negotiated goals, and to promote the institution. My role is not to meddle, nitpick or interfere with the president's ability to do the job.
In recent years, HBCUs have experienced rapid turnover and controversy in the presidency; they have struggled in many cases to find leaders. These facts beg the question: How will HBCUs attract highly qualified aspiring leaders to head their institutions when those leaders are likely to encounter meddling boards and a lack of support from various constituencies? The FAMU board's relationship with Elmira Mangum is not an aberration and, in fact, is becoming all too common on HBCU campuses. How will HBCUs, where the majority of students enrolled are women, attract black women to lead these institutions when such sexism exists? How can HBCUs recruit innovative leaders when board members and some HBCU community members fear innovation and change?
Rather than beating down such new, energetic, highly talented presidents committed to leading HBCUs, boards and disgruntled alumni should donate more funds, promote their institutions, spend some time reading about higher education and the specific roles of the president and the board, and focus on the needs of students over their own egos. FAMU has all the makings of a leading university, but it will not reach its potential until it embraces and empowers its leaders.