You have /5 articles left.
Sign up for a free account or log in.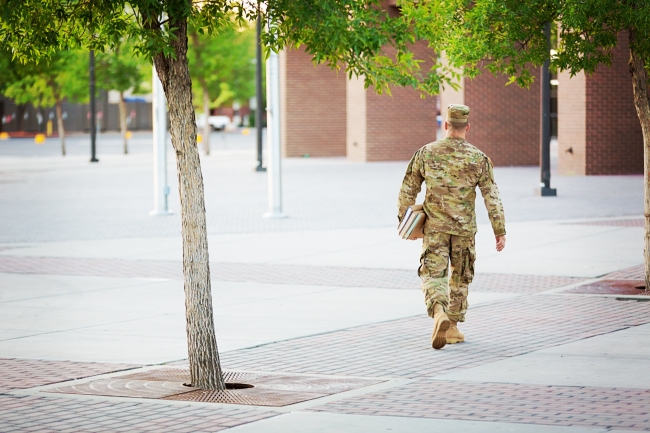 From the top of the nation's most highly selective colleges, Yale has 11 undergraduate veterans, Harvard three, Princeton one, Williams three. Over last year, that's a leap of five at Yale and two at Williams. Harvard declined to report last year. At a total of 18, that's four short of 22 needed for one offensive and one defensive squad on a football team.
The 2016 total for my chosen set of 36 highly selective colleges is 645. Irregular reporting by the colleges year to year prevents apples-to-apples comparisons with last year's total of 643. This 645 is 0.40 percent of the total undergraduate enrollment of about 160,000 at the colleges surveyed.
Critics keep saying I am too hard, too unreasonable to ask more of these selective colleges. Bunker Hill Community College, where I work, and where students are in just their first two full years of college, has more than 400 veterans. Each year, I ask other observers, with far more credibility than mine, what they make of these numbers.
"The dearth of veterans attending elite colleges in this country is a national disgrace," replied Andrew Bacevich, author, retired U.S. Army colonel, Vietnam veteran and emeritus professor at Boston University. "How ironic that in their emphasis on recruiting a diverse student body, these schools essentially exclude those who have served their country in uniform." Bacevich lost a son in the Iraq war. (Click here for Bacevich's Memorial Day 2016 essay in The Boston Globe.)
Columbia University tops the list (see the table below) with 375 in the School of General Studies, where all students take the same courses as at Columbia College. Georgetown, which reaches out to the military in many commendable ways, has 65 undergraduate veterans. After these, the counts fall off a cliff.
Critics -- I'll get to one -- have urged me to acknowledge progress in a situation that remains unbelievable to me. The three colleges in the Posse Foundation veterans' program are increasing veteran enrollment. Vassar College grew from 30 to 32, and Dartmouth, one of the first Ivies to recruit veterans at all, from 17 to 23. Wesleyan University in the past four years has increased veteran enrollment from two to 11 to 22 to 30. Stanford undergraduate veteran enrollment has grown from 10 to 16 to 21.
Peter Kiernan, a Marine special operations Afghanistan veteran now studying political science at Columbia, is a founder of the Ivy League Veterans Council, which helps veterans apply to Ivy League colleges. Kiernan contacted me this fall to discuss how to increase veteran enrollment at these colleges. I asked him about the enrollment increases.
"I don't think single- or double-digit undergraduate veterans at elite schools is praiseworthy or represents any meaningful progress," Kiernan wrote in an email this week. "Veterans represent 5 percent of the collegiate population in the United States. Over one million students receive the G.I. Bill. Comparatively, the top 50 universities don't even come close to adequate veteran representation."
"If we deny the next generation of leaders the chance to meet veterans and to hear what war is like, we deny them knowledge they need to be leaders," Kiernan continued. "And we deny veterans the opportunity to be those leaders themselves."
A change in the landscape is the young organizations informing and preparing veterans for college. The Posse Foundation helps find and prepares 10 freshmen a year for Vassar, Wesleyan and Dartmouth. The impressive Warrior-Scholar Project, which I have visited several times, runs summer boot camps to show veterans how to succeed reading Thucydides, Tocqueville and Fukuyama and then writing college-level essays. The first program in 2009 enrolled nine veterans. Enrollment last summer was 224 veterans. Warrior-Scholar reports that 42 percent of its alumni are attending four-year colleges, including those in this survey.
Service to School connects enrolled veterans as coaches for veterans applying to college. Service to School reports working with 600 veterans in 2015-16 and says that more than 100 of those veterans have matriculated to four-year colleges, again, including those in this survey.
Tim Hsia, a Service to School leader who is a 2004 West Point graduate, a Stanford J.D./M.B.A. and a veteran of two deployments totaling 17 months in Mosul, Baghdad and Baqubah, contacted me this fall. Before I wrote this annual column, Hsia wanted to challenge my harsh judgments on selective colleges for doing too little to recruit veterans. Fair enough.
"Wick, at Service to School, we are fans of your annual column and are glad you continue to spotlight the issue of veteran enrollment at elite educational institutions," Hsia wrote. "In years past, you've painted a fire-and-brimstone portrait of veteran enrollment at elite undergraduate programs, and we think that for some schools, this description is misplaced." Hsia praised Williams, Yale and Cornell for their efforts. I acknowledge that this fall, for the first time, Williams visited Bunker Hill Community College to meet veterans.
I agree the Service to School is an excellent, innovative program. As a graduate of Williams and of Yale, I cannot yet take seriously enrollments of three and 11, respectively, 13 years after the invasion of Baghdad. I do acknowledge, Cornell, which had dropped out of this survey for several years but now enrolls 12 undergraduate veterans, because Cornell alumni for several years have been calling me for advice on what can work for veterans. (Click here to see Cornell's excellent just-launched military/veterans website.)
Back to me. So what? This effort is what Quakers -- I am one -- call a peace testimony. Every day I wonder what the most highly selective education would be that would prevent generations of graduates of these colleges from creating an America that takes war for granted. Linda Bilmes, Harvard professor, a friend and a Quaker, now calculates the cost of our current wars at $5 trillion. (Click here for Bilmes's recent article in The Boston Globe.) Two Yale alumni, former President George W. Bush and Vice President Dick Cheney, Princeton graduate and former Secretary of Defense Donald Rumsfeld, and former Secretary of State and Stanford provost Condoleezza Rice launched the invasion of Iraq, failing the History 101 skill of evaluating primary sources. Iraq did not have stockpiles of weapons of mass destruction. And these distinguished alumni too often send other people's children to fight and die in these wars.
Back to Kiernan, from the Ivy League Veterans Council, and his belief that future leaders at selective colleges need to meet people who have actually been in a war. Not people who have only sung of arms and the man on paper in The Aeneid. Due to a trivial childhood injury, Vietnam passed me by. I woke up when veterans began appearing in my classes.
A veteran in the first class I taught 10 years ago is now a Dartmouth graduate, teaching at-risk high school students. Another who wanted to be a high school teacher could not complete the semester. He had been an Army Humvee turret gunner. An improvised explosive device had flipped the Humvee on top of this student. Unpredictable medical treatment prevented the student from staying in school.
Another, a young man with a cane, was lucky enough to schedule surgery over the summer. Because of the complexity of surgery, not any fault of doctors, he told me, the surgery did not go well and the veteran could not return to school that fall. Leaving school meant the student lost his G.I. Bill benefits, including the living allowance. The student had local family to live with, or he might have been homeless.
A veteran, a seriously wounded Marine my colleagues and I have worked with for years, is not in school. This veteran had worked successfully in Harvard labs and had made his way to a selective college. Again and again, every time this student was on his feet, stable and able to thrive in his studies, his cell phone rang. Another of his buddies from his Marine unit or from Walter Reed Army Medical Center either was threatening suicide or had committed suicide. Being at Walter Reed, I have learned, indicates serious injury. So far, this student has told me, 20 of his buddies have committed suicide. He texted me yesterday that he is ready to enroll in college again.
I will rest when Yale and Harvard and Princeton and Williams have as many undergraduate veterans as they do freshman and varsity football players.
Note: Inside Higher Ed expanded the survey questions this year, with help from a fantastic research assistant. We will follow up with more columns reporting this additional information. Thanks to all who replied to the survey.
 
2013
Expanded 2014 Total
2015
2016
Amherst College
8
5
8
5
Bowdoin College
-
-
-
-
Brown U
12
11
10
12
Bryn Mawr College
0
0
0
0
California Inst. of Tech.
-
-
-
-
Carleton College
0
0
0
3
Columbia U School of General Studies
n/a
360
408
375
Colorado College
-
-
-
3
Cornell U
1
-
-
12
Dartmouth College
14
-
17
23
Duke U
1
1
2
0
Georgetown U
25
74
58
65
Harvard U
 
4
 
3
Johns Hopkins U
23
19
30
17
Massachusetts
Inst. of Tech.
2
0
1
4
Middlebury College
 
 
 
 
Mount Holyoke College
0
2
4
2
Northwestern U
14
19
11
15
Oberlin College
0
 
 
0
Pomona College
1
1
1
3
Princeton U
1
1
1
1
Rice U
1
0
0
0
Smith College
0
0
1
2
Stanford U
-
10
16
21
Swarthmore College
0
-
-
0
Trinity College
-
10
4
4
U of Chicago
-
-
-
-
U of Pennsylvania
35
35
-
-
U of Rochester
16
-
-
-
Vanderbilt U
-
-
-
1
Vassar College
-
-
30
32
Washington U in St. Louis
20
21
13
12
Wellesley College
2
2
1
0
Wesleyan U
2
11
22
30
Williams College
0
0
1
3
Yale U
2
3
4
11
Total
180
596
643
641