You have /5 articles left.
Sign up for a free account or log in.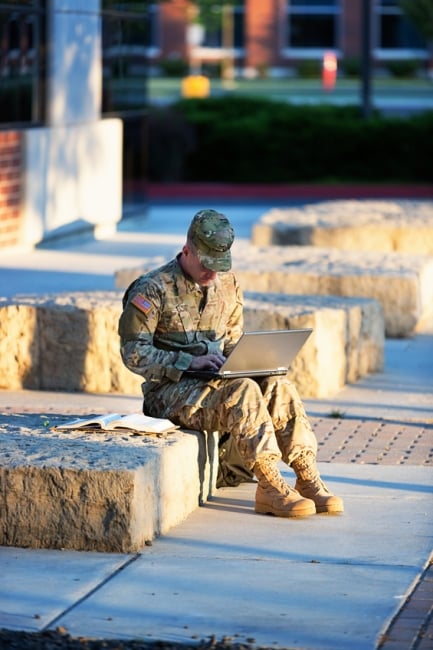 Jeff Bell enrolled in college right out of high school but soon dropped out and enlisted in the U.S. Air Force. He quickly earned commendations and promotions for his work in the highly sensitive job of keeping U.S. nuclear assets secure. But then he was diagnosed with a medical condition that made him ineligible for his position. He soon left the military and eventually found work as a dealer and then a pit boss at a casino in Arizona. The money was good, but something was missing. He felt adrift.
Nearly two decades later, he learned he was still eligible for military educational benefits and was advised to check out the programs and support for veterans at Arizona State University. There, the Pat Tillman Veterans Center provided him with just what he needed: tutoring, coaching on his writing, help with his benefits and just a place to stop by and get a cup of coffee as he adjusted to studying side by side with students who were more than 20 years younger. He graduated in May at the age of 44, with a biology degree and, thanks to help from center staff, started working the next month in the Santa Fe National Forest as a recreation specialist for the U.S. Forest Service.
America began providing veterans with tuition assistance via the G.I. Bill after World War II. That commitment to help veterans gain the skills and credentials employers want was renewed in 2008 with the Post-9/11 Veterans Educational Assistance Act. To date, that legislation has provided 1.6 million people with a total of $68 billion in education benefits. But over time, we've learned that veterans -- who tend to be older, have families, may have a disability or may simply need to brush up on skills they learned in high school -- need more than financial assistance. And some educational institutions are better equipped to meet those needs than others.
That is why, on Nov. 11, in recognition of Veterans Day, President Obama issued a presidential memorandum that directs our agencies to work together to do more to help veterans identify institutions best able to help them, and also to hold colleges accountable for treating veterans, their spouses and eligible family members fairly.
Fulfilling the nation's promises to its veterans has been a priority for President Obama ever since he took office. At his direction, the Department of Veterans Affairs created the GI Bill Comparison Tool so that veterans could compare the cost and outcomes of different schools. In addition, the Department of Defense began offering workshops to help veterans and their families transition to civilian life and access higher education. And several thousand institutions subscribed to the administration's principles of excellence, agreeing to avoid misleading recruiting practices and deliver high-quality academic and student support services.
The new memorandum requires us to begin providing college-by-college data on veterans' student debt and repayment rates. We will seek to expand an apprentice program that allows active-duty service members to obtain credentials and certificates. We also will launch a new pilot program to test the effectiveness of personalized tools and counseling. And, across the administration, we will do more to detect and hold colleges accountable for misleading recruitment practices.
Colleges and universities such as Arizona State University are leading the way. Syracuse University, for example, established the Institute for Veterans and Military Families to focus on social, economic, education and policy issues affecting veterans and their families. San Diego State University's Joan and Art Barron Veterans Center provides military-affiliated veterans with one-stop shopping. The Troops to Engineers and SERVICE (Success in Engineering for Recent Veterans through Internship and Career Experience) programs at various higher education institutions help veterans earn engineering degrees and secure internships at major companies. Columbia University has a Military in Business Association and offers academic programs designed for veterans.
The administration's Eight Keys to Veterans' Success spells out other ways colleges and universities can voluntarily support veterans. Las Positas College in California is one of over 2,100 institutions to endorse the keys. The college maintains a comprehensive Veterans Resource Center that addresses veterans' academic, career, financial and health-related challenges. (To learn more about the Eight Keys to Veterans' Success, click on link or e-mail 8keys@ed.gov.)
On this Veterans Day, we must remember that post-9/11 veterans took an oath to defend the Constitution of the United States out of a sense of duty and love for country. But they also realized that their service could lead to greater opportunities, including a college degree. One way to thank them for their service is to support them as they pursue their education.