You have /5 articles left.
Sign up for a free account or log in.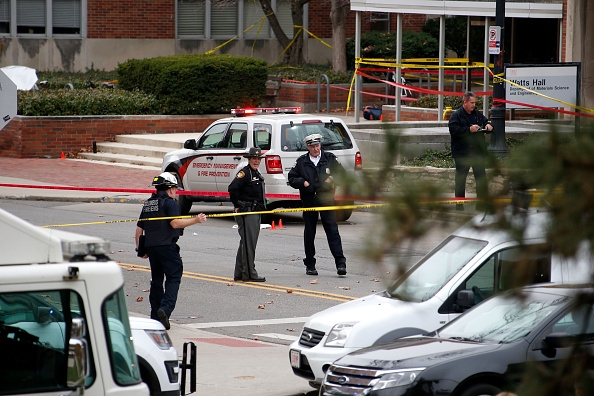 At 9:56 a.m. Monday, Nov. 28, Ohio State University students and employees received an active shooter alert, but there were two key pieces of information they did not know.
One: as students rushed in total panic to build walls of chairs and desks in front of classroom doors, they did not know the alert was inaccurate. Contrary to the words in the warning, no active shooter was on the campus. He had a knife.
Two: perhaps even more important, they had no idea the campus assailant they'd just been warned about had already died several minutes before they received the first vague danger warning at 9:54 a.m. and the second one about an active shooter at 9:56 a.m. He was shot dead by a university police officer at 9:53 a.m., about a minute after he started his attack. The danger was over when people received both of those Buckeye Alerts.
The attack at Ohio State University is a reminder that although colleges and universities have spent tens of millions of dollars during the past decade to put in place complex emergency communications systems, the technology has serious limitations. Because of the way most such attacks develop, communications will always be too slow and, at least initially, not very accurate.
Pennsylvania State University put in place one of the early text communications systems in higher education in 2006, the year before the attack at Virginia Tech. Back then it was simply another news delivery system to add to the many other advances we were making in digital communications.
I have watched as the technology has expanded, improved and been deployed to thousands of colleges and universities, hospitals, and other institutions around the nation.
Higher education systems should have such systems in place, and we should practice using them, but we need to lower our expectations for their impact. I am not aware of any such system saving lives in an active campus attack.
It is also worth remembering that although there have been some high-profile shootings on college campuses, the overall rate of campus homicides is a fraction of the rate found across the country in general. Statistically our students are far safer on the school side of College Avenue than they are on the town side.
In addition to aggressive improvements in communications, campus police around the nation have stepped up training, purchased new equipment, added officers and changed tactics. But in light of those improvements and the enormous sums being spent on new technology, it is important that students, employees and parents not be lulled into thinking technology will help keep them safe.
Imagine receiving a text message that essentially warns "Hurry up! It's time to panic!"
And very little else. There are no details. No information on what is happening or where it is happening. No detailed description of the bad guys and what they are doing. And no specific advice on how to stay safe and alive other than an often vague message like "Shelter in place!"
The key is being fast. And not at all surprising in an emergency like the one at Ohio State, accuracy and context often come later.
Unless that smartphone sitting in your pocket happens to deflect a bullet, I'm not sure mass-alert technology will be a life-saving tool during an active shooter event on campus. Here are some of the reasons they are not perfect solutions.
Bad guys have phones, too. What if the bad guys are subscribers to your alert system and social media postings? That's pretty likely if they are a student or work for the institution. Every message to the public can also alert them to what the college believes is going on. If you alert students to shootings on the west side of campus and tell them to move to the east side of campus, the bad guys can see that. If you tell students to shelter in place and turn out the lights, the bad guys can read that, too.
Shootings take seconds; phone calls take minutes. When a 911 call is made, this happens: a dispatcher takes down the pertinent information and starts to think about it. Maybe they ask some questions. Then they share it with police to respond to the call for assistance. Then the dispatcher or someone working with them types up, or selects from a predetermined group of messages, a note to send out by text messaging and social media to perhaps tens of thousands of subscribers. While this several-minutes-long, well-thought-out and practiced official process takes place, another unofficial one is already well underway. A hundred students in the area of the shooting have already sent 100 different and probably contradictory text messages to their friends, posted to Facebook, tweeted about the event and put it on Snapchat. And more than a few are in the process of putting themselves in danger to get photos and videos of the assailant and the attack in progress. It's time for them to be a social media star, to go viral and generate some clicks.
Not enough subscribers. At some institutions, only a fraction of the student body and faculty and staff are signed up for the official text alerts. You can't read what you don't see.
Too many subscribers. Other colleges have the opposite problem -- thousands of family members, news media and the general public are signed up. That can slow the process of pushing out the message quickly to the people who need it most and first.
Lack of facts. Messages, especially initially, are often vague and perhaps even misleading. Police simply don't have much detail. Consider the giant, terrifying stampede at JFK airport this year when someone thought they heard a gunshot. Thousands of people fled, throwing the terminal into chaos for hours. Those reports were wrong. Trying to follow the letter of the law as best they can, some institutions send out multiple alerts every week, and most of them are related to sexual assaults. Those messages are often vague and tied to when the assault was reported, not to when it occurred. It is not unusual for a victim to struggle with the issue of whether to report an assault for several days or even weeks before going to campus police. If the assault happened four days ago, should an emergency text alert be sent to 50,000 people the hour it is finally reported? In many cases it is. Subscribers become cynical when they read the words "Emergency Alert" and then receive old news.
System overload. When an earthquake centered in Virginia rumbled across the eastern United States around 2 p.m. on Aug. 23, 2011, Penn State was one of many institutions to immediately tap its text alert system. A couple things went wrong. Because scores of text alert systems on the East Coast all jumped into action at once, and the general public also rushed to the cellular system to talk and text with each other, the system ground to a slow crawl. A small group of Penn State officials sitting in a room together mapping out our response received the text alert we had ordered sent to students and employees over a 30-minute window. That's a big difference in an unfolding emergency. And, of course, we could not assure any of our text alert subscribers that there would not be another aftershock five minutes later. We really had little useful information to share with them.
Slow delivery. One company brags that it "sets the standard for rapid, reliable message delivery." It says it can deliver messages at a rate of 10,000 a minute. But what if your large state university has 70,000 subscribers? Is it OK for the message to take seven minutes to reach thousands of phones? Many people can be shot and killed in seven minutes. And in the best-case scenario, a couple minutes will elapse between that first gunshot, the call to 911 and then somebody pushing the send button for an emergency text.
The news media. In the middle of a crisis, what is the last thing you need? Yep, a dozen TV news vans and reporters live tweeting and transmitting video from the scene with a lot of frightened bystanders who have no factual information but are ready to speculate for Action News. When we had a sniper on Penn State's campus shooting at students, the first rushed report from a major newswire service said two people were killed. It was actually one. And this was a professional communicator getting facts wrong. Our communications team lost time the rest of the morning trying to correct that information.
False positives. Panicked callers dial 911 or university safety offices because they "saw something." A man with a gun? It's legal in most states and increasingly on college campuses. Someone "Middle Eastern-looking spoke Arabic into a cell phone"? Give me a break. The admissions office is spending a lot of money trying to get Middle Eastern students enrolled at your university. And yes, they have cell phones, like every other person in the country above the age of 10. And they absolutely speak another language. Alert systems are put into action and the equivalent of campus SWAT teams respond to these false calls. The public also sends the messages virally on social media before the truth catches up with reality.
Turn off those phones! One rule many faculty members include in their syllabi and repeat all semester in the classroom is that students should put their cell phones away until class is over. Officials make the same announcements before guest speakers start talking and concerts begin. As I said earlier, you can't read what you can't see.
Too much information. One of the weakest links in most systems is how to sort through hundreds of simultaneous calls and social media postings and get police officers to the scene of an active shooter in the first seconds of a developing massacre.
Used for the wrong purpose. We once had the head of one of our campuses send out a text alert to tell everyone he was missing his keys. No, really.
Even with all those problems, and others, I still think we need robust text alert and social media systems in place on college campuses. But it is important we dial down the expectations for such systems and understand their serious limitations. The real key in limiting a mass shooting on your campus is going to be your police department -- their training, size and equipment. At Ohio State, an officer was on the scene of the attack and quickly ended it.
Until something better comes along, I will continue to start the first day of class the way I always do -- once we go through the syllabus and everyone in class has introduced themselves, I talk to my students for a couple minutes about their safety. I tell them where the two closest exits from the building are located and how to try to barricade the half glass door to the classroom -- the one that opens outward and has no lock -- to buy themselves a couple extra seconds until the police arrive. And to keep that cell phone in their pocket over their heart. It may do more good there.