You have /5 articles left.
Sign up for a free account or log in.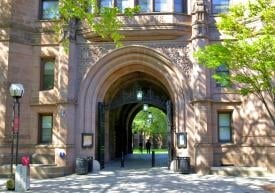 Every year without fail, a well-respected educator comes out against early-admission programs, calling them "barriers to keep most low-income students out." This year's quote is from a recent piece in Inside Higher Ed by Harold O. Levy, a former chancellor of the New York City Public Schools and the executive director of the Jack Kent Cooke Foundation.
I have great respect for Levy and for the significant work done by the Cooke Foundation to advance students of great potential from economically disadvantaged families. But early-admission programs are not discriminatory by definition at the bulk of the nation's nonprofit, four-year colleges and universities. And in fact, they do not have to act against the inclusion of disadvantaged students at the nation's most prestigious institutions. Here's why.
It is true that many low-income students are not aware of early-decision programs because they are the first generation in their family to go to college and attend high schools where counselors are responsible for 1,000 or more students each. But colleges and universities can and do promote early decision and early action in all of their search communications, on their websites and in their brochures. And those of us who are committed to enrolling low-income students go out of our way to connect with them and to make them aware of early programs while saving places for them in the regular pool. Pell-eligible students represent 35 percent of the enrollment at my institution, Drew University, and we have an early-decision program -- so it can be done. Further, those students graduate at the essentially same rate as the other two-thirds of the student body, so they are being served well.
Many highly selective colleges are now test optional in admission, so the fact that low-income students may not have test scores in time for early deadlines is a nonissue at those institutions. And the notion that low-income students can't commit to enrolling through an early-decision program because they need financial aid is an equally empty hypothesis.
First of all, the early Free Application for Federal Student Aid allows colleges to award actual aid upon early-decision admission. Second, as every early-decision institution will tell you, if the aid is not sufficient in the family's mind, the student will be released from the early-decision commitment.
I always tell students and their parents that they should apply in a binding early-decision program only if parents know how much they are willing and able to contribute toward college expenses, and if they are not interested in comparing offers from other institutions. If they receive enough to make attendance possible, and the college is the student's first choice, then the process has successfully concluded. If, however, they want to shop for the best deal, then early decision is not for them. But we can't just say that early decision is bad for all low-income students.
In many ways, early decision is the best time to apply for financial aid, because colleges do not exhaust their grant resources during the early round. And as I said, if the aid is not sufficient, colleges will release students from the early commitment. This is a no-lose proposition for the student.
Levy presents compelling evidence of the disparity of incomes represented in early-decision programs:
The Cooke Foundation study found that only 16 percent of high-achieving students from families with annual incomes below $50,000 applied for college admission on an early-decision basis in the 2013-14 academic year. But 29 percent of high-achieving students from families with incomes above $250,000 applied on an early-decision basis. Is it any wonder that so many more upper-income students gain admission?
To be fair, that needs to be put into context. According to a 2014 report from the Pew Research Center, 51 percent of all low-income students were enrolled in college compared to 81 percent of all high-income students (defining low income as the bottom 20 percent of all family incomes and high income as the top 20 percent). In other words, many more high-income students enroll in college in the first place, so it is not surprising that many more high-income students also enroll through early decision.
This underscores the real issue for American higher education. We need to spend less time advocating for the elimination of a program, like early admission, that attracts higher-income students (who, by the way, help to bring in the revenue to support lower-income students) and more time -- as the Cooke Foundation and many colleges do so well -- developing better ways to recruit and support low-income students through to graduation. The future competitiveness of our country depends on it.