You have /5 articles left.
Sign up for a free account or log in.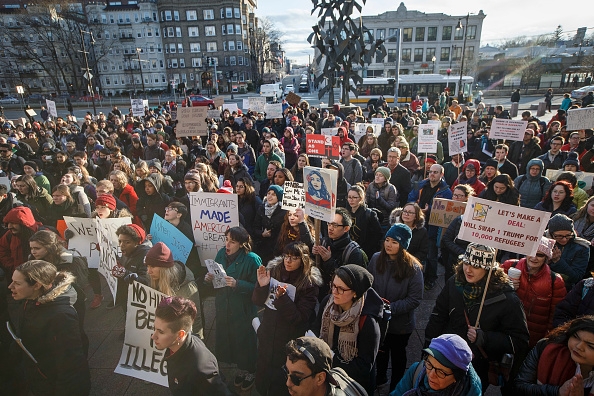 I was horrified reading the latest diktat on immigration from an administration blown into power by the winds of intolerance and resentment. President Trump's executive order barring immigrants and nonimmigrant visitors from seven Muslim-majority countries from entering the United States is an exercise in cynical obfuscation, bigotry and hard-heartedness.
The obfuscation begins early on with the linking of this crackdown to the attacks of Sept. 11, 2001 when, as has been pointed out by many commentators, those responsible for those attacks had no connections to the countries targeted by this order. The bigotry of the decree closing our borders to refugees from these seven countries is most evident in the exception it makes for religious minorities in predominantly Muslim countries.
The hard-heartedness of the executive order is unmistakable. Desperate families who have been thoroughly vetted for months have had their dreams of a safe haven in America shattered. Students, scientists, artists and businesspeople who have played by the immigration rules to ensure that they have secure passage to and from the United States now find themselves in limbo. Colleges and universities that attract and depend on international talent will be weakened. So much for the so-called respect for law of an administration that has made a point of promising to crack down on undocumented children brought over the Mexican border by their parents.
Eighteen months ago I solicited ideas from Wesleyan alumni, faculty members, students and staff members as to what a small liberal arts institution like ours could do in the face of the momentous human tragedy unfolding around the world. We discussed the many ideas we received on our campus and with leaders of other institutions. The steps we took were small ones, appropriate to the scale of our institution. Working with the Scholars at Risk program, we welcomed a refugee scholar from Syria to participate in one of our interdisciplinary centers. We created internships for students who wanted to work at refugee sites in the Middle East or assist local effort at resettlement. We began working with the Institute of International Education to bring a Syrian student to Wesleyan. And, perhaps most important, we redoubled our efforts to educate the campus about the genesis and development of the crisis.
In the last few months, I have traveled to China and India to talk about the benefits of pragmatic liberal education, and in both countries I saw extraordinary enthusiasm for coming to America to pursue a broad, contextual education that will develop the student's capacity to learn from diverse sets of sources. Since returning, I've already received questions from anxious international students and their parents about whether we will continue to welcome people from abroad who seek a first-rate education. Students outside the United States are often fleeing educational systems with constraints on inquiry and communication; they are rejecting censorship and premature specialization, and they are looking to us. Will they continue to do so?
Here at home we must resist orchestrated parochialism of all kinds. A liberal education includes deepening one's ability to learn from people with whom one doesn't agree, but the politics of resentment sweeping across our country is substituting demonization for curiosity. Without tolerance and open-mindedness, inquiry is just a path to self-congratulation at best, violent scapegoating at worst.
With this latest executive order, the White House has provided colleges and universities the occasion to teach our students more thoroughly about the vagaries of refugee aid from wealthy, developed countries that are themselves in political turmoil. The new administration has also unwittingly provided lessons in the tactics of scapegoating and distraction traditionally used by strongmen eager to cement their own power. There are plenty of historical examples of how in times of crisis leaders make sweeping edicts without regard to human rights or even their own legal traditions.
Our current security crisis has been manufactured by a leadership team eager to increase a state of fear and discrimination in order to bolster its own legitimacy. The fantasy of the need for "extreme vetting" is a noxious mystification created by a weak administration seeking to distract citizens from attending to important economic, political and social issues. Such issues require close examination with a patient independence of mind and a respect for inquiry that demands rejection of falsification and obfuscation.
As the press is attacked with increasing vehemence for confronting the administration with facts, universities have a vital role to play in helping students understand the importance of actual knowledge about the world -- including the operations of politics. To play that role well, universities must be open to concerns and points of view from across the ideological spectrum -- not just from those who share conventional professorial political perspectives. At Wesleyan, we have raised funds to bring more conservative faculty to campus so that our students benefit from a greater diversity of perspectives on matters such as international relations, economic development, the public sphere and personal freedom. Refusing bigotry should be the opposite of creating a bubble of ideological homogeneity.
As I write this op-ed, demonstrators across the country are standing up for the rights of immigrants and refugees. They recognize that being horrified is not enough, and they are standing up for the rule of law and for traditions of decency and hospitality that can be perfectly compatible with national security.
America's new administration is clearly eager to set a new direction. As teachers and students, we must reject intimidation and cynicism and learn from these early proclamations and the frightening direction in which they point. Let us take what we learn and use it to resist becoming another historical example of a republic undermined by the corrosive forces of obfuscation, bigotry and hard-heartedness.