You have /5 articles left.
Sign up for a free account or log in.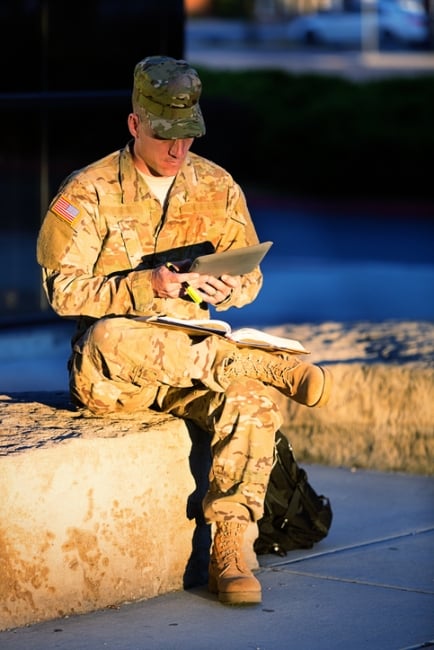 In a word-association game on "education," "the United States Army" would probably not be the first response given. But for those who work closely with the Army and understand the depth of the Army's interest, involvement and expertise in educating Americans, the Army's lack of recognition in the education field is puzzling.
It is hard to imagine any other institution that invests more time and resources to ensure its personnel are learning -- or one that has more at stake in the outcome of its educational efforts -- than the U.S. Army. American soldiers are serving and representing our nation in more than 130 countries, many in the crucible of ground combat or engaged in other high-risk activities. As both the producer and employer of those it educates, the Army is dependent on the graduates of its many schools and training courses to overcome the multitude of challenges it routinely faces in those countries. The Army has a vested interest in the learning outcomes achieved by its students and, as a result, works extremely hard to optimize those outcomes.
Indeed, the long and distinguished track record of the graduates of the Army's training and education system stands as proof of the Army's success in accomplishing its educational goals. In the 241 years of its existence, the Army has produced highly adaptive, agile and innovative soldiers and leaders who have been able to apply critical and creative thinking skills to conquer the myriad challenges thrown their way -- and under some of the most extreme conditions imaginable.
Undervalued Learning Outcomes
That the Army is not widely recognized for its expertise in education is no doubt largely because education is not its core mission -- it exists to fight and win the nation's wars. To do that, however, the Army requires educated soldiers. Training, educating and developing soldiers is, thus, an integral means of achieving its ultimate end.
Many people also hold the view that the Army's training and education system is primarily just vocational, skills-based training that doesn't require the type of cognitive engagement that America's colleges and universities purport to develop within their graduates. But producing technicians is only part of the Army's training and education mission requirement. The larger, and by far the most important, part is its obligation to develop young men and women who can solve what are frequently complex problems while simultaneously completing highly technical tasks.
Thus, as much as any academic institutions (and arguably more so), the Army is in search of the holy grail of education: developing learners who can transfer and apply their learning in different environments to achieve optimal results no matter what the conditions.
Perhaps the largest reason for the failure of many to recognize the Army as a premier learning organization, however, is that the Army doesn't record its learning outcomes in the ubiquitous Carnegie unit (credit hour) format. In fact, the absence of a registrar-validated transcript with learning recorded in credit hours is possibly the single biggest reason for soldiers receiving inadequate credit for the learning that occurs during their Army training, education and experiences.
Without that acceptably certified record of learning, soldiers leave the Army with a vast amount of assessed and validated knowledge, skills, attributes and competencies for which they more often than not receive little credit. Their educational outcomes are imperfectly communicated and poorly understood by employers and educators alike. And while many higher education institutions and businesses would surely like to give soldiers the benefit of the doubt and award them credit for their Army learning outcomes, they face risks from their own accrediting and licensing bodies and are limited in their ability to do so. The end result is that soldiers are often left with little to show for their extensive, taxpayer-funded training and education.
Assessing the Problem
For the Army, the issue is not as much a matter of receiving recognition for its educational outcomes as it is an issue of readiness. Critical readiness funds are being diverted from operations to pay for unemployment compensation for soldiers who aren't being hired, in part because of their lack of certified trade credentials. Meanwhile other funds are siphoned off for educational benefits to pay for learning that soldiers already received in the Army but are forced to repeat because it wasn't recorded in a manner acceptable to colleges and accrediting and licensing bodies.
Thus, garnering publicly recognized academic credit for the Army and its soldiers was one of the first tasks leaders took on upon the establishment of Army University in August 2015. After reviewing the problem, Army University leaders concluded that devising a means of recording Army learning in terms of credit hours, seeking academic accreditation for its numerous schools and granting soldiers academic degrees was fraught with numerous drawbacks -- and ultimately provided only a partial solution to the problem.
Expenses involved in paying for accreditation, hiring degreed or credentialed faculty, establishing a registrar and hiring additional personnel to perform the many other tasks required by accrediting bodies would rapidly mount and eventually become prohibitive. Meanwhile, the vast majority of learning in the Army is difficult to measure in credit hours. Instead, it must be measured by a soldier's demonstrated ability to apply the knowledge, skills and attributes learned in a classroom or training area, or as a result of one's experiences, to accomplish a task. In short, the Army primarily uses competency-based education and experiential learning methods to achieve its developmental goals.
Effectively Measuring Learning Outcomes
Army University leaders came to recognize that what was needed to solve this problem was an acceptable method of capturing and recording the learning outcomes of its predominantly competency-based training and education system. They also soon realized that they were not alone in their search and unintentionally found themselves immersed in the contentious American education debate over measuring student outcomes.
The Army was, in essence, struggling with the same challenge that plagues many American colleges and industry today -- its learning outcomes are not being recorded in a way that is truly meaningful for employers or educators in providing them adequate information on students' or employees' distinct knowledge, skills and attributes. The resulting inability of employers to understand a potential employee's competencies leads to wasteful redundancies and inefficiencies as time and resources are spent re-educating and retraining students and employees to develop abilities they may already possess.
Army University leaders quickly came to understand that several organizations had already done much work to try to measure and improve student outcomes, such as the U.S. Department of Education in its Experimental Sites Initiative. Among ex-sites many experiments that are of immediate interest to the Army are those dealing with CBE, prior learning assessments and direct assessments -- all of which offer the possibility of developing an acceptable method of measuring and recording the learning outcomes of nontraditional education practices like those used by the Army. The Educational Quality Through Innovative Partnerships, or EQUIP, program further enhances the prospect of developing a solution to this problem.
Equally encouraging to Army University leaders were the efforts of the many academic institutions and educational foundations that are also seeking solutions to this problem, such as programs funded and supported by the Lumina Foundation, like the Competency-Based Education Network and Degree Qualifications Profile/Tuning program.
Even more specific to the Army's purposes is the Lumina-funded Multi-State Collaborative on Military Credit initiative. That program's stated goal of advancing "best practices designed to ease the transition of veterans and their families from military life to college campuses, with special reference to translating competencies acquired through military training and experiences into milestones toward completing a college degree or earning a certificate or license," is perfectly aligned with Army University's efforts to increase the recognition soldiers receive for their Army training and education.
Informed by these and the many other similar ongoing efforts in academe, Army University is establishing partnerships with such groups and working on its own tailored solutions. In 2017, the Army began prototype testing of MIL-CRED (Military Credentials), a microcredentialing ecosystem that offers the capability of capturing soldiers' learning outcomes at the granular level in a way that is meaningful to Army leaders, talent managers and soldiers themselves -- both while they serve and as they transition out of the Army. The system records soldiers' learning outcomes as microcredentials (badges, credentials and certificates that contain the specific learning outcomes of a training event, school course or experience) and populates them onto a soldier's learner profile, or portfolio. That profile can then serve as a comprehensive digital résumé of the soldier's assessed and validated knowledge, skills, abilities, competencies and other learning outcomes, which colleges and universities could then use to award soldiers credit and properly place them in their academic programs.
Unlike academic transcripts, which have limited value outside of academe, the learner profile has the added benefit of being able to serve as a living document to which academic, military and industry learning achievements from training, education and experience alike can be added continuously throughout the learner's lifetime. In this, it is similar to the work being done by the University of Texas System's Institute for Transformational Learning, which, in conjunction with Salesforce, is working to establish a record of a "learner's academic and professional accomplishments across multiple institutions and experiences, building a portfolio that includes credits, competencies, microcertificates, degrees and other records of achievement."
In an era of limited resources, we will increasingly have no other option but to become more efficient in how we achieve our nation's desired learning outcomes. While somewhat late to this problem, the Army's demonstrated success in tackling big challenges and educating adults offers the potential for it to be a leading partner with academic, government and industry leaders when it comes to student outcomes. The fairly recent establishment of Army University has already led to the development of several meaningful relationships and collaborative efforts that have greatly aided the Army's efforts in this area. For its part, the Army is able to bring value to these partnerships by sharing with its partners the Army's vast experience and proven success in educating nontraditional learners. Recent shifts in college student demographics -- away from the traditional recent high school graduates and toward diverse and nontraditional adult learners -- mirrors what has long been the bulk of the Army's own demographic. Colleges and universities without much experience dealing with the distinct needs and qualities of these learners would do well to study the Army's approach to training and education that has led to so many successful results with them.
Although it is rarely recognized for its role as an educational organization, the Army has a long and distinguished track record in training and educating adults who have proven their ability to fight and think their way through all types of challenges. As such, the Army, along with academe and industry, has the undeniable ability to play a major contributing role in developing a method of measuring -- and, most important, improving -- learning outcomes that could prove to be of great value to our nation.