You have /5 articles left.
Sign up for a free account or log in.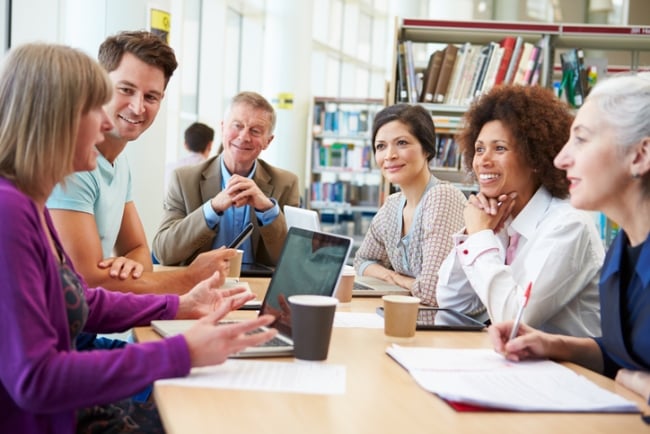 Most community colleges have adopted the mission of serving low-income, underprepared students who are in need of postsecondary education for any success in employment and earnings. There is growing consensus that this approach should encourage students to define a specific program of study at the outset of their college experience, with the college promoting strategic interventions to keep them on track to completing their program. But most of those initiatives are directed to students making the transition from high school to college, and little attention has been paid to applying this approach to the needs of working adults.
Focusing on the student-success needs of adult students is extremely important to many institutions. Since 2010, most community colleges have experienced a decline in their credit enrollments, primarily among "nontraditional-age students," i.e., those over 24 years of age. Conventional wisdom is that the decline is attributable to the economic recovery, which is attracting adults back into the labor market -- that their ability to work full-time has made attending college more difficult. But other factors may also be in play, such as adults rethinking the value of postsecondary education to their work-force goals.
Public Agenda conducted a survey on perceptions regarding higher education in September 2016 and found public confidence waning, with just 42 percent of Americans believing that college is necessary for work-force success. That is a 13 percent drop in affirmative responses to the same question posed in 2009. And while a more recent poll conducted in February and March by New America found greater support for the potential of postsecondary education, only one-quarter of the respondents thought higher education was doing an adequate job.
Yet the survey reflected higher marks for community colleges, and we are finding that, in fact, adults are not disappearing from community colleges. It is important, however, to recognize that they are attracted to a different approach to education: they are seeking noncredit work-force training activities. At Macomb Community College, about 36 percent of our credit students are over 24 years old. But when we look at noncredit enrollment, that number dramatically rises to 88 percent -- with the average age being 42 years old.
These adults have come to college to build skills to seek better jobs. The majority have families who depend on them. As a result, they want effective and efficient education -- to take a few courses and then get back in the work force as quickly as possible. While this will present some challenges to the pathway efforts of colleges, any obstacles can be overcome with attention to a few important design features.
First, it is important to link specific courses into detailed occupational pathways that are found in the major sectors of local labor markets. The focus has to be on the microdetails that are not typically identified in national, state or even regional labor market data. For example, here in southeast Michigan, it is not about programs in cybersecurity but cybersecurity in the automotive sector. This type of approach frequently results in crossing over traditional program lines, even in the occupational program area. It will also force colleges into conducting far more detailed research into trends within industries.
Second, internal articulation agreements between credit and noncredit programs within institutions must be created. Adults may start on the noncredit side of the institution, but they can be attracted toward degrees and credit-bearing certificates as they encounter additional workplace opportunities available to people with credentials. For far too long, community colleges have operated in silos, resulting in few noncredit students crossing the divide to earn degrees. Even professional certification programs should be embedded within a degree pathway to help students achieve a maximum bump in income.
Third, registration and counseling functions should be analyzed against the needs of adults. Ironically, while many of the recent strides in overhauling registration and enrollment have had a positive impact on orienting younger students to college and the resources available, it has had the opposite effect on adults -- particularly those who already have some college experience. For working adults whose goals are programs to enhance employment and earnings, a comprehensive orientation and registration process doesn't make sense. We have also found that adults do not need the same type of counseling that recent high school graduates benefit from. But they do want mentor models: working adults who have navigated through school, work and family and been successful.
Fourth, marketing outreach should target the large group of adults who have some college, but no degree. We've often found that these adults are interested in bachelor's degrees, so it is helpful to have established partnerships with senior institutions that facilitate seamless program transfer from associate degree to bachelor-degree completion. In this situation, a degree from the community college is less important than whether the community colleges can serve as an effective bridge to four-year colleges.
Fifth, community colleges need to conduct targeted outreach to employers to coordinate program development with specific local labor-market demands. Many companies dissolved their employee education programs during the Great Recession and have not relaunched them. Community colleges can stimulate employer engagement and investment in employee education, while upskilling their work force.
It is important to note that these efforts should not be viewed as a substitute for the important mission of training and educating unemployed adults. Indeed, interaction with both employed and unemployed adults is an important national priority for community colleges. It is often unemployed adults who are faced with significant job loss and life disruptions because they do not possess the skills necessary in the changing economy. Many of them are easy targets for political rhetoric of restoring the good times of the past.
Not only is this not going to happen, but this viewpoint avoids supporting institutions like community colleges that can prepare people for the skills that will, in fact, give them opportunities for sustained work. Our task is to counter this standpoint with programs that encourage adults to return to postsecondary educations for the skills that will make them successful in the future.