You have /5 articles left.
Sign up for a free account or log in.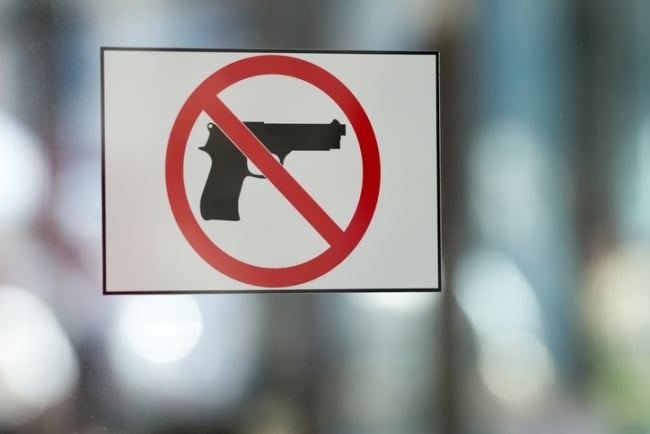 TIAA-CREF, the largest provider of retirement funds for employees of academic institutions, often emphasizes its good works to appeal to its socially conscious customers. The investment firm's Facebook page and other materials are filled with accolades such as "Best Overall Large Fund Company" and "named one of the World's Most Ethical Companies." TIAA has long promoted its Social Choice investment option, which I chose for my own retirement savings. Customers can invest in green bonds devoted to "environmentally beneficial projects or activities" and in emissions reduction. TIAA also touts its investments in affordable housing in its Social Impact Investing Portfolio.
But despite TIAA's evident interest in providing socially conscious investment products, the firm has not responded to their many customers now urging them to divest from gun and ammunition manufacturers. Customers first pressured TIAA to divest in 2012, the year of the mass shooting at Sandy Hook Elementary in Connecticut, where a lone gunman killed 20 small children and six adults with an AR-15. At that time, University of Miami English professor John Funchion circulated a petition requesting that TIAA divest from the manufacturers of semiautomatics, and it was signed by 2,112 TIAA-CREF clients. Funchion wrote, "Imagine my shock and dismay … when I realized that my own retirement funds were being invested in Smith & Wesson and in Sturm, Ruger, two companies that manufacture versions of the same AR-15 semiautomatic rifle used to take so many lives in Newtown -- and used, also, in the massacre in Aurora, Colorado. We are calling on TIAA-CREF to 'do right' in this post-Newtown moment."
Many in academe are taking part in the growing movement demanding legislation to prevent mass shootings such as the most recent in Parkland, Fla., where 14 students, a geography teacher, the school's athletic director and a coach were shot dead. Academic activists have been inspired by the eloquent young survivors, some of whom are just months away from enrolling in college.
Academic activists have also spoken out against gun manufacturers' lobbyists, particularly the National Rifle Association, which has drawn stark battle lines between its members and educators. In a 2017 video available on YouTube and broadcast on NRA-TV, spokeswoman Dana Loesch uses a tone of militancy and disgust to denounce an unspecified "they" who use schools to indoctrinate young people. Loesch then encourages the NRA's five million gun-owning members to raise "the clenched fist of truth" as an answer to this outrage.
Since the mass shooting at the high school in Parkland, activists and concerned citizens have pressured companies offering NRA discounts to cut their ties with the organization blocking meaningful gun reform. Many have done so. But despite recent victories for activists, semiautomatic weapons, bump stocks and high-capacity magazines remain easily attainable in many states.
Faculty members, who interact regularly with 18- to 22-year-olds in unlocked classrooms and offices and who encourage vigorous discussions, are finding themselves on the front line of the battle over gun rights. Mass shooters have repeatedly targeted educational settings, and in a number of recent instances, teachers and students have been gunned down side by side. While elementary and secondary school teachers are upset that their job description now includes being "ripped apart by a spray of bullets," in the words of one K-12 art history teacher, college faculty also worry that their students, under intense deadline and grade pressure and often suffering from depression or other mental health disorders, might bring a deadly weapon to class.
The sheer number of shootings taking place on campuses or resulting in mass casualties has a numbing effect. Many of us working in academe downplay the alarming patterns and continue to be accessible to our students despite our fears. At the same time, we can't forget the student who in 2015 brought three guns to his community college classroom in rural Oregon, where he murdered his 67-year-old English instructor along with eight of his classmates before turning the gun on himself.
We also remember the graduate engineering student who killed first his wife and then his dissertation adviser in 2016 while the professor was working in his office at the University of California, Los Angeles. Another professor on the gunman's kill list escaped death only by being away from campus at the time of the shooting. I find the 2007 mass shooting at Virginia Tech particularly disturbing not only because so many died -- 32 faculty and students were shot and killed in a residence hall and in classrooms -- but also because I teach at a STEM-focused institution and take seriously my institution's mission to provide "individual attention and support" to students. That supportive relationship with students -- evident in Rose-Hulman's open office doors, small classes and approachable faculty -- has become difficult to maintain in an era of active-shooter drills and campus lockdowns.
Remarkably, these horrific events in educational settings have led gun-rights advocates to argue that students and teachers should be armed. Following heavy lobbying by the NRA, legislatures in 10 states have passed laws to allow concealed weapons on public university campuses. The indiscriminate mass and targeted killings will apparently be allowed to continue, but with "good guys" wielding weapons as well. Gun-rights advocates have created the perfect conditions for Wild West-style gunfights in college classrooms, yet with more deadly, organ-lacerating and bone-splintering weapons thrown into the mix.
Given the potentially deadly working conditions at colleges and universities, it is unsurprising that many academics are demanding that their retirement funds be "gun free." Tim Watson, another English professor at Miami, who co-administers a members-only group on Facebook called "Tell TIAA-CREF: Stop Investing in Assault Weapons," recently explained that he bombarded TIAA's social media accounts with messages urging divestment following Sandy Hook, but to no avail. After the February school shooting in Florida, Watson wrote to the divestment group's 1,444 members to inform us that TIAA is still invested in semiautomatic weapons manufacturers. Watson again posted a comment on TIAA's Facebook page urging divestment and reported that it was swiftly deleted.
Soon after reading Watson's post-Parkland update, I offered to write a new petition urging TIAA to divest. The 2018 version includes a list of the most prominent mass shootings since Sandy Hook, including the Pulse nightclub in Orlando, Fla., where 49 died in 2016; the 58 shot dead on the Las Vegas strip in 2017; and the 17 killed at the high school in Parkland this year. I mentioned as well TIAA's mission and distinct customer base, which includes educators who wish our work and investment money to have a positive social impact and who do not want our retirement portfolio swelling with gun manufacturers' blood-soaked profits. So far, over 4,000 people have signed the new petition, and many have written comments including warnings to TIAA that they will transfer all their holdings to a gun-free fund elsewhere if nothing is done.
Divestment was highly effective during the movement against South Africa's apartheid in the 1970s and '80s. That iconic struggle's success has inspired new activist groups to seek political change by divesting from ethically tainted institutions, industries and products -- even though in some cases the gesture is symbolic rather than financially significant. Divestment is one of the three strategies of the controversial boycott, divestment and sanctions movement, which calls on academic institutions and organizations and their members to divest from Israeli companies as long as the occupation of Palestinian land continues. Divestment also has been an effective strategy to combat climate change, pushing academic institutions to end their reliance on oil, gas and coal company profits. In 2016, after students conducted sit-ins at Harvard University and the University of Massachusetts at Amherst, UMass became the first major public university to divest. And in 2017, Harvard agreed to "pause" their direct investments in polluting energy sources.
Divestment is not enough, of course. Many people working in academe want gun-free campuses, affordable medical and mental health care for their students, and adequate public funding for higher education to relieve financial pressures such as ballooning student loan debt. While we continue to work toward those larger, elusive goals, we should  at the very least be able to control where our own retirement money is going.
Divesting from gun manufacturers would send a strong message. Yet TIAA is ignoring customers' clear demand -- expressed again and again since at least 2012 -- to end investment in products or services causing suffering and death. The companies producing the weapons of choice of mass shooters surely fit into that category. I welcome other customers of TIAA-CREF to sign and share the petition linked above, and I urge once again, along with the other signatories, TIAA's complete divestment from gun manufacturers.