You have /5 articles left.
Sign up for a free account or log in.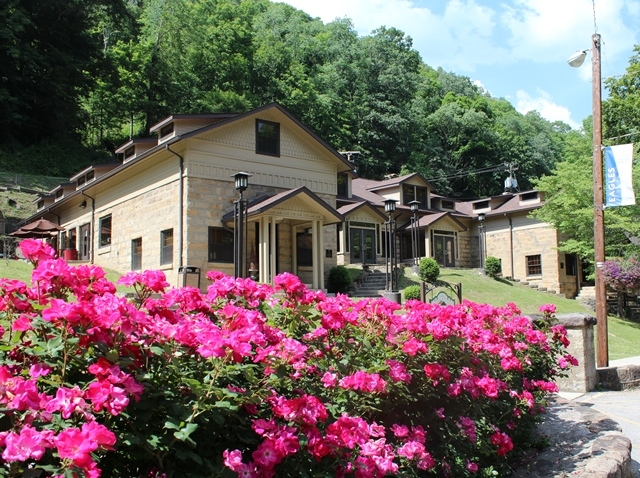 While multiple higher education institutions now include a lazy river in their expansion plans, one college has had a lazy creek running from one end of campus to the other since its inception in 1923. Yet students there seem to have little interest in sitting on an inner tube and coasting around the campus. Instead, they seem focused on climbing the multiple steps and hills leading to the campus buildings where classes, cultural events and fitness facilities are housed and where their work assignments are based.
And having a creek down the middle of the campus is only one aspect of Alice Lloyd College that makes the institution distinctive and worthy of thoughtful consideration by other colleges and universities. Other aspects include:
The region where Alice Lloyd is located. In the 25 years I directed the Appalachian College Association, I frequently insisted that donors visit Alice Lloyd, saying, "You haven't seen Appalachia until you've seen Alice Lloyd in Pippa Passes, Ky." Roads in eastern Kentucky have improved immensely since those years, but the one from the highway into Alice Lloyd still demands slow speeds. In 2014 the population was roughly 650 in the incorporated town where the mayor is also the Alice Lloyd baseball coach and the local police department is also the college's security force. The enrollment goal for the college is also 650; most students come from within the region but outside Pippa Passes.
Having to carve space for buildings out of the sides of mountains. When Alice Lloyd started the college, the few buildings needed took up most of the relatively level land. Since then, as the number and size of facilities have increased, and infrastructures have become more complicated, construction has become a challenge requiring highly talented architects and engineers. It comes as a surprise to find a baseball field located high up a mountain, tucked behind tall evergreens, and a new gymnasium and fitness facility being carved into that mountain, while a women's dorm looks down on the construction from near the top.
Requiring that every student work at least 10 hours each week. As one of seven work colleges in the nation, Alice Lloyd charges no out-of-pocket tuition for its students who come from 108 counties in Central Appalachia; in return each student has a work assignment related to the maintenance of the campus -- including assignments in construction as well as providing clerical assistance. The college has consistently been ranked as one of the top in America for graduating students with the least amount of debt. Meanwhile, students also graduate with multiple physical skills, as well as with the knowledge and competencies that a good liberal arts education provides.
Never borrowing money. Trustees have honored the principle established by the first board that the college should never go into debt for any project -- be it construction or instruction. They have kept the focus on avoiding what has brought many colleges to the edge of closure: borrowing new money to cover old debt. Alice Lloyd has maintained a solid financial base throughout its history despite having a small endowment of roughly $63,000 per student, according to U.S. News & World Report 2017 data. That accomplishment is even more impressive when that figure is compared to the over $2 million per student in the endowment figures reported by Forbes for Princeton University.
Maintaining a small enrollment by choice. Since each student has an obligation to help maintain the campus and none pays tuition, Alice Lloyd focuses on recruiting a small number of students who have the potential to move beyond the boundaries of small communities in Appalachia but who are likely to choose to remain in the region and make a major difference in the lives of residents there. With this philosophy, the college can document that 98 percent of its graduates are accepted into professional or graduate schools or find jobs within 10 months of graduation, and more than 80 percent remain or return to the region as leaders in local communities.
Providing financial support for graduates enrolling for advanced degrees -- the only college in the nation to do so. Since 1925, Alice Lloyd has provided financial support for their graduates to enroll at the University of Kentucky or other universities to complete professional programs or graduate school. At UK, they can live without paying for rent or utilities in one of 13 apartments owned by Alice Lloyd. Graduates attending other universities for advanced study receive awards from Alice Lloyd to help cover living expenses. In return, the college encourages such students to return to Appalachia and serve the region, but doesn't require them to do so. (Visit Alice Lloyd's website for additional information about the Caney Scholars Program.)
Faculty and administrative staff who receive living quarters and cafeteria meals as part of their benefits and who are willing to accept salaries that are less than those at other colleges -- even others in Appalachia. Living quarters provided for faculty and staff members are far from luxurious. Even the president's home is in need of major repairs. The cafeteria provides basic meals (no food courts here), but those choosing to teach at Alice Lloyd agree with Alexander W. Astin, founding director of Higher Education Research Institute at the University of California, Los Angeles, who has stressed the importance of educating students at all levels, not just those identified by teachers and tests as smart. (He has written many books on this topic, the most recent being Are You Smart Enough, published by Stylus in 2016.)
Astin has emphasized that those who prepare students from disadvantaged backgrounds to become productive citizens do more good for society than those who teach at prestigious universities helping students become doctors and lawyers. In the first situation, the college may be keeping the student off welfare; in the second, the student is likely to be successful in some profession regardless of his or her educational experiences.
Yet Alice Lloyd is like other colleges in rural America. It faces a future that is more uncertain than that of the public or elite private institutions. When Hillary Clinton spoke about providing a $25 billion pool for historically black colleges and universities and making all state universities tuition-free, I asked Howard Dean when he visited the campaign headquarters for Clinton, where I was working, "What is she going to do for all the small private colleges across the country teaching those students who are not likely to succeed in a university outside the culture they know until they can be introduced to it through the resources of higher education institutions?" His response was, "Nobody has mentioned those."
And therein lies a major problem: nobody is paying attention to the success being achieved by colleges like Alice Lloyd -- institutions that few people have even heard of. But without such colleges -- which are truly dedicated to educating disadvantaged students and not just accepting a small percentage of them -- our country will continue to suffer the results of decisions by uneducated workers and voters. And it will lose the potential for significant societal contributions from the students who are able to attend these colleges and thrive as the result of all they've learned there.
And in case you want to enroll at Alice Lloyd and aren't from central Appalachia, tuition with room and board is less than $20,000. But don't expect to float down the lazy creek; it's full of rocks.