You have /5 articles left.
Sign up for a free account or log in.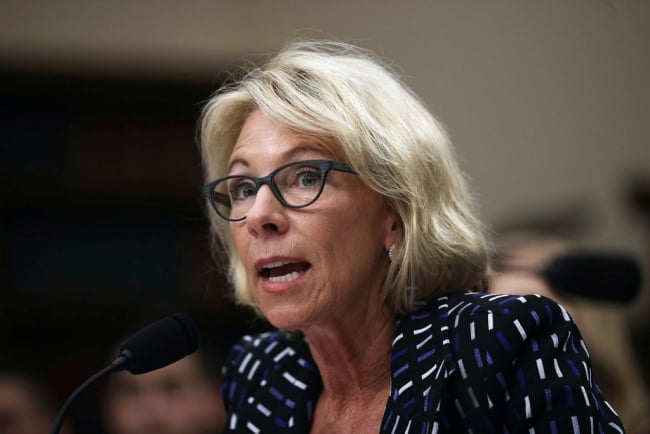 Here they go again. After halting and gutting two major rules that were put in place to safeguard students and taxpayers from predatory and abusive practices, Education Secretary Betsy DeVos is apparently planning yet another round of deregulation that will dismantle key protections against fraud, waste and abuse, under the guise of flexibility to promote innovation.
Unlike the last Republican administration, this one seems to lack any proactive agenda to make higher education more affordable and improve student outcomes. Instead, DeVos's only agenda so far is to undo critical policies through an ongoing assault on meaningful reforms. This latest round of reckless deregulation seeks to unravel several rules that reflect years of input, negotiation and thoughtful deliberations. Enacted largely at the recommendation of the department's independent watchdogs in the inspector general's office, several of these safeguards survived repeated legislative repeal efforts. Then came DeVos.
Let's start with the credit hour. As the government helps millions of students pay their tuition bills with over $150 billion in funding each year, it needs a unit of measurement to know what it is paying for: education. While imperfect, the credit hour has served for over a century as the only consistent metric of academic workload, for students, faculty, institutions and the government. Simply put, both eligibility for and the amount of federal aid awarded are based on the number of credit hours enrolled.
Without a common metric, though, the system breaks down. After finding that colleges inflated and overawarded credits to rake in additional aid, and that accreditors failed to hold the schools to any standard for how many hours of instruction equaled a credit hour, the inspector general asked Congress and the department to create a standard definition and clarify how accreditors should review credit-hour policies. Defining the credit hour -- the cornerstone of federal student aid -- would limit the most egregious cases of credit inflation, where students and taxpayers wind up paying more for less education.
The department issued a rule in 2010 that established a flexible yet consistent definition only for student aid purposes that could accommodate everything from a traditional classroom lecture to a self-paced competency-based course. Rather than measuring solely the "seat time" students were expected to spend in the classroom, it instead allowed institutions to add up the amount of work required to complete the material.
Still, as with almost any regulation, the credit-hour rule was criticized by the industry and its congressional allies for creating more compliance burdens for colleges and accreditors and stifling innovation. Critics' most dire predictions have since been soundly disproven by the explosive growth of competency-based education programs. And while the amount of instruction and student work may not be perfect proxies for education, there is no viable alternative to replace the credit-hour definition -- no other widely accepted measure of learning -- that can be readily applied throughout higher education.
As if repealing the definition of a credit hour would not be bad enough, its effects would be even more significant when paired with another change DeVos reportedly plans to make: redefining the requirement for regular and substantive interaction between online students and their instructors.
When Congress decided to give online programs equal access to student aid in 2006, it wisely included a common-sense requirement that they provide "regular and substantive" interaction between students and instructors. Designed to avoid subpar education and to differentiate online from correspondence education -- in which students receive course materials and learn on their own, typically without ever communicating with a qualified instructor, and for which federal student aid is more restricted -- this means that for a college to charge the taxpayers full price, the education needs to include regular contact with subject-matter experts, about the subject matter.
A recent inspector general audit of Western Governors University has brought much attention to this issue, but not all colleges that stand to benefit have WGU's affordable price and good outcomes. In fact, many have the exact opposite: high prices and poor outcomes. The limitations on correspondence education grew out of the gold rush of low-quality, for-profit colleges that engaged in fraud and abuse in the 1980s and 1990s. And the for-profit sector's heavy online presence -- 60 percent of its students are enrolled entirely online -- means that it would likely benefit significantly from a change to the rules, relaxing the requirement that faculty engage in their students' education and allowing those schools to dramatically reduce one of their biggest costs -- instructor salaries -- and pocket the difference. Most importantly, taking teaching out of the equation raises fundamental questions about what higher education means, and what taxpayers are really paying for.
Amazingly, these are not the only rules slated for elimination. DeVos also plans to reconsider -- and, one can reasonably expect, weaken -- rules governing two legs of the so-called higher education triad. Together, accrediting agencies, states and the department are meant to ensure the integrity of student aid programs. Since it was signed into law in 1965, the Higher Education Act has required all colleges that want to participate in federal aid programs to be authorized as postsecondary institutions by the states in which they operate. In other words, just like for any other business, colleges need a state license to open up shop. Despite this long-standing requirement, some states had not even set up a process to do so.
To address this discrepancy, a 2010 rule required all institutions to have state approval and all states to have a student complaint system. It was implemented several years later. Again, critics cried foul and predicted that colleges would be shut down, but repeal efforts failed and, to our knowledge, not a single institution has closed as a result of the department's enforcement of the rule. Then in 2016 the department closed a loophole by applying the same requirement to online colleges, which is scheduled to go into effect this summer. DeVos evidently wants to dismantle both, despite no evidence of negative or unintended consequences, and also to revise the already-weak regulations governing the requirements accrediting agencies must meet.
This deregulatory agenda constitutes no less than an attack on the very heart of higher education. The latest regulations on the chopping block are designed to ensure a baseline measure of institutions' engagement in ensuring the quality of higher education, to preserve the integrity of the federal student aid and to protect the students and taxpayers whose voices are too often drowned out by those of industry. There's just too much at stake for us to fail to look beyond the rhetoric of flexibility for innovation and ignore the far-reaching implications.