You have /5 articles left.
Sign up for a free account or log in.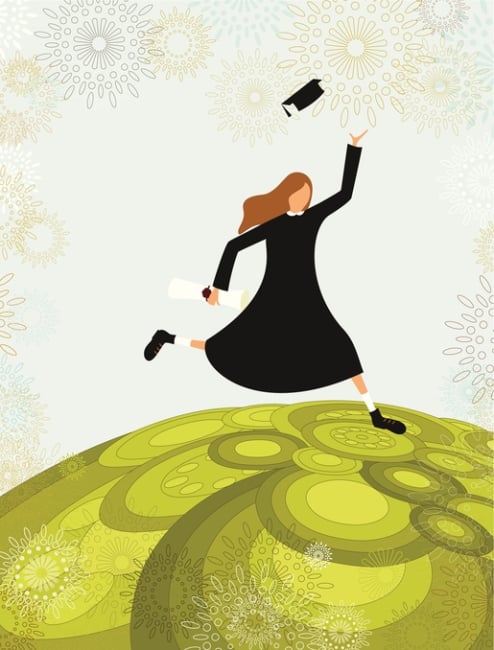 More than 61 percent of America's 6.2 million community college students are pursuing their studies on a part-time basis, often for financial or personal reasons. But until this year, those students were left out of federal data reporting systems on college retention. For decades, the Integrated Postsecondary Education Data System, maintained by the U.S. Department of Education's National Center for Education Statistics, only included students who enroll full-time and are entering college for the first time.
Thus, in many of our conversations on improving completion, part-time students have simply not been part of the equation. And the data that do exist paint a bleak picture. Part-time students are the least likely to graduate within six years.
Research suggests that taking 30 credits each year, 15 credits per semester, is the fastest way to a degree, saving students money and time and increasing their likelihood of completing college. But so-called 15 to Finish can be a heavy lift for most of today's American college students, who are juggling work, family and other responsibilities while trying to pursue their educational goals. As our colleges move to embrace 15 to Finish strategies to bolster completion, we must be careful that we don't create a situation where large segments of students become even more likely to fail and drop out than move toward achieving their goals.
Going from 12 credit hours, the requirement to be considered full-time, to 15 may not sound like that big of a challenge. For many students, it's simply a matter of having the right class offered at the right time or being given a suggested set of "pathway" options. That is work we absolutely must do to help more students.
But imagine if you're a part-time student currently taking six credits and you now decide to move to 15. That's no simple adjustment, especially if you are working full-time, taking care of children (and sometimes parents) and do not have the money to pay for the additional courses. It often involves, among other things, significant financial aid, work adjustments, childcare accommodations and transportation challenges to move toward a full-time load. Moreover, it means finding time to be successful in studying for the increased cognitive load of the course work. Most part-time students find such life and logistical issues difficult to adjust.
Colleges have to have more expansive and nuanced conversations about what it truly takes for these 6.5 million part-time students on our campuses to succeed. If our collective goal is to improve outcomes across higher education, we cannot, and must not, bias our access and completion innovations toward first-time, full-time students.
Indeed, part of the problem stems from the historic general lack of a focus on part-time students nationally -- including the lack of IPEDS data to understand the retention and completion trends of those students. Thankfully, that flaw was finally addressed this year.
Other new insights confirm the importance of part-time student outcomes. A new analysis from Civitas Learning found the average gap between full-time and part-time persistence rates at nearly 60 institutions was more than 12 percentage points. The gaps among institutions varied widely, with some as large as 31.8 percentage points and others less than one percentage point. Those findings reveal not only the extent of the issue but also just how much variance occurs from institution to institution. It also shows the colleges that intentionally design supports for part-time student completion can almost totally reduce the completion gap between full-time and part-time students.
The main takeaway from the new Civitas Learning report -- which included 1.4 million students -- is that 15 is not a magic number for all students. While it is absolutely a solid goal for some, the analysis found that the biggest gains for other students occurred when those students took one additional course. For students at community colleges, many of whom attend part-time, the largest increase in median persistence rates occurred between students who took one course per semester compared to those taking two. As the report put it, "If an institution's aim is to drive overall improved outcomes, focusing on the number one -- as in one more course -- may be the most impactful route for policy and practice change, especially for part-time students."
Reform-minded colleges -- such as the 220 community colleges comprising the Achieving the Dream network -- are already showing how that can be done. These colleges have built a habit of disaggregating their institution-level student progress and completion data by part-time student attendance. Using the data to better understand the course completion, semester retention, enrollment continuity and completion gaps, they are making innovative changes to schedules, advising systems, program course sequencing and financial aid to help part-time students and adult learners succeed.
Many are going even further, deploying supports for transportation, childcare and financial coaching, as well as addressing issues of housing insecurity for working students. By redesigning processes with an intentional focus on holistic student supports, many are increasing the number of credits that part-time students can take each semester, thus ensuring continuity in their enrollment -- a major factor in improving completion.
The Civitas research and the Education Department's change to collecting IPEDS data are both encouraging signs that we may, at last, be taking the plight of part-time students more seriously. It's past time that we give these students the attention they deserve and the support they need. Yes, we need to take time to degree seriously. But for many part-time students, we must also make sure that our time-to-degree innovations truly fit their needs.