You have /5 articles left.
Sign up for a free account or log in.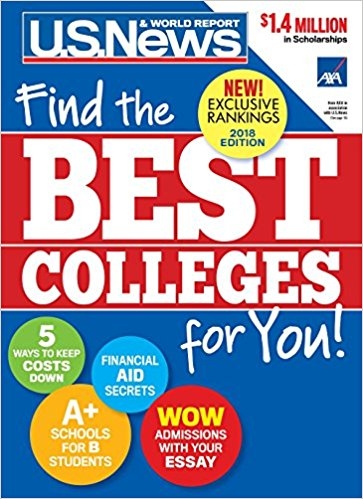 As the 2019 U.S. News and World Report Best Colleges Rankings Survey have been unveiled, it is time to take a hard look at the dated measure of alumni engagement applied therein. The alumni giving metric used by the rankings is deeply flawed, and it can encourage a profoundly limited view of the positive impact of alumni relations. It is a blunt tool that distracts from core, mission-driven work.
As the organization of record for the data that U.S. News uses to calculate alumni giving rates, and the one that has a mission to inspire and equip the advancement of professionals who champion the success of their institutions, it is time for us to set the record straight. The alumni giving rate is a simplistic and inadequate measure to assess alumni engagement.
U.S. News interprets the data from CASE's recently acquired Voluntary Support of Education survey without context, arriving at an alumni giving rate that is somewhere between meaningless and harmful. It does so, as outlined on the U.S. News website, by taking a two-year average of the number of alumni donors and dividing that by the number of degree-holding undergraduate alumni for whom an institution has a good address. That can lead to a detrimental fixation on numbers for the sake of numbers, where the denominator -- contactable alumni, known as a result of successful alumni engagement programs -- continually increases, while the numerator -- alumni donors -- grows more slowly. Such a formulation does not measure the full breadth of support from alumni and instead results in a metric that distorts the true engagement of alumni in the life of the institution.
The VSE gathers those data as well as other data points, such as solicitation effectiveness and the size of the average gift, to arrive at a more complete picture of that one aspect of alumni engagement -- specifically, giving.
Consider the denominator: contactable alumni. This is a number that grows every year as the institution does what it's supposed to do: provide students an educational experience that results in their graduation. Moreover, strong engagement programs and contemporary technologies and communications techniques make it easier to find addresses and other contact information, again increasing the base upon which giving is measured. Yet when an institution does a good job of engaging alumni and maintaining communication with them, so-called alumni giving may well decline because the institution has invested in developing and maintaining better records while strengthening relationships for more than immediate pecuniary reasons. So precisely when the institution may be engaging alumni in more-productive relationships year after year, its giving rate will suffer.
Next, let's look at the numerator. Alumni giving to institutions takes on many forms that are not captured in the U.S. News calculations. Many alumni give to their institutions through donor-advised funds, foundations and other organizations. Alternative forms of giving -- including GoFundMe or other social media efforts and organized giving days, as well as state and federal charitable-sector giving drives -- provide alumni with additional methods of supporting their alma mater that are not represented in alumni participation rates. New forms of giving outside the charitable sector -- such as the rise of philanthropy LLCs and other vehicles -- also add an entirely new dimension to the conversation.
CASE, through the work of a volunteer Alumni Metrics Task Force, recently produced an Alumni Engagement Metrics white paper that illustrates four key measures to assess alumni involvement: volunteer engagement, experiential engagement, communication engagement and philanthropic engagement.
Volunteer engagement includes participation in formally defined volunteer roles that are endorsed and valued by the institution and support its mission and strategic goals. Such activities would include governing or advisory board membership, career mentoring and advising, public advocacy, classroom guest speaking, and project review.
Experiential engagement includes experiences that inspire alumni and are valued by the institution -- promoting its mission, celebrating its achievements and strengthening its reputation. Such activities include participation in alumni activities and attendance at cultural and sporting events, as well as young alumni involvement in enrollment advocacy programs. They also encompass new and emerging opportunities that take advantage of evolving technologies.
Communication engagement, particularly in an era defined by digital and social connectivity, offers an entirely new realm for alumni to engage in interactive, meaningful and informative dialogue with the institution. From likes to follows to retweets, as well as more traditional means such as writing letters to the alumni magazine and adding personal news to class notes, communication participation can and should be recognized as a core engagement activity.
All of these join the more traditional metric of philanthropic engagement, which includes diverse opportunities for alumni to make philanthropic investments that are meaningful to the donor and support the institution's strategic direction. This engagement comes in many forms, making measurement complex.
CASE is now in the beta phase of testing the recommendations of the Alumni Metrics Task Force, exploring how best to establish reliable metrics in each of these categories -- all areas central to CASE's work and vital to our members. The information we glean from the VSE Survey, along with similar research CASE undertakes around the world, will enable us to generate knowledge, consider how and what we measure, and deliver actionable insights to professionals engaged in advancement.
As the U.S. News rankings come out, higher education leaders and the public must understand that alumni engagement is about so much more than an elementary numerator/denominator calculation. Let us not get distracted by who is up or who is down and who moved from tier to tier. Let us focus instead on the crucial difference that higher education institutions make every day in the lives of students, communities and society through life-changing research, as well as transformative experiences that enable those who have attended these institutions to experience fruitful, meaningful engagement in their professional, personal and civic lives.
Alumni giving as defined and promoted by U.S. News is an obsolete and irrelevant metric. If their rankings show that your institution's alumni giving is declining, that doesn't mean your alumni are not engaged and do not value their alma mater, or that your institution is failing. VSE research shows that charitable gifts from alumni have increased by nearly 1,700 percent over four decades, from $.64 billion in 1977 to $11.37 billion in 2017. Alumni giving as currently defined is not a proxy for student satisfaction and post-graduate engagement.
Education teaches us that good models are continuously tested, re-evaluated and revised. When it comes to alumni participation, that is what CASE is doing through the work of its Alumni Metrics Task Force. It is time for U.S. News to do the same.