You have /5 articles left.
Sign up for a free account or log in.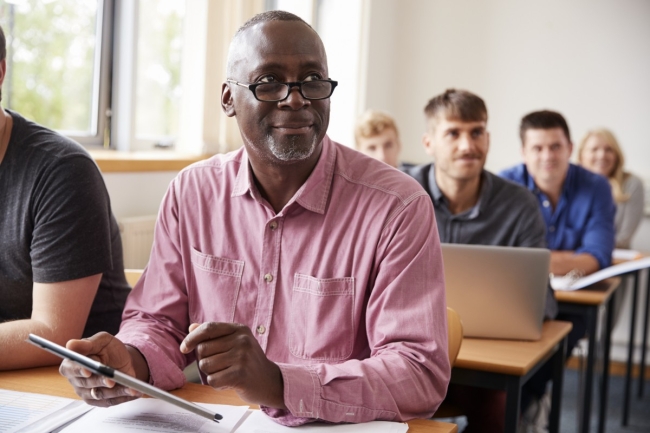 My summer reading list, which never gets finished, included one book that, as a leader in continuing education, I found especially provocative. The 100-Year Life: Living and Working in an Age of Longevity (Bloomsbury), by London School of Economics professors Lynda Gratton and Andrew Scott, should be on every higher education leader's list. Unlike technological change, which gets tremendous press and is seen as a key driver of the need to "upskill" and "retool" workers, longevity is much harder to see or feel. But its impacts on higher education are already being felt as the student population skews older, and new forms of higher learning gain traction.
Demographics have shifted to such an extent that the term "nontraditional student," as applied to adult learners who graduated high school more than a few years ago, no longer makes sense. According to the U.S. Department of Education, 74 percent of students are considered nontraditional, a category including those "being independent for financial aid purposes, having one or more dependents, being a single caregiver, not having a traditional high school diploma, delaying postsecondary enrollment, attending school part time and being employed full time."
Traditional college experiences are often considered the end of the first of three phases of American life: school, career and retirement. But for the minority of citizens fortunate enough to go to college, that outdated view is changing rapidly. We see an increasing number of news articles speaking to this reality of new traditional learners, but these writings rarely go into much detail about longevity as a causal factor.
I have mentioned the 100-Year Life in multiple conversations and talks over the last few months. Its description of increased longevity does not generate excitement, but rather anxiety and disdain. As the authors note in their opening pages, that anxiety is real if you view living and working through the same three-life-stage lens (school, career, retirement) and expect the long deterioration of health typical of the relatively few centurions among us today -- seeing longevity as a curse rather than a gift. Gratton and Scott attempt to assuage these concerns by sharing that trends in health care will limit debilitating physical maladies to shorter windows closer to the end of life and that the three stages will not be the way most people structure their lives.
Much like we might feel anxiety as individuals when we think about the implications of longevity, our institutions of higher learning can also view the extension of life as either a gift or a curse. Challenges and opportunities abound as we consider the possibilities.
A significant change is that higher education will no longer be seen as the end of the start-of-life phase. While acknowledging that higher education already consists of many different types of institutions serving different ages, even traditional research universities will need to grapple with the implications of maintaining or ending ageist classrooms, changing delivery technologies and shifting expectations for the appropriate life stage in which any one student engages in college.
One way to avoid institutional anxiety about increasing longevity is to shun assumptions about universities based on current practice and to look for opportunity. Even before publication of the 100-Year Life, Gary Matkin, dean of the Division of Continuing Education at the University of California, Irvine, coined the term "the 60-year curriculum" as a way of more clearly defining the modern era of lifelong learning. As longevity becomes a more prevalent societal force, the 100-year life will require a 60-year curriculum (60YC).
What Is the 60YC?
At the University of Washington (UW) Continuum College, we are operationally defining the 60YC as the formal higher educational experiences an individual will need over a 60-year (or more) working life. The words are specifically chosen to differentiate the 60YC from other forms of learning that are emerging. For example, when I need to fix a problem with my computer, an anonymous 12-year-old has usually uploaded a video to YouTube with step-by-step instructions. These and other forms of learning are a significant part of the landscape but will not be sufficient to support more substantive life changes. Defining the 60YC has led my team to focus on five key areas for strategic development: credentialing, the "metacurriculum," learner services, the new academic stack and policy and funding issues.
Credentials
The venerable four-year undergraduate degree remains the gold standard for higher education, and that is not likely to change any time soon. Today, master's degrees, doctorates and the increasingly undifferentiated certificate round out the most commonly issued credentials. We see the edge of change occurring first in the nondegree space. For example, the noncredit career offerings at the UW Continuum College grew by 11 percent in 2017-18 to include more than 5,000 learners. Additionally, learners by the tens of thousands are selecting online providers (sometimes offering university courses), boot camps and other new forms of higher learning outside the traditional academy. Most of these forms do not result in a degree but some form of certificate. As learning stretches over a lifetime, it is likely we will need new nomenclature and new markers of completion that characterize formal learning in more distinct ways and allow more granular tracking of skills and knowledge.
The "Metacurriculum" Over a 60-Year Working Life
The Merriam-Webster Dictionary defines curriculum as "a set of courses constituting an area of specialization." The set of courses in a typical curriculum can have wide variability (e.g., electives, tracks) but is still a defined set of activities, usually leading to a specified credential. The 60-year curriculum is a term intended to define learning across a lifespan, not a distinct course of study. The UW Continuum College is calling the 60YC a "metacurriculum" intended to serve as a framework for learning activities rather than a specified scope and sequence of instructional content. The approach here is to view all programming through a lens of multiple life stages, not the no-longer-realistic three-stage life.
Learner Services
A learner is not going to be enrolled in a single college's programs for 60 years. While we posit that a learner's connectivity to a university will become continuous and less episodic, it is unlikely to be ongoing. The complexity of offerings is also increasing. For example, our catalog lists at least 24 different types of programs that contain the word "data.'" Choosing the right program at the right time in career and life will be critical and progressively more difficult. Connecting learners to these experiences when they need them, and ensuring that outcomes and expectations are met, will be the role of new forms of service staff. For example, we have a new coaching unit and retention staff among our emerging world of learner services.
The New Academic Stack
Each element in the 60YC will be mediated by new forms of technology, which we call the "new academic stack." It will be impossible to track even a single learner across decades of life without rethinking digital infrastructure. Already, new forms of credentialing software are emerging to digitize and add data to our previous sheepskin diplomas. At the core of our new academic stack is a customer management system. While typically associated with marketing and recruiting, a CRM becomes the glue that helps personalize offerings across disparate learning activities by maintaining all learner-university interactions. Mobile technology, artificial intelligence and new forms of delivery will be commonplace in the 60YC.
Policies and Funding
College debt is now more than $1.5 trillion in the United States alone. Saying to these same indebted students, "This is just the beginning of your learning!" does not generate excitement. In fact, it can create the same anxiety as the gift of longevity. To make a lifetime of learning affordable and energizing first requires setting aside the three-stage model of life. The balance of financial expectations will require a very different support system of parents, learner, government and business. The 60YC might also mean re-examining policies about what it means to be successful in a college career. Perhaps the notion of four- or six-year graduation rates will have to be rethought as we reconsider what success means over much longer periods. Old accreditation models, already under pressure, will certainly be challenged as new forms of learning emerge from the academy and other providers are included in the mix.
The Possible Curse and Dangers of the 60YC
When discussing the 60YC, it can be tempting to focus on work. Even the definition I put forward in this article indicates the 60YC is about the working life of the individual. It would, however, be a huge mistake to think that the 60YC is only about acquiring the technical skills to succeed in a series of jobs until one retires. Some in higher education are already beginning to cry out that having other paths will lead to tiered higher education -- with some students being tracked into vocational jobs while others are tracked into positions of leadership. While this is a danger of the 60YC, one does not need to look far to see the 67 percent of American adults who do not succeed in today's model to understand that we could not create a more harshly tiered system of higher education if we tried.
For the minority of students who will continue to follow a more traditional academic path through college, having campus experiences that broaden thinking and extend the mind beyond instrumental work practices will continue for many decades. But for the majority, the 60YC can mean new opportunities.
The Gift of the 60YC: New Pathways and Opportunities
Viewing the 60YC as a gift, rather than a curse, means thinking about the opportunities to open the door to more individuals to benefit from higher education. The 60YC implies a nearly infinite number of successful pathways through higher education. Many of those paths cannot be determined today but, in the evolution, we see examples of what could be. Imagine stacking credentials slowly, perhaps starting with an in-demand skill, then adding depth in that skill, leadership and other more expanded theoretical approaches. Perhaps at 52, one might stop work and spend a year earning a specialized credential in the humanities or social sciences. At this new definition of midlife, such pursuits are not mere "enrichment." They could be perhaps more central to living a good life than a philosophy degree earned at 22.
This evolution in paths might mean the emergence of new institutional forms. California is embarking on an experiment with an online community college that will focus on competency-based credentials for adults in the work force. What is interesting about the approach is that the current concept focuses on granting credentials but not necessarily degrees. This is one way that higher education might shift to prepare for a 100-year life.
Research institutions are also developing new approaches to continuous learning. For example, UW Continuum College now serves over 55,000 learners around the world each year. Programs reach people in many life stages, including summer youth camps, international English language programs, UW in the high school, summer quarter, online undergraduate completion programs, more than 110 professional master's degrees, 100 nondegree certificate programs and an Osher Lifelong Learning Institute for "seasoned learners" over 50. The spectrum of learning opportunities offered by UW Continuum College already exceeds a 60-year working life, and the goal is now building learner services, multi-life-stage program differentiation and the supporting technologies. The University of California, Irvine, Division of Continuing Education, Harvard Extension and New York University's School of Continuing Studies are among a number of extended learning units at major research universities that are investing in similar efforts.
Another example of how this might evolve comes from China. Per The Economist, in China there are now more than 70,000 institutions for elder learners. Some of these institutions are harder to get into than our most exclusive universities. In some provinces, only one of every 16 applicants is admitted. While enrichment learning is a significant component, many of these elder institutions offer traditional academic learning, too.
Perhaps as work on the 60YC continues, we will see more age-specific institutions like those in China emerge, or, as Gratton and Scott hope, our existing institutions will expand to encompass a more differentiated learning landscape over a much longer life. It is my hope that leaders in higher education consider the impact a 100-year life will have on the way people experience and require learning, and in turn, create relevant, accessible curricula that help people live more meaningful lives.