You have /5 articles left.
Sign up for a free account or log in.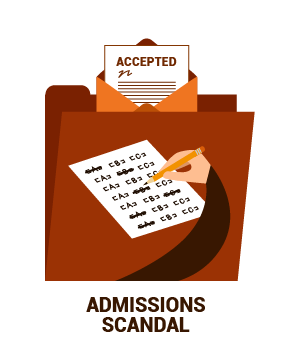 The recent news cycle has been consumed by the college admission scandal. Ultrawealthy parents spent millions to cheat the system and get their children into places like Georgetown University, the University of Southern California, Wake Forest University and Yale University.
I know how elite schools and colleges operate. Forty-five years ago, I began my career as a teacher and coach at a private boarding school, and I later became an admissions officer at two of the country's most selective colleges.
The small group of corrupt coaches who accepted bribes allowing super-rich kids with fraudulent credentials to enroll at top-tier colleges exposed a flawed system. That's a relatively easy fix -- there will be more oversight for recruited athletes at selective colleges. Deans and other administrators will require levels of due diligence never before seen in academe, and minor sports, at some institutions, will lose admission preference for candidates they identify.
The corrupt California counselor who orchestrated the admission scam has tainted his industry. I predict that college applications will ask students whether they are working with a paid counselor. Admission committees at highly selective colleges may view affirmative responses negatively and will certainly scrutinize more closely those candidates working with for-hire counselors.
The foundational issue, however, remains: wealthy kids have unfair advantages. They are likely to have better academic training, receive test preparation support and even enjoy the athletic advantage of private coaches and playing on traveling teams that cost a significant parental investment of time and money. And, of course, students from affluent households can pay college costs without having to secure loans, scholarships and other financial aid.
So it's no surprise that rich kids are far more likely to end up at selective colleges than their low-income peers. A young person from a family whose income is in the bottom 20 percent is eight times less likely to get a four-year degree than a peer from a family in the top income level.
That disparity has existed for decades, and it's what led me, in 1990, to start a nonprofit to help America's most needy kids get college degrees. We do this by finding them mentors, helping them develop leadership and other essential skills, and, ultimately, ensuring that they have a plan -- with no short cuts -- to college graduation.
Our program works. We have a team of professionals, board members and volunteers who have helped thousands of kids get to prominent colleges the right way. Angel's finishing his doctorate at Columbia University; Andy completed a master's degree at Harvard University; Shameka has a degree from Cornell University's medical school. Over all, we've helped 100,000 low-income students get to and through college.
Every day we confirm the adage that low-income kids don't lack ability, they just need opportunities and advocates who can help them build a pathway.
Advocates -- whether they are parents, teachers or mentors -- create opportunity. They not only encourage young people to work hard, earn good grades and develop essential skills. They also show them how to do it. They help kids figure out how to get on the pathway to higher education, and when that happens, we not only pull kids out of poverty but also their entire families, as well.
Sadly, in our country, the gap between the rich and poor continues to broaden. In some parts of the United States, educational measures like high school graduation, college-going and college graduating rates are only widening.
This opportunity gap is deeply disturbing and signals the death of the American dream. Today more than ever, young people, especially those living in poverty, need a four- or two-year college degree or a credential of value. All the new jobs that offer financial stability require higher education.
Don't get angry about those who cheated their way into Yale and Stanford. Do something. Trade outrage and disgust for promise and opportunity. Take some of that advantage and spread it around. Speak to a group of students whose parents didn't go to college about your own education and career pathway. Become a mentor. Let this scandal become a call to action -- a call that will help America's most needy children.